Reach more prospects with our

Outbound Call Centre Software

Empower your sales agents to make more calls, easier, and automate time-consuming tasks, all while allowing you to supervise and coach them for better results.

Try it for free Ask an expert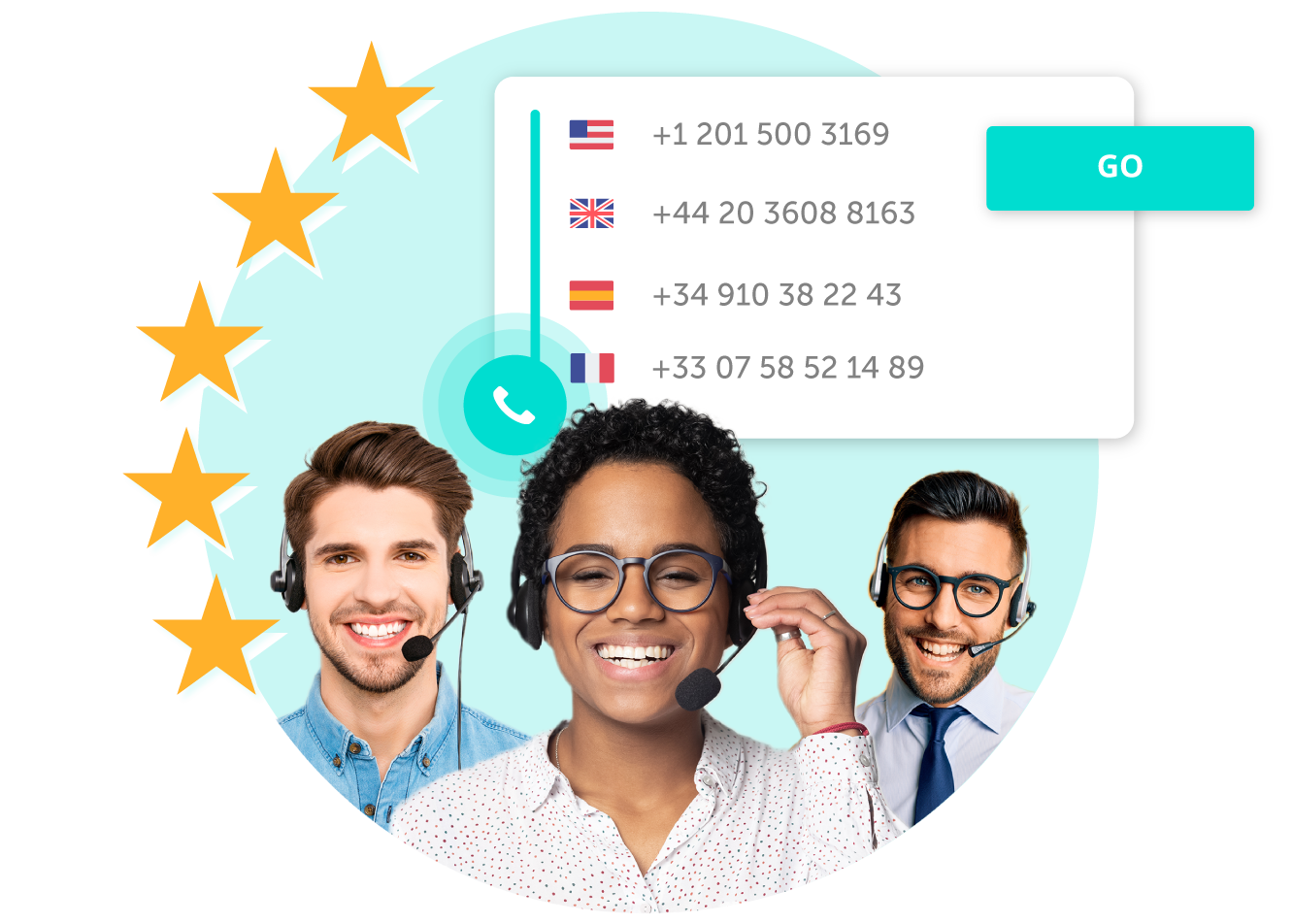 What is outbound call centre software?
It's software that allows sales teams to make more calls, more efficiently than with a simple business phone solution. For example, call centre software includes automatic calling and monitoring features, and integrates with your CRM (Salesforce, Pipedrive, FreshSales, Zendesk Sales Suite…).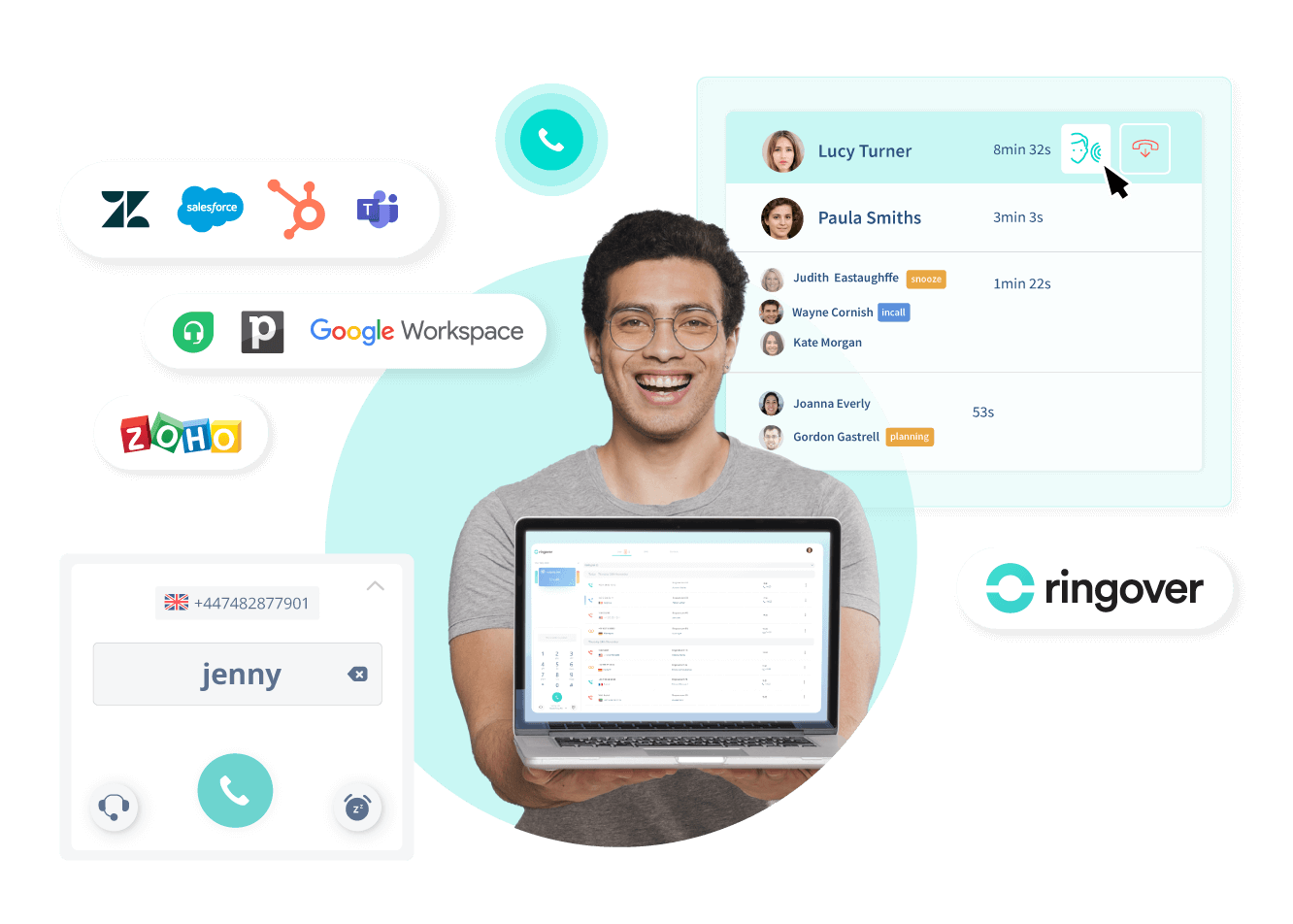 Boost your revenue with our sales call software designed for growth
More calls, more sales
Ringover gives you all the right tools to help your sales agents call more: click-to-call, autodialer, direct calling from your CRM and more. It only takes a few clicks to launch high-performing call campaigns.
Increase your conversion rate with local numbers
Calling your prospects with a phone number close to theirs always gets better results. Ringover offers landline and mobile numbers in over 60 countries. In just a few clicks, you can activate new phone numbers and assign them to your sales reps according to their prospect domains.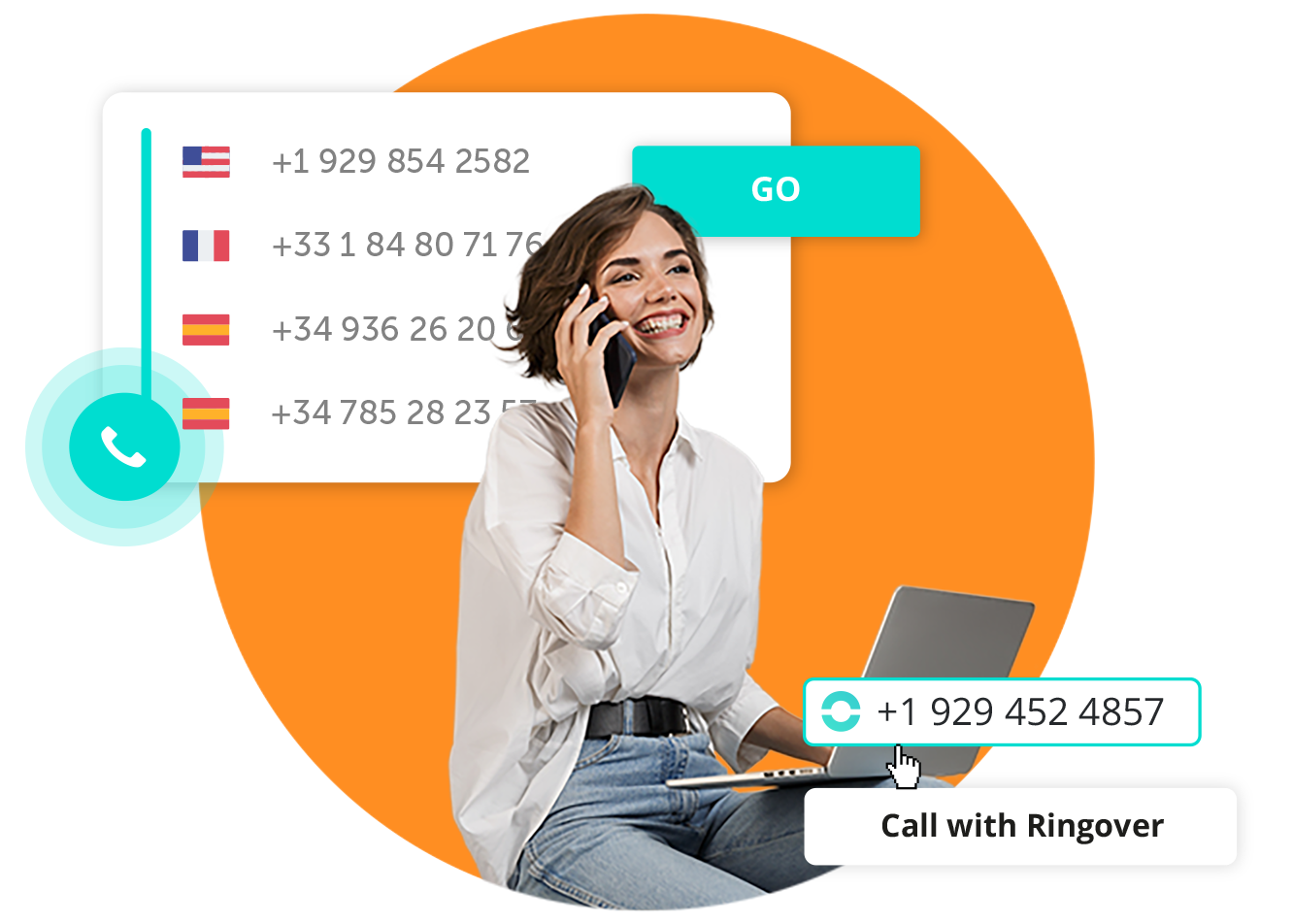 Make outbound calling smarter when you integrate with your CRM
Integrate Ringover into your CRM to simplify your sales team's day-to-day tasks. They'll be able to automatically view contact history, launch outbound calls, and log conversations directly in your CRM. The benefits in terms of efficiency and simplicity are endless.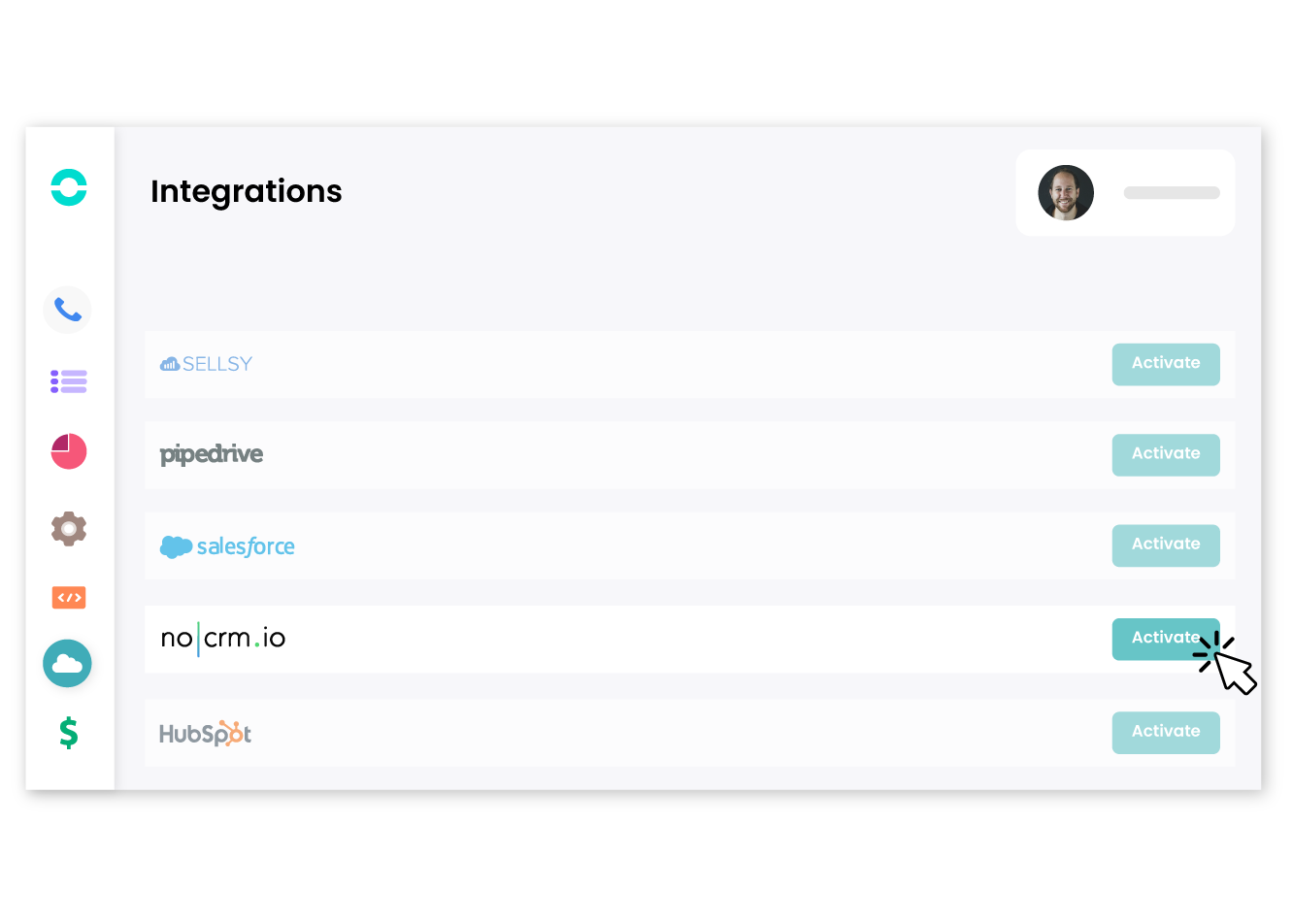 Try it for free for 7 days
Coach and monitor for better results
Evaluate your agents' performance
Whether you're onboarding a customer services assistant or a new sales rep, with Ringover you have access to detailed call statistics for everyone, including call efficiency rate, missed calls, and drop-out rate. This will help you power up the high performers and give support to those who need it.
Track sales calls in real-time
Use real-time supervision tools such as dual listening and call recording to practically and effectively train your new customer services assistants and sales agents. Discreetly join in on conversations to support them when they need it most.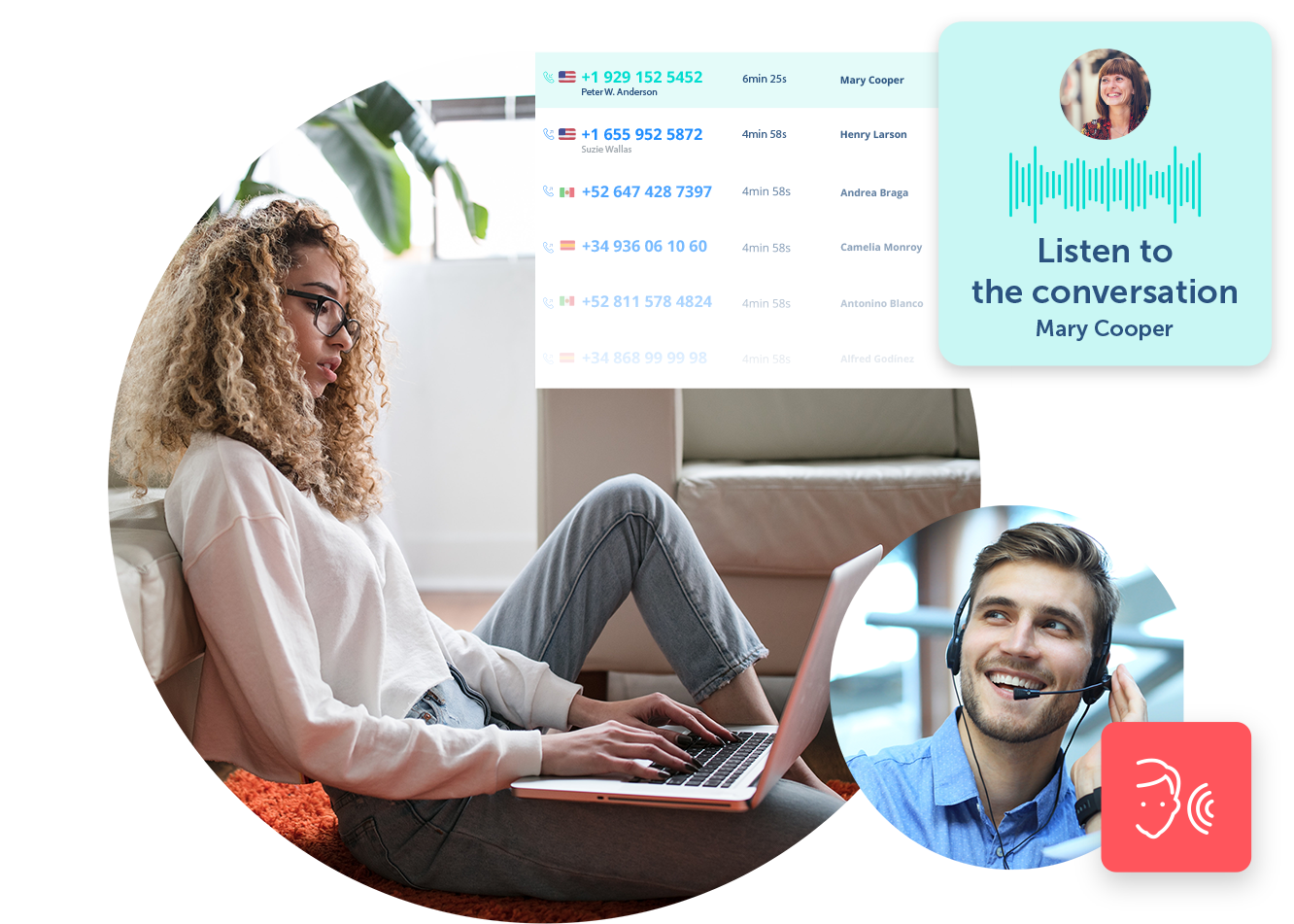 The Most Powerful Outbound Call Centre Software Features
Outbound call centre Software FAQs
What is an Outbound Call Centre?
It's a centre that's exclusively positioned towards the making of outgoing calls. It is generally compared to an inbound call centre, which handles incoming calls. Outbound call centres include offshore call centres, which offer outsourcing services for making appointments for sales representatives or telemarketing campaigns. Outbound call centres can also be integrated within companies and made up of internal sales representatives or SDRs.
What is Cold Calling?
Cold calling corresponds to sales call campaigns on prospects who have not previously sought to be contacted. Also called telemarketing, this approach corresponds to the old method of door-to-door sales.
Can I use Ringover for cold calling campaigns?
Ringover software is specially designed to make effective and efficient call campaigns, even for small teams. The software has dedicated tools to launch these campaigns: individual or team call automation, performance measurement and reporting of calls, coaching tools to help Sales in their sales pitch, and integration with CRM to work with lists of prospects inserted upstream.
How do I conduct telemarketing with Ringover?
Simply choose our telemarketing software and start calling immediately from any device. Telemarketing campaigns with Ringover require no installation and can be deployed to virtual teams anywhere around the world.
Are outbound calls unlimited with Ringover?
Yes, all outbound calls are included and unlimited to over 110 destinations around the world.
What's the minimum sales team size for using Ringover?
There is no minimum. Ringover Sales software is specially designed for small teams. Even if you are a one-person show, you can take advantage of our cloud software and start calling right away, no special setup needed.
What kind of outbound diallers are included?
Ringover's sales outbound app deploys an easy-to-use power dialler. You can use the power dialer from any desktop or cell phone to launch your own solo call campaigns. Team managers can also launch shared call campaigns at the team level.
What metrics are used to analyse sales team performance?
Ringover offers multiple metrics to analyse the performance of each member of your sales team and your business activity. The most common KPIs tracked are the number and frequency of outbound calls made by a salesperson on a given day, the average call duration, and the pick-up rate. Very quickly you will also be able to evaluate the conversion rate of your call centre agents. Additionally, the effectiveness of your sales approach can be analysed through real-time listening tools and call recording.
Is Ringover suitable for a small business?
Yes, Ringover is an all-in-one app that is very easy to use and manage for businesses of all sizes. The great thing about Ringover is that it's easily scalable. It's perfectly designed for small business owners to implement, but can also be scaled up for use in a large call centre.
What's the best contact centre solution on the market?
It's us 😉. We offer a feature-rich phone system with the latest technology at affordable prices.