Call center
Top 5 Cloud Contact Centre Solutions on the market
A cloud contact centre is a software to manage inbound and outbound multichannel client communications.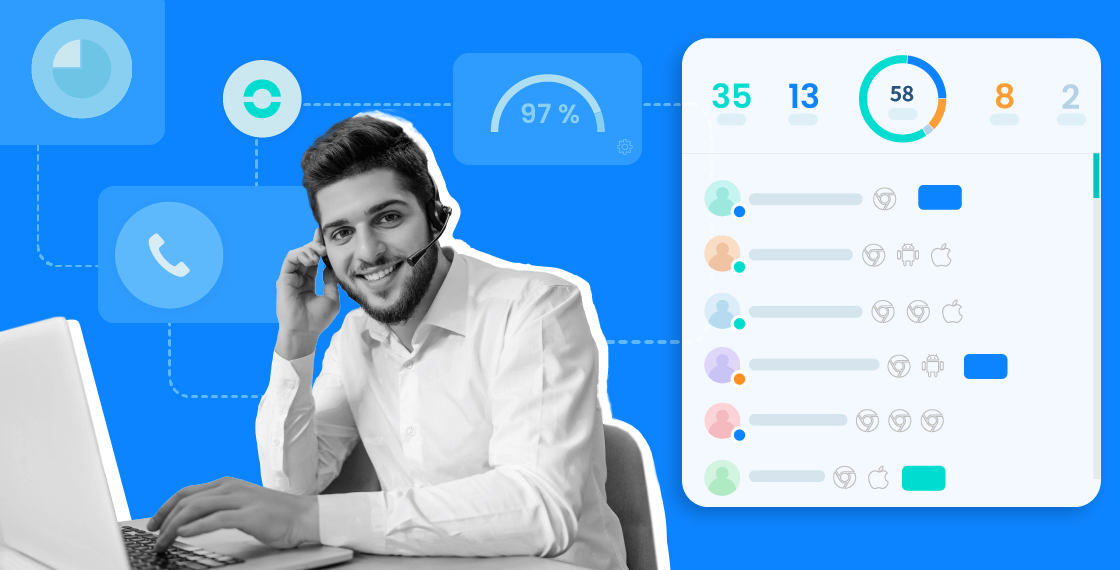 What is a cloud contact centre?
A cloud contact centre is a hub for managing customer communications and customer service across multiple channels, including telephone, e-mail, live chat and social media. Customer-facing teams use contact centre software as a single platform to manage conversations across all channels.

This suite of tools has sophisticated telephony capabilities like call routing and IVR. Plus, call contact centre software offers comprehensive real time analytics to help understand and optimise the call centre performance.


Try a cloud contact centre for free
| Product | Features | Price |
| --- | --- | --- |
| Ringover | A comprehensive CCaaS provides omnichannel communications, advanced analytics, unlimited international calling to 110+ destinations, and sophisticated telephony features | Plans begin at just $21 per usermonth. |
| Talkdesk | A contact centre solution with a complex selection of features which can cause a difficult user experience. Plus, the relatively high prices mean this option is better suited for large businesses. | Plans begin at $75 per usermonth. |
| Vonage | Vonage offers a good selection of features but users report significant problems with the service cutting out. | Pricing can be confusing because there are often charges by text. Plus, the plans pricing is by request only. |
| 8x8 | 8x8 can be a sufficient option for companies operating exclusively in the US, but if you are scaling, be sure to check the user limits per plan. | 8x8 offers plans beginning from $85 per usermonth. |
| Five9 | Five9 includes the omnichannel communication options typical of cloud contact centres, but users report recurring service issues. | Five9's plans begin at $149 per usermonth, but you may face additional charges for non-domestic communications. |
Why contact centres have become cloud contact centres
In recent years, contact centres have become cloud contact centres as they migrate to the cloud to take advantage of the savings and flexibility it offers. Cloud contact centres are a business's central communications hub, handling multichannel communications and streamlining operations through integration with other softwares, like .

Powered by , a will allow for communication by voice, video, email, social media, and more. Oftentimes, cloud call centres will be powered by as a Service (CCaas) softwares, which outsource the management of the cloud technologies to a third-party company.

As a result, users are liberated both from the logistical headaches and expenses associated with on-premise hardware and internally built tools. Moreover, the competitive nature of the CCaaS market ensures providers offer a high quality, reliable service with sophisticated functionalities.

In the following article, we'll look at:
How cloud contact centres work

Advantages of cloud contact centres

Cloud contact centre key features

Businesses best suited for cloud contact centres

The best cloud contact centre software providers on the market.

The top 5 cloud contact centres on the market

How cloud contact centres work

The main differences between contact centres and call centres

How to choose your contact centre software
The 5 best cloud call centre solutions in 2024
1. Ringover
Ringover's multichannel cloud contact centre solution includes voice, video, chat, texting, and more. With a 4.7 rating on , Ringover is known for its easy-to-use interface and rich selection of features. Customers also call out the robust analytics dashboard, large selection of integrations, and responsive customer support team as positives. With a monthly subscription starting at £19, it offers an affordable but comprehensive cloud contact centre solution to small and medium businesses.
2. 8x8
8x8 has a strong presence in the US as a provider of multichannel business communications. With a convenient interface working as a one-stop shop for customer communications, 8x8 has also earned points from customers for its easy deployment process. However, the company has been dinged in client reviews for having an unreliable or delayed phone service, especially following one of its frequent updates.
3. Aircall
With a large number of integrations available, Aircall has gained a good reputation as a cloud contact centre software that fits easily into a pre-existing tech stack. The company also has invested into its user experience, with many customers appreciating the ergonomic design of its interface. With that being said, some clients have had issues with call reliability, an issue which has been exacerbated by substandard support on Aircall's part.
4. Ringcentral
Ringcentral has a few different advantages for its subscribers, starting with a nice user experience and a good selection of multichannel communications options. Some clients also mention their many integrations as a plus for this product. But, there are quite a few reviews who point out serious cons to the service, starting with calls being disconnected and subpar customer support. If you decide to try Ringcentral, pay close attention to your estimate and your bill, as there have also been reports of unclear or confusing billing practices.
5. Dialpad
Dialpad offers a similar multichannel communications platform to the others on this list, and has recently debuted AI functionalities. By providing various forms of AI-powered customer intelligence, Dialpad appeals to sales teams in particular. But, this is yet another cloud contact centre provider that has gotten criticised for billing surprises and glitches in its software.
How cloud contact centres work
The main technologies underlying cloud contact centres are Voice Over Internet Protocol (VoIP), supported by Web Real Time Communication (WebRTC). These two concepts are two of the technological advances which have replaced the circuit-based business phone systems used before Internet-based solutions were implemented. VoIP and allow for the transmission of communications across the internet.

In previous VoIP iterations, hardware like modems or software were required for the technology to function. Then the arrival of WebRTC in the mid-2010s eliminated the need for anything other than a browser to send audio and video, as well as other data. This advance meant it was no longer necessary to install third-party softwares such as Skype for VoIP communications, and allowed for the development of browser-accessible softwares bundling together multiple communications functions, such as cloud contact centres.

Now, from a single browser-based interface, users of a cloud call centre software can access video chats, make and receive phone calls, reach out to clients through social media, send SMS messages, and more.

Cloud call centre softwares also leverage application programming interfaces (APIs) to connect various softwares. Commonly called integrations, these connections allow for the exchange of data between softwares. We'll talk more about integrations in the next section, where we discuss advantages, but suffice to say this capability allows businesses to build out suites of software that streamline their operations and increase efficiency.
Principal differences between contact centres and call centres
| Criteria | Contact Centre | Call Centre |
| --- | --- | --- |
| Communication channel | Omnichannel: manage calls, emails, text messages, social media, live chat, etc. | Manage calls |
| Follow up with customers | Comprehensive view of each client | Limited information available on clients |
| Service quality | Proactive customer service | Reactive customer service |
| Team training | Requires agents capable of working with omnichannel communications | Agents only need to work with a phone |
| Flexibility | High flexibility which can adapt to clients' ever-evolving needs | Limited flexibility, especially when it comes to communication channels |
How do you choose your contact centre software?
1. Integration with existing business tools
We've mentioned it many times: integrating the solution with your other software is essential if you want to reap the full benefits. Integration is important because it enables you to automate a number of processes, such as:


2. Choosing the right software for your specific needs
Is all contact centre software the same? Not really. Although there are common issues facing companies, each one has its own specificities, and the same applies to contact centre software.

Make sure that the functionality of the solution you choose really matches your current and medium-to-long-term needs. This may involve the different types of channels supported by the solution, or the functionalities offered.

Very often, according to software publishers, certain indispensable functionalities are only accessible once a certain number of licences has been reached.

So it's vital that you list all your requirements in advance, so as not to be caught off guard when negotiating your offer with a supplier.


3. Managing your contact centre activity
You need data on the quality of your service and the performance of your teams to know where you're starting from and where you're going. It's the ABCs of decision-making.

Make sure, therefore, that your solution includes a sufficiently comprehensive dashboard with your KPIs and metrics.

Some software solutions, such as Ringover, offer detailed statistics updated in real time, enabling supervisors to observe their staff's performance at both individual and team level in just a few clicks.


4. Security
Contact centres are prime targets for cybercriminals, as they centralise large volumes of sensitive data. You need a solution that is sufficiently reliable to protect you from attack, or simply to comply with the various regulations.

To check that your CCaaS is sufficiently reliable, look into:


The protocol(s) used to secure your exchanges or integrations (DTLS, TLS).


The security level of the data centres where your data is stored, to find out how they protect against DDoS attacks
5. Solution flexibility
The solution you choose must adapt to your needs, as we said earlier, but also to your constraints and to any strategic changes you may need to make over time.

For example, you may be experiencing strong growth and need to expand your workforce, or you may want to focus on a specific service. The offer proposed by your supplier must therefore take into account the evolution of your business.


Advantages of cloud contact centres
The main benefits of cloud call centres are flexibility, efficiency, and customization. Because the software is generally available through a browser, you and your team have access to clients, and vice versa, wherever you have an Internet-connected device. Rather than toggling back and forth between multiple communications tools, your team will use one interface to manage multichannel communications with clients and prospects.

Additionally, cloud contact centre software providers usually offer multiple tiers of service. This variety of offers allows you to choose the best level of service for your business's current size, which scales with you as you grow. Now that we've covered the main benefits of cloud call centres, we'll look at the other advantages.
Automatic Call Distribution (ACD)
The foundation of a cloud contact centre, is a telephony system that distributes incoming calls to available agents. In many cloud contact centre services, this technology is made even more sophisticated by the addition of call queuing, which sorts callers depending on factors like the needs clients have indicated and their wait times. Ringover's can even identify VIP callers and route them to the front of the call queue for immediate service.
IVR (Interactive Voice Response)
contributes to the efficiency benefit of cloud call centres. IVR is an automated voice option menu that callers navigate to access information or an agent. IVR systems can not only eliminate non-value add tasks for agents, like informing a caller of the business's operating hours, but improve the service a caller receives. Callers can indicate their needs through the IVR, so that the agent who eventually responds to the call has more context and is thus better able to serve the caller.

When you're choosing between cloud contact centre softwares, pay attention to the interface for setting up your IVR. Some software is more intuitive than others, which can impact whether or not you're able to independently set up your ideal IVR system.
Integrations
When it comes to productivity and customization, the ability to integrate your cloud contact centre software with your tech stack is key. The most common integration with cloud cloud call centre software is with CRMs, especially with Salesforce.

Once the cloud contact centre software is integrated with a CRM, the productivity benefits are significant for your sales team. Sales reps will no longer have to manually log all interactions with clients into the CRM, as they'll be entered automatically. They'll also be able to call clients with one click from within Salesforce, and reference each client's Salesforce file when working within the cloud contact centre service.
Analytics
Efficiency is key when it comes to running a cost-effective contact centre, which is why the analytics dashboard is a primary attraction of cloud contact centre softwares. Understanding your service level will never be easier, and you can even deep dive into each representative's analytics to understand how to optimise their performance. Analytics dashboards cover all the channels your representatives use, so you can assess the KPIs channel by channel. Not to mention, you can export the informational graphics from the dashboard to create bespoke reports.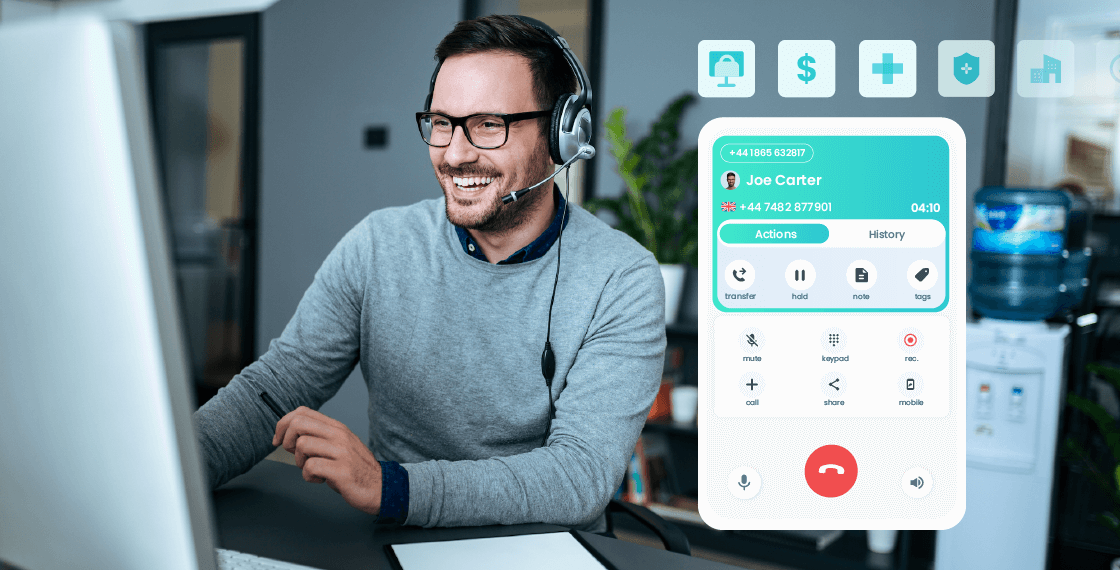 Features
If you've been shopping for cloud contact centre software, you're aware the market is very competitive right now. While that makes the decision-making process more complicated, it also means that providers are investing significant resources in developing features. Features are small tools that provide various benefits and capabilities for the users.

Some of the most exciting and useful examples in call centre software include power dialling, which automatically dials through a call list; call whisper, which allows for real-time coaching during client calls; automated ; transcription of phone calls; mass text message campaigns; and more. Some cloud contact centres have more sophisticated features than others, so if one will make all the difference for your business, confirm the service has it before you sign on the dotted line.
How a cloud contact centre improves the customer experience
The arguments detailed above are not the only ones in favour of contact centres. Here are the other advantages of contact centres for companies:


Improved performance
Using alternative channels relieves congestion on traditional channels such as telephony and emailing. This has a positive impact on the performance of teams, who benefit from a more balanced distribution of the workload.

This kind of organisation makes it possible to handle a greater number of requests at the same time, without compromising service quality.


Personalised customer experience
A complete contact history enables agents to adapt to customers' preferences and offer them a better quality of service. In a traditional call centre, the approach is the opposite, as the only way to contact the company is by telephone.

This can be restrictive, as simply having to wait to be put through to an agent can have a negative impact on the customer's perception of the brand.

The same applies to outbound approaches. Even if telephone prospecting still has a long way to go, it's clear that a single call isn't enough to close a deal, but that too many calls can be an irritant. Here again, it's important not only to increase the number of contact points, but also to vary them (e-mails, text messages, voice messages, social media outreach), so as to personalise the customer experience throughout the entire process.


Rapidly identify trends
The software used in contact centres generally embeds some rather interesting analysis functionalities that can help them on several levels:


Easily detect peaks in activity

Access chatbot conversations to pinpoint keywords

Easily identify the times when customers are most receptive
Some software packages go even further, offering analysis of the customer's voice. It's not just a question of the customer's voice in the literal sense, but of gathering information from customers to find out more about their experience and feelings towards the services and products offered by the company.


Who needs a cloud contact centre?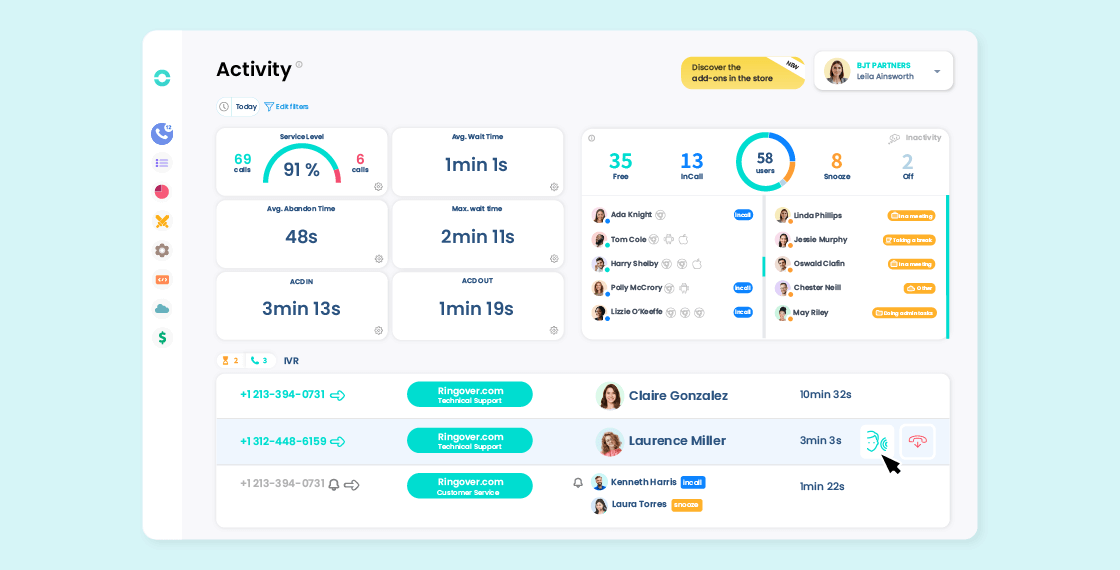 Cloud contact centres are ideal for any business who wants to optimise their sales process or client service.

Industries who commonly use cloud contact centres include:
Financial services

Healthcare

Retail

Professional services
However, the point of a cloud contact centre is to streamline client communications, and ensure that you or a representative of your business is easily reachable. In reality, a cloud call centre can be helpful for many companies of various sizes, including small and medium businesses.

Given that cloud call centre softwares have a centralised, browser-accessible interface, they make a huge difference in how easily you can contact or provide support to your customers. Plus, as mentioned before, software providers have different tiers of service, which are commonly charged per user. This pricing structure allows you to easily scale your financial commitment depending on your business needs.
Cloud Contact Centre FAQs
How do Cloud contact centres work?
Cloud contact centres utilise CCaaS to manage inbound and outbound client communications. The software also connects to the Internet, allowing for omnichannel communications and other benefits. The tool suite provided by a cloud contact centre allows for communication using email, SMS, calls, text messaging, and more, in addition to valuable features like call recording, interactive voice response (IVR) menus, and more.


Why is contact centre important?
A cloud-based contact centre supplies customer service departments with the features necessary to provide omnichannel communications to their clients. Many people differentiate between a cloud contact centre and a cloud call centre, with the main difference being that a call centre only provides voice support. In contrast, a contact centre provides multichannel communication options, like email, text messaging, social media outreach, and more. Not to mention, because the cloud contact centre is based on the Internet, you don't need any specialised hardware beyond an Internet-connected device.


What is the difference between cloud contact centre and hosted contact centre?
Hosted contact centres rely on specific servers and direct network connections to provide the phone service needed for customer service departments. Meanwhile, a cloud contact centre is not limited to using any one specific server–instead, it will automatically select the servers with the best connection. This difference allows cloud contact centres to provide a higher quality, more consistent level of service.


What are the main benefits of cloud contact centres?
The main benefit of cloud contact centres is that they centralise client communications in one browser-accessible interface. This allows agents to follow a customer's journey despite numerous multichannel touchpoints. Thanks to this centralised and accessible information, agents can prospect and provide customer support in a more efficient manner, even anticipating client needs.
What is a good cloud based contact centre solution?
Ringover's key features include unlimited calling to 110 countries, SMS, voice, chat, text and digital channels. With nearly two decades of telephony experience, Ringover offers high call quality with little to no downtime. There's no surprises when the bill comes due: Ringover has transparent and affordable pricing, service begins at £19 per month. While Ringover has a robust selection of features and integrations (including Salesforce), they launch new features and integrations multiple times a year, often based on client requests.
What are the 4 elements of contact centre?
A quality contact centre must have:
Customer service agents with adequate training and experience.

Monitoring and reporting to ensure efficiency and quality service to callers.

Adequate physical infrastructure to support a high volume of calls.

Technical infrastructure for maximum efficiency, including Automatic Call Distribution, IVR, Power Dialer, and telephony software.
How do I setup a cloud call centre?
You can setup a cloud call centre in five easy steps.
Define the objectives of your call centre so you can understand which functionalities are "must-haves" and which are only "nice-to-haves."

Choose the cloud call centre software that delivers on your must-haves and works for your budget.

Add a phone number to your account. If you would like to have multiple users on your account, you'll need to add a phone number for each user. The new user will then receive an email inviting them to create their account.

Set up your IVR system. This will reassure your callers that your service is professional and help manage incoming calls. This step determines how callers can reach your agents and what happens if a caller contacts your business after hours. You can direct them to leave a voicemail, or even forward calls to another phone number. You can also add a survey at the end of calls to understand if customers are happy with your service.

You're ready to begin receiving calls!