Business phone system
12 Best Virtual Phone Systems for Small Business in 2024
A virtual phone system is a cloud-based service that enables you to make and receive calls using the internet, freeing you from the constraints of traditional phone lines. With a virtual phone system, you can enjoy features like call forwarding, voicemail, and even automated attendants, all managed online.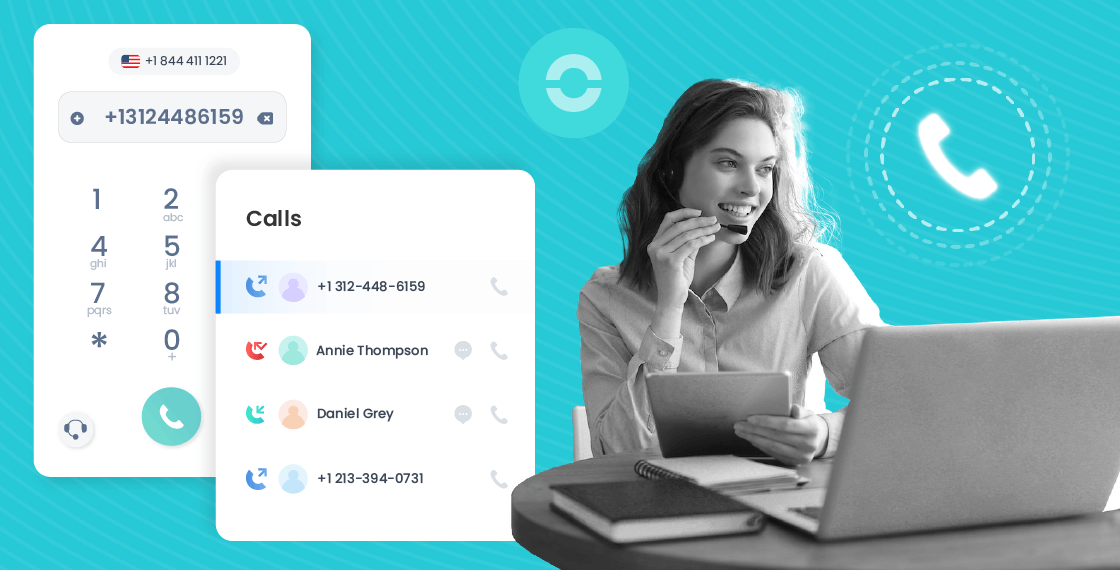 Try virtual phone system for free


Whether you are a manufacturer, retailer, or software designer - one of the most important things your business should have is a phone number. Once upon a time, this meant getting a connection or using your personal phone number.

However, these come with drawbacks – if you're not at your desk, you might miss an important call. If you get a call on your personal phone, you might not be prepared for a professional exchange. Replacing the old telephone methods with a virtual phone system eliminates these issues. It's the ideal communication solution for businesses of all sizes, and in all industries.

Here's everything you need to know about a virtual business phone system.


What is a virtual phone system?
A virtual phone system is a cloud-based communication service that connects calls over an internet connection. Unlike a traditional phone system, the phone number assigned by a virtual phone system is linked not to a device but to an account. This number can be used to make and receive calls from any device that has a working internet connection.

In addition to regular voice calls, you can also use this platform to make , conference calls and exchange and . Service providers also offer a range of other productivity and quality control features such as auto attendants, , and , reports, etc.

The service can be accessed through an app installed on the device or through a web browser. Some service providers also support calling through desk phones. But, this is not a necessity and you can use a virtual phone system without any additional hardware.
How does a virtual phone system work?
A virtual phone system is based on or Voice over Internet Protocol (VoIP). This means the connection between two numbers is made over the internet rather than phone cables.

When you place a call and speak into your device microphone, the provider digitizes your voice into a data packet. This is then compressed to match the bandwidth available. It is then transmitted through the Wi-Fi router from one VoIP server to the other.

When it reaches the VoIP server connected to the number dialed, it is decompressed and converted back from a digital file to an analog file and the person can hear your message in your voice. All of this happens in a split second thus maintaining a real-time conversation.

A similar process is used for video calling or exchanging messages and faxes.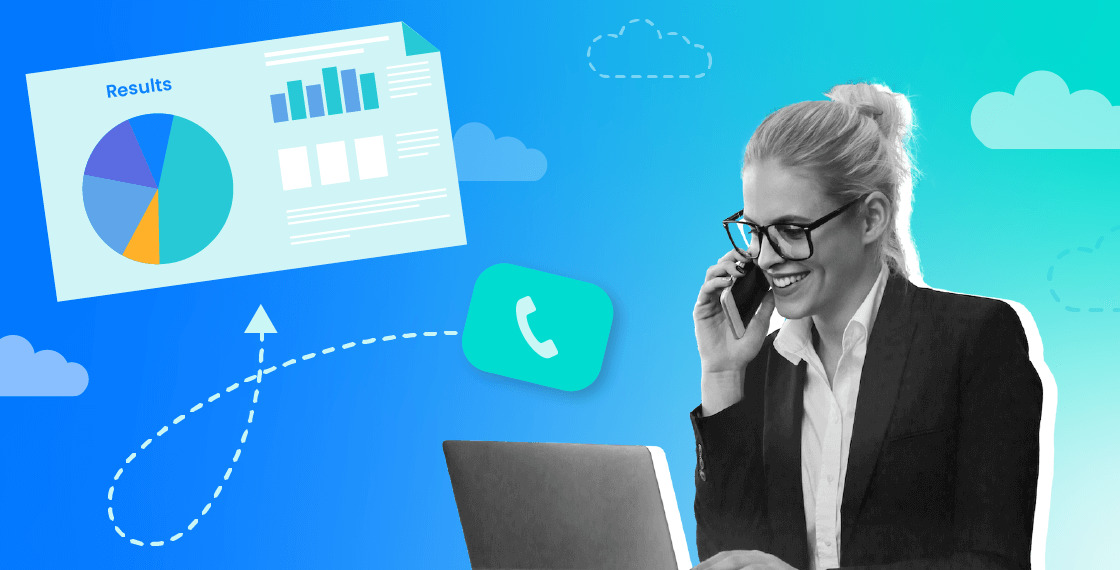 How much does a virtual phone system cost?
One of the key reasons for the popularity of a virtual phone system is its affordability. A virtual phone system is much cheaper than a traditional . There are two aspects to this.

Firstly, there are no setup costs associated with a virtual phone system. You do not need any additional cabling or hardware devices. Neither do you need to wait for a technician to install the software. You can do it on your own in minutes.

Secondly, virtual phone systems work on a subscription model. For a fixed fee, you can access a range of features. Service providers usually offer tiered packages at different price points. Incoming calls from anywhere in the world are usually free.

Outbound calling to certain destinations is included in the subscription plan while calls to other destinations may be billed at a per-minute rate. These destinations vary from one service provider to another. For example, while many service providers limit the free outgoing calls to numbers in the USA and Canada, Ringover includes unlimited outbound calls to 75+ global destinations.

The subscription package costs are provider specific. Ringover packages start from as little as . While Ringover's plans are all-inclusive, some service providers may include selective features in their plans and make others available as add-on packs. This is an important point to consider when you're comparing service providers.
How do I set up a virtual phone system?
Setting up a virtual phone system is quick and easy. There is no need for additional wiring, hardware or technicians. To start with, you need to choose a . Most service providers allow you to create an account online on their website with your email address. Depending on availability, you can port your existing number or get a new local/ toll-free number.

You can start accessing the services from the web browser directly or download and install the service application on your device. This could be your smartphone, tablet, laptop or desktop. Virtual phone systems can be set up on Android, iOS, Windows and Mac devices.
What is the difference between a virtual phone system and a PBX?
While a traditional PBX (Private Branch Exchange) and VoIP system are both phone systems that allow you to make and receive calls, there are many fundamental differences between them in terms of how services are delivered, the type of services offered, quality and reliability, scalability and so on.

PBX systems make connections through the Public Switched Telephone Network (PTSN) via copper wires connected to landline phones. On the other hand, VoIP systems transmit your voice as data packets over the internet. There is no noticeable speed or quality difference with calls on a PBX or VoIP system.

Since PBX systems are connected to devices and cables, the handsets cannot be moved about too much. Even cordless handsets need to stay within a fixed radius from the base to be able to catch transmissions. However, VoIP systems are completely wireless and hence keep you connected on the move. As long as the device is connected to the internet, calls can be made and received without interruptions.

The difference in transmission methods translates to a difference in hardware and maintenance requirements. PBX systems require handsets for each user and at least one person dedicated to maintaining the physical hardware. VoIP systems can be set up on any device with a working internet connection. All system maintenance and upgrades are usually handled remotely by the service provider.

When you talk of growing teams, expanding a PBX phone system is more cumbersome than a VoIP system. With a PBX system, additional lines may be required along with additional handsets and other equipment. To scale up a VoIP system, all you need to do is install the application on new devices and add users to your existing plan or upgrade your plan.
Benefits of using a virtual phone system
There are many benefits of using a virtual phone system that makes them popular with small businesses as well as contact centres. The top 5 benefits are:
A virtual phone system is much cheaper than a traditional PBX phone system. Not only does it not require any additional hardware, but it is also usually inclusive of local outgoing calls as well as outgoing calls to a few other destinations. Calls to other destinations are billed at a per-minute rate, but this too is much lower than traditional call rates.

For example, with Ringover, you can make free outgoing calls to numbers in and calls to other destinations such as the Cayman Islands are billed at only $0.39 per minute.
Virtual phone systems can be scaled up or down very easily. Since the numbers are linked to accounts and not devices, there is no requirement of adding or removing hardware of any kind. You can simply add/remove a user on your existing plan or upgrade your plan as the company grows bigger.

What's more, the new user may be located in your office or get connected to your communication network through a remote device.

You can get new numbers in the area code linked to your physical office or get a virtual number linked to other area codes or a toll-free number. This is beneficial for small companies wanting to expand their presence without setting up physical offices in different cities.
More visibility and control
Along with the ability to make and receive calls, a virtual phone system offers many collaborative and quality control features. To begin with, it is a common platform that can be used for voice calls as well as video calls, messages and faxes. This makes it easier to track information.

Depending on the plan and the service provider, you can also get access to call monitoring and call recording features. This allows supervisors to listen in to calls being made and received, assess the quality of service being provided and whisper suggestions to the company agent without the caller getting to know or take over calls if required.
Stay connected on the move
A virtual phone number can be accessed from a smartphone, tablet, laptop or desktop connected to the internet. This includes the devices within your office as well as those in remote locations. Thus, users do not have to remain at their desks but can take calls from wherever they may be. This minimizes the number of missed calls and improves your customer service.
Establish a professional image
Lastly, a virtual phone system makes it easy for even a start-up to build an image of a well-established company. Many VoIP service providers give you the option of customizing call greetings and designing menus to route calls to different departments. You can even customize the hold music to a recorded message about new products/services being offered, store openings, etc. This is typically included in the subscription cost.

Further, the flexibility of being able to make and receive calls on the move minimizes the number of missed calls. This builds an image of a customer-focused brand.
Setting up your Virtual Phone System
A virtual phone system is suitable for businesses of all sizes. You can get a VoIP connection and set it up in minutes. Start by comparing service providers and plans to pick the one best suited to your business.

Ringover has 3 beginning at £19 per user/month. All plans include unlimited incoming calls and outgoing calls to 110 global destinations and a range of features such as custom greetings, IVR call routing and call recording.

You can choose to try Ringover free for seven days or start a paid plan from the beginning. The Ringover services can be accessed through the web browser or through the smartphone/desktop application. It's as easy as that!


Free Trial
What is a business phone system?
A business phone system is a phone system with features to support productivity like multiple phone lines, unlimited calling, interactive voice response (IVR) menus, and call recording. There are different technologies for small business phone systems, but one of the most common is a VoIP (voice over Internet protocol) system. Voice IP phone services, as the name suggests, use an Internet connection to create a virtual phone. In other words, the possibilities go far beyond simply having a business cell phone.

This technology brings many benefits to a business, like easing the organisation of inbound and outbound calls. An is particularly useful for businesses who have sales or customer service activities, as they provide specific features to optimise operations for those departments.

In this article, we'll look at what the best business phone systems are, key features of a virtual phone, the types of technology supporting business phone systems, and how to choose the best option for your company.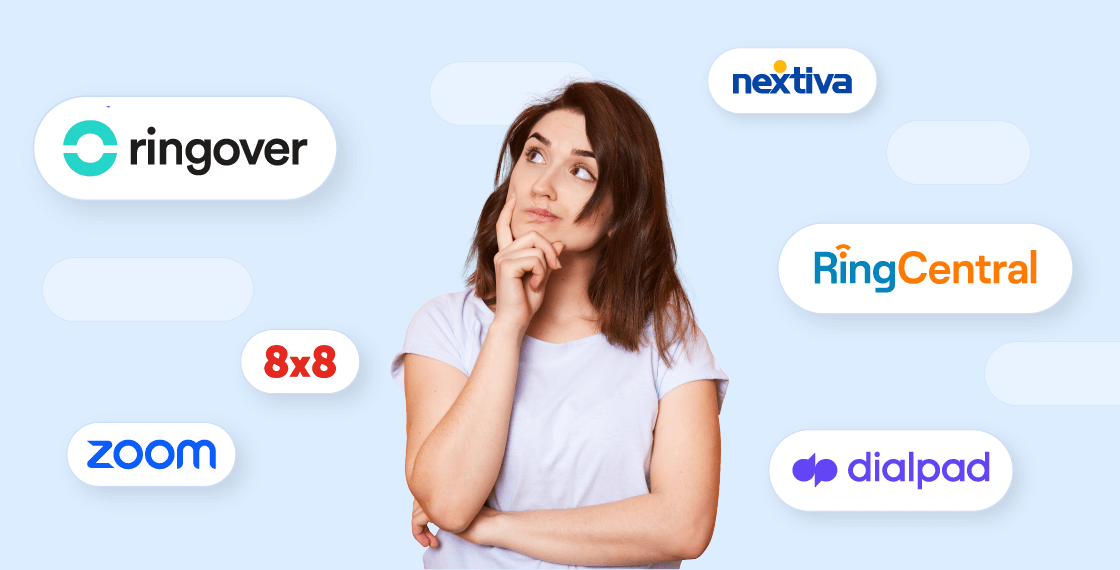 12 Best small business phone systems
Here is a selection of the industry leaders for business phone systems.
Ringover

Nextiva

Ooma

Grasshopper virtual phone

RingCentral

8x8

Dialpad

Vonage

GoTo Connect

Zoom

Spitfire Network Services

bOnline Unlimited Calling
1. Ringover
Ringover is a VoIP telephony service which offers features to facilitate business communications, sales prospecting, and customer service (). Based on , Ringover has an intuitive interface that makes onboarding quick and easy, especially since it is possible to . Both individual team members and managers have access to thorough s to monitor performance.
Ringover Notable Features
50+ integrations available with other business software to boost productivity

Intuitive and accessible user interface
Ringover Pricing
Ringover has , so businesses can choose the perfect plan for their current size and have suitable options as they grow.
2. Nextiva
Nextiva provides a VoIP service in the form of two different products, a (UCaas) and a contact centre solution. Though the pricing for the lowest tier is relatively affordable, there are certain limitations–notably, a 45 minute limit for . Plus, certain customers have reported difficulty receiving adequate support, with long waits or even confusion over billing. Because Nextiva offers unlimited calling in the US and Canada and has an interface that can be difficult to use, businesses should carefully consider their needs before committing to a contract. Small businesses in particular should look at the cost-to-value ratio and take into account how likely they are to need support, as some features have been called out as confusing.
Notable Nextiva Features
Multiple HIPAA-compliant features like phone service, call recording, video conferencing, etc.

Nextiva has developed their own CRM
Nextiva Pricing
As previously mentioned, Nextiva offers business communication plans and a contact centre solution. The business communications service ranges from $25.95 to $40.95 per user/month. Their contact centre solution has four tiers, but the price is on request. Keep in mind the business phone service is not included in any of the contact centre solution plans.
3. Ooma
Ooma has a business telephony service with plans specifically developed for small businesses who don't have the support of an interior IT department. As such, they are known for having an easy-to-use user interface that are meant for first-time setups of a business phone system. There are a few drawbacks to the Ooma service, like potential changes in your caller ID (which could lead to a decreased pick-up rate), and many users complaining that the phone service itself isn't reliable. Finally, Ooma is meant to serve small businesses, so there are limits to the features available. That includes integrations with other business software– very few are available.
Ooma Notable Features
Simple interface

Basic features for a relatively low price
Ooma Pricing
Ooma has phone services for businesses and for consumers, with their business plans starting at about $20 per user/month and going up to about $30 per user/month.
4. Grasshopper Virtual Phone System
Grasshopper virtual phone is a simple business phone system best suited for very small operations who don't have significant customer service or sales prospecting needs. The main idea is to separate business and personal calls, with access to incoming calls on Internet-connected devices.
Grasshopper Virtual Phone Notable Features
Customer support is available 24/7
Grasshopper Virtual Phone Pricing
To add one phone number to your personal device, Grasshopper charges $31 per month. Three phone numbers cost $51 per month, and five phone numbers cost $89 per month.
5. RingCentral MVP
RingCentral MVP offers cloud-based messaging, video, and phone capabilities that are meant to support small businesses. Their business communications solution is based on the cloud, and has multiple features meant to support communications and increase productivity. Ringcentral offers four subscription plans so it can be a suitable option for small and large businesses. However, RingCentral MVP does restrict the number of licences and features for each plan, so you'll need to factor in potential increases in costs. The least expensive plans don't include essential features like multi-level IVR or video conferencing.
Notable RingCentral MVP Features
RingCentral MVP offers dozens of integrations to facilitate productivity and collaboration.

The analytics dashboard includes 35 KPIs to monitor performance standards.
Ringcentral Pricing
RingCentral MVP offers three different plans, with the most basic at $30 per user/month, a middle option at $35 per user/month, and the Ultra plan at $45 per user/month. These plans focus on business communications and unified communications. So if you have a significant contact centre or sales prospecting activity, RingCentral MVP may not be the best option for your needs. The plans are missing key functionalities like IVR and call transcription.
6. 8x8
8x8 is a which offers multichannel communication, including phone and video calls, , internal chat, and features to support a contact centre. One important note about 8x8 is that they have separate plans for business communications and contact centre solutions. Only the contact centre solution includes key features like real-time coaching tools. If you want to have a high level of support, be sure to check what is included in your plan as the support levels can vary from plan to plan. Though 8x8 is known to be useful to businesses who have international customers, they only offer unlimited calling to 48 countries. Other companies, like Ringover, offer unlimited calling to 65 destinations.
Notable 8x8 Features
During a video conferencing, it's possible to add branding so the meeting has a high-end, professional look.

Audio and video conferencing with screen sharing is available for up to 500 participants.
8x8 Pricing
One thing to note is that 8x8 offers communication plans, and separate plans for their contact centre solution.

The communication plans begin at $28 per user/month, with a second option at $57 per user/month. If you're looking for a contact centre solution, the first tier is $85 per user/month and the second tier is $110 per user/month.
7. Dialpad
Dialpad provides cloud-based business communications in addition to a business phone system. That means it offers voice and video calling, team chat, , and text messaging, plus contact centre-specific features like IVR, , call recording, and an analytics dashboard. Dialpad's service is suitable for many different businesses, from small to enterprise. Dialpad has invested many resources in creating an in-house contact centre solution and AI technology. As a result, all the support will come directly from Dialpad. In fact, when you set up Dialpad, the onboarding doesn't require any pre-existing IT infrastructure.
Notable Dialpad Features
AI voice assistance, called voice intelligence by Dialpad. This features aids in real-time coaching because it analyses client or prospect interactions to complete a sentiment analysis and provide personalised recommendations to the agent. It also provides additional functionalities, like automated

.
Dialpad Pricing
Dialpad's pricing begins at $23 per user/month, with the pro plan at $35 per user/month. There is a possibility for an enterprise plan, which is price on request only. When it comes to Dialpad, it's important to look at what features are included in the monthly plan. For example, adding a toll free number is an extra flat fee per month, plus you'll pay a per-minute rate during each phone call.
8. Vonage
Vonage is a longtime player in the VoIP service industry and has developed their cloud communications offering in recent years. Vonage has four product suites, which include unified communications, a contact centre solution, a , and various communications . Though this is an impressive offering overall, the breadth of the product suites can have disadvantages. For example, call recording is only available as an add-on within the unified communications tool. For other VoIP providers like Ringover, this is included with plans because many businesses must record calls for compliance or quality assurance reasons.
Vonage Notable Features
Vonage Pricing
Vonage offers three different plans for their unified communications product. Their first tier plan, called the Mobile plan is about $20 per user/month. Their Premium plan is about $30 per user/month, and the Advanced plan is about $40 per user/month. It's worth noting that the prices per plan can decrease if you have larger amounts of users.
9. GoTo Connect
GoTo Connect is a unified communications software meant to facilitate and support contact centres. GoTo Connect has many use cases because it has a large amount of features. Those features include the basics like video conferencing and call routing, as well as features that specifically support contact centres, like call recording, toll-free numbers, and IVR. But the large number of features might explain that certain reviewers found GoTo Connect's solution difficult to implement and use, which is further complicated by a lack of support in key moments. And if your teams are often on the go, beware: reviewers have criticised GoTo Connect's mobile app for its spotty service.
GoTo Connect Notable Features
GoTo Connect has an easy-to-use interface
GoTo Connect Pricing
GoTo Connect has two plans available. Their Basic plan is $27 per user/month–and as the name suggests, it is quite basic. If you need features like call recording or even just analytics, you'll need to subscribe to the Standard plan at $32 per user/month.
10. Zoom
Zoom became a household name during the COVID pandemic, and has continued to develop their product selection. Therefore, their video conferencing service, Zoom One, is well-known. It provides video calls with a few features to facilitate teamwork, and upgraded plans also include unlimited regional phone, translated captions, and cloud storage. They do have a VoIP service, but those start at $120 per user/year, a price which doesn't include fees for outbound or international calls. They've also debuted products to support events and webinars, virtual meeting rooms, and contact centres.
Zoom Notable Features
Separate services for video conferencing, VoIP, events/webinars, virtual meeting rooms, or contact centres

Their Whiteboard feature was designed to support collaboration and brainstorming
Zoom Pricing
For their video conferencing service, there are five tiers. Their free tier limits meetings to 40 minutes, but the next step up from that is $15.99 per user/month, the third tier is $19.99 per user/month, the Business Plus plan is $25 per user/month, and the Enterprise plan is priced upon request. Their Zoom Phone service has flat monthly rates but you should factor in additional rates for outbound and international calls. The first tier of Zoom Phone costs $10 per user/month, the second tier is $15 per user/month, and the third tier is $20 per user/month.
11. Spitfire Network Services
Spitfire Network Services offers a hosted VoIP system so businesses can have unified communications. The features make it a decent option for sales teams or customer service departments, and has integrations available with technology like Microsoft Teams. However, there are few innovative features using technology like artificial intelligence. In reviews, many users have reported issues with getting adequate support, even in cases of service outages.
Spitfire Network Services Notable Features
Spitfire Network also offers Internet

Spitfire has a porting agreement with telephone providers so you can keep original numbers
Spitfire Network Services Pricing
Spitfire does not publish pricing information on their website.
12. bOnline Unlimited Calling
bOnline Unlimited Callings's VoIP system is specifically developed for small businesses with a small selection of telephony features like hold music and video conferencing. As you decide between their plans, be sure to check the minutes limits to make sure you don't exceed what your plan allows. Finally, if you are not comfortable with VoIP systems, be aware that bOnline has been cited for having poor customer support that is also limited in its availability.
bOnline Unlimited Calling Notable Features
bOnline offers 20+ CRM integrations

International calls are billed per minute
bOnline Unlimited Calling Pricing
bOnline has three plans available for phone systems. The Starter plan is £6 per user/month, the Unlimited Calling plan is £14 per user/month, and a third plan also called Unlimited Calling is £15.50 per user/month.
Choosing the best small business phone system
As the previous sections made clear, there are many business phone systems on the market, all of which have their own advantages and disadvantages. If you're feeling overwhelmed with choice, that's normal. When you're shopping for your business phone system, don't confine yourself to only considering pricing and features. The fine print is important too! Make sure you verify:
Contract length and any corresponding changes in price. Same thing goes for the amount of licences/seats.

Customer service, especially their working hours and if there is any guaranteed uptime.

The onboarding process, especially what resources are available and if the business phone system provider offers training. One important factor to consider is how much time you will need to deploy and onboard your team.

Check your integrations. If you already have business software in use, making sure they will integrate with a VoIP system is of utmost importance. Otherwise, you could have a big headache on your hands!

Check in with your hardware needs. Whether any hardware is included with the plan you choose, or even available from the service, is important to know before signing the dotted line. For example, Grasshopper Virtual Phone doesn't include hardware because the service consists of adding a professional line to a personal phone.

Understand the needs of the team. Before you finalise your selection, speak to your colleagues who will be using the business phone system on a daily basis. Understanding their blockers, their evaluation criteria, and their objectives will go far in helping you to narrow down the choices available.
Most important business phone system features
As we mentioned in the previous section, the features available are not the sole criteria you should consider when shopping for a VoIP service. However, if you know your team has specific needs that can only be served by specific features, it only makes sense to eliminate all the business telephony services that don't have that feature on offer.

With that in mind, we've put together this overview of the most important small business phone system features. These features solve common issues that many businesses face, and can have a significant impact on performance and ultimately, your bottom line.
Call routing
Call routing allows you to direct incoming calls to certain employees based on predefined rules. Those rules could be based on the employee's specialty (cybersecurity, IT support, etc.), or department (sales, billing, customer service, etc.). The call routing feature is particularly helpful for businesses looking to mitigate their incoming call flow and improve their level of service. For example, with a call routing system in place, the chances a call goes unanswered decrease significantly.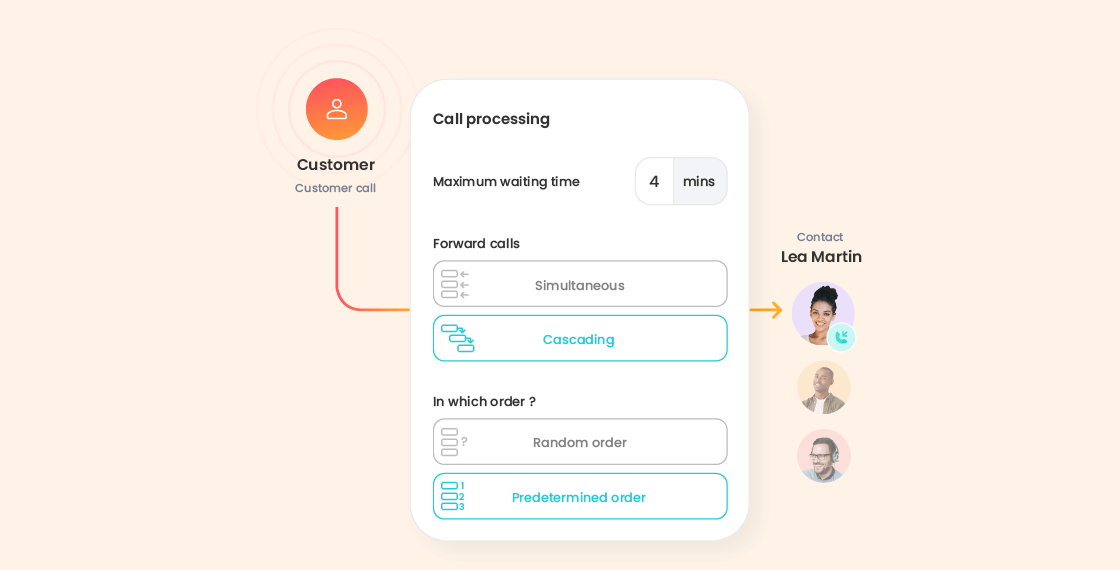 Call forwarding
The feature transfers incoming calls to another number (like your mobile phone or a colleague's phone) in the event the phone call is not answered. For those who don't want to minimise the chance they'll miss a call, call forwarding is a key feature to have in your business phone system. And if you have a team, the call forwarding feature will be very helpful in the event a team member goes on vacation. All their incoming calls can be forwarded to a colleague until they return from vacation
Omnichannel communication
is a communication strategy often used in sales, marketing, and customer service in which you use the right communication channel to reach a contact at the right time. This strategy gained popularity because contacts appreciate being able to communicate with a business through whichever business channel is most convenient for them. To successfully deploy an omnichannel strategy, you'll need your business telephony software to offer multiple communication channels. Even better is when the VoIP service allows you to manage those communications in one intuitive interface.
Integrations
We've already mentioned integrations and how important it is to verify them before purchasing a small business phone system. But just to drive the point home, imagine you've just committed to a VoIP provider. You've made an investment of time and money, and your team is mentally prepared to onboard and begin using a new software. Then you discover that your new business telephony can't integrate with the CRM you currently use. This means that every piece of data you enter into either software will have to be entered twice–you won't be able to take advantage of the automatic data synchronisation between your VoIP software and your CRM. To make sure you don't end up in that sticky situation, check the business phone system's to see if it's possible.
IVR
An IVR system is an automated menu that callers can navigate through digit-enabled or voice prompts. The benefit of this menu is significant for the callers, as it decreases wait times and empowers callers to independently access information (like a business location, business hours, or even certain processes). And on the business's side, they will be able to handle a higher volume of calls, or potentially decrease the number of agents needed.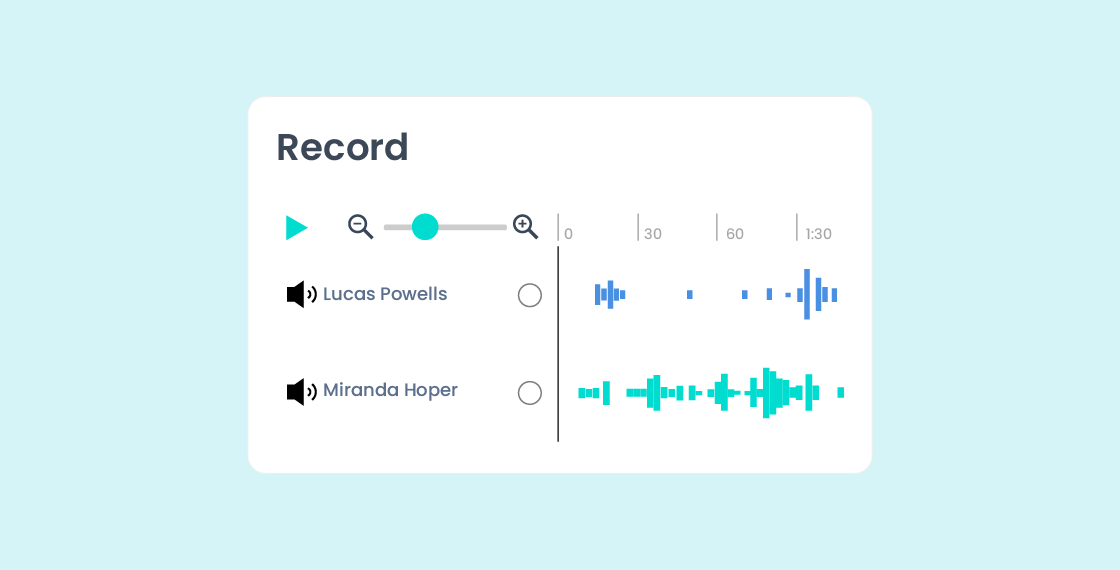 Call recording
Call recording goes beyond simply taping a call. The best call recording features allow you to easily access, download, and store business calls. Having call recordings on hand is important for posterity and quality assurance, but in some cases it's also a matter of compliance. No matter your use case, make sure the telephony software has a reliable recording feature that will allow you to select which calls will be recorded.
Call monitoring
Call monitoring is a feature that allows one person to listen in on an ongoing phone call. This feature is most commonly used in customer service or sales departments to understand the quality of interactions. As such, it's a great tool to quickly evaluate an employee's performance, show a new employee how a seasoned agent handles customers or prospects, and generally maintain a high quality of service.
Call whisper
Just like call monitoring, call whisper is an extremely useful tool to have on hand for coaching and training. Call whisper allows you to listen in on a conversation without the contact being aware. As such, you will be able to speak to your agent without the contact hearing to advise them on how to best handle an interaction.
Call reporting and analytics
Subscribing to a small business phone system is a noteworthy investment, and as such you'll need to keep up with how it changes operations and performance. As such, it's key your business phone system has a customizable and intuitive analytics dashboard.
Types of business phone systems
When it comes to business phone systems, there are two major categories, on-premise and cloud-based. Let's take a deep dive into those two categories to understand why cloud-based communications systems deliver a higher value, more flexible solution than on-premise phone systems.
On-premise business phone system
On-premise business phone systems are based on private branch exchanges (PBX), the telephone infrastructure that underlay phone calls until the arrival of the Internet and digital calling technologies like VoIP. In comparison with cloud-based phone systems, on-premise systems have distinct drawbacks.

They require physical hardware to function, an expense in addition to fees paid to the telephone service provider. We've discussed the importance of integrations with other business software like CRMs already in this article–with a PBX system, your ability to integrate with other software is very limited. The flexible work model that's become a norm over the past few years is also difficult to maintain with an on-premise phone system, as the phone is only accessible in the actual office. Not to mention, the setup of an on-premise system is costly and long, as you'll have to install and maintain all the hardware necessary for the system.
Cloud-based business phone system
Cloud-based business phone systems use , which makes and receives calls over the Internet. As such, the business phone system's infrastructure is fundamentally different from that of an on-premise system. That difference in infrastructures results in many different advantages for the VoIP system users.

Because the phone connection is based on the Internet, the calls and the VoIP software with all its features is accessible through any Internet-connected device. So, you won't have to spend time and money installing new hardware to support your business phone system. You and your team can use the business telephony's with a personal or professional cell phone, or the desktop app on any computer.

That's why it's a great choice for teams who are on the move or who work remotely. As for integrations, you'll need to check if the specific VoIP software supports integrations with the business software you already use. But, the selection is much larger than with an on-premise phone system. You could even customise an integration with an API.
Virtual Phone System FAQ
How does a virtual phone system work?
Virtual phone systems use Voice over Internet Protocol to make phone calls. Once you make a call, there is an endpoint connection created between the caller and their contact. The voice data is broken up and grouped together into packets, which travels over the Internet. Then the data is transformed back into voice data once it reaches the contact.
What is VoIP vs virtual phone?
A virtual phone system is a cloud-based technology that connects calls via an Internet connection. The virtual phone system isn't connected to a landline, or even one single device. Instead, the virtual phone system can be accessed by logging into your account using an Internet-connected device.
How do I make a virtual phone?
You can easily acquire a virtual phone number. In fact, you can get a virtual phone number from Ringover in three steps.
Create your Ringover account–you can try it out with the seven-day free trial.

Select the plan that suits your budget and needs.

Choose your virtual phone number or port over an existing number.
Is virtual phone free?
Virtual phone numbers aren't free, as you'll usually need to pay by the minute even if you can create an account for free. However, Ringover allows for unlimited calling to 110 destinations.
What is a virtual cell phone?
A virtual cell phone is a VoIP connection through a smartphone. Any smartphone with an internet connection can be used to make and receive voice and video calls through the VoIP application.
What is a virtual phone call?
A virtual phone call refers to a call placed over the internet by using VoIP technology. A virtual call may be a voice or video call. Conference calls can also be made as virtual phone calls.
What is a virtual PBX phone system and how does it work?
A virtual PBX phone system is another name for a virtual phone system or a VoIP phone system. Instead of cables, calls made with a virtual PBX phone system are transmitted over the internet. The VoIP service provider converts voice files to digital data packets, transmits them over the internet and converts them back into analog form at the receiver's end.
How does a virtual landline work?
A virtual landline is a deskphone that supports VoIP technology. VoIP telephone numbers are not tied to a device but rather to an account. The calls made and received on this virtual landline can also be connected to smartphones, tablets, laptops and desktops with an internet connection.
What is the best phone service for business?
The best business phone systems are:
Ringover

Nextiva

Ooma

Grasshopper virtual phone

RingCentral

8x8

Dialpad

Vonage

GoTo Connect

Zoom
What is phone system business?
A business phone system is a phone system that has features to support productivity like multiple phone lines, unlimited calling, interactive voice response (IVR) menus, and call recording. There are different technologies for business phone systems, but one of the most common is a VoIP (voice over Internet protocol) system. Voice IP phone services, as the name suggests, use an Internet connection for phone or video calls.In other word, the possibilities go far beyond simply having a business cell phone.
What should I look for in a small business phone system?
Cost is a key factor for small businesses shopping for a business phone system. Apart from that, a small business phone system should be
Intuitive to use. If the interface is easy-to-use, onboarding will go more smoothly and teams will be more likely to fully integrate the software into their daily operations.

Flexible. Since the business telephony software is accessible on any Internet-connected device, your teams will have an unparalleled level of flexibility.
What is a VoIP phone system?
A VoIP phone system makes phone calls using the Internet, rather than an analog phone line. To make a phone call using VoIP technology, you can use almost any Internet-connected device, like a cell phone, desktop computer, tablet, etc. Who you can call with VoIP technology depends on the VoIP provider. Some VoIP providers only allow calls to others using the same service., but other VoIP providers support calling to any telephone number.
Can I use my cell phone as a business line?
While it is possible to use a cell phone for a business line, it's not recommended. Many business people encounter the same disadvantages when using a personal line to conduct business. First of all, mixing personal and private correspondence carries security risks like having professional data on a personal device. You'll also risk potentially losing data if you leave your job and have to erase professional communications from your device. Finally, having professional correspondence arrive on a personal device puts your work-life balance at risk.

Having a dedicated business phone number gives your business credibility, and helps you to separate work and personal life. Plus, if you have a professional phone line through a VoIP service provider, you'll be able to keep your number thanks to the virtual phone system technology.