Business phone system
Best Softphone Apps: The top 10 (free and paid) Windows and Mac 2024
A softphone is essentially a virtual telephone in software form. It enables users to make voice and video calls, send messages, and engage in various communication features using a computer or smart device, all over the internet.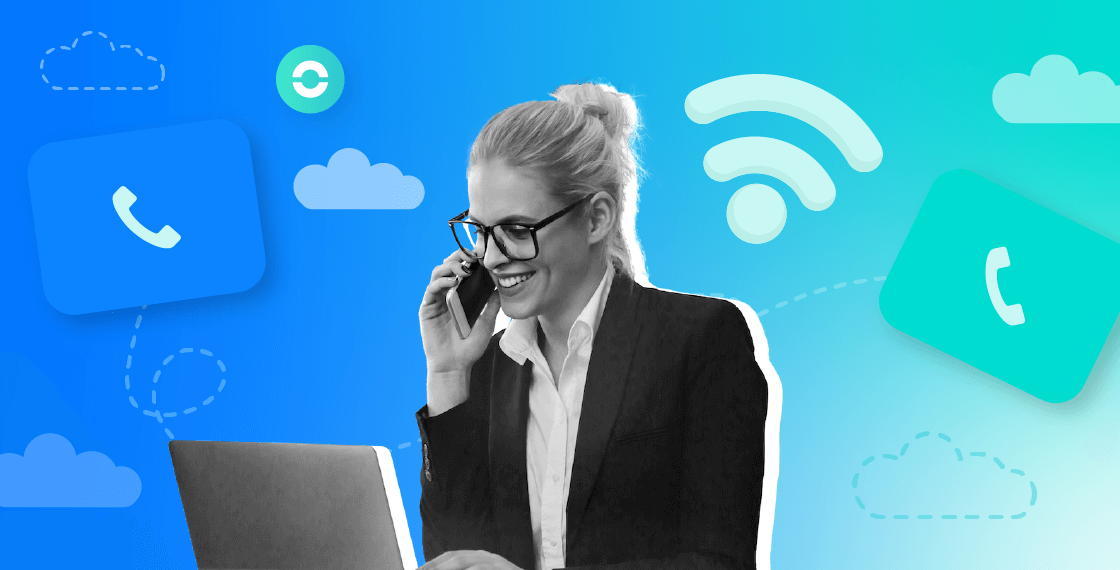 Free softphone use has become widespread across businesses in recent years. The popularity of softphones is mainly due to how efficient it is, and the fact that it supports working remotely and the widespread use of smartphones and tablets.


Try Ringover's Softphone for Free!


If you've come to this page, you've probably asked yourself questions like:
How do softphones work?

Are they suitable for my telephony needs?

How do I choose the best softphone for my business?

What are the advantages and disadvantages of softphones?
We'll answer these questions in the article, but first, let's take a look at the best softphones on the market.
Top 10 best softphones 2024
The business softphone market is highly competitive. However, some solutions stand out from the crowd, particularly in terms of quality of service, features and compatibility with other business software:
Ringover

Quicktalk

RingCentral MVP

Nextiva

Bria

Cloudtalk

3CX

Cloudcall

Google Voice

Vonage Business Communications
1. Ringover: the versatile solution that ticks all the boxes
is a reference for softphone providers, standing out for its versatility. In fact, it was designed to meet the communication needs of both sales and support teams. Hosted in the cloud, Ringover is a perfect blend of tools for prospecting, internal collaboration, and customer support.
How much does the Ringover softphone cost?
Learn More About Ringover
2. Quicktalk: the ideal softphone for small business
Quicktalk offers softphone software and a for three users. Quicktalk includes the essential telephone tools for small businesses. You'll get a virtual switchboard, unlimited calls, performance monitoring tools (call recording, analytics) and integrations with other business software.
How much does Quicktalk cost?
Quicktalk is clearly not the most expensive softphone on the market, as it costs just $19/month for three users! To add more users, you'll pay an additional $10/month/user.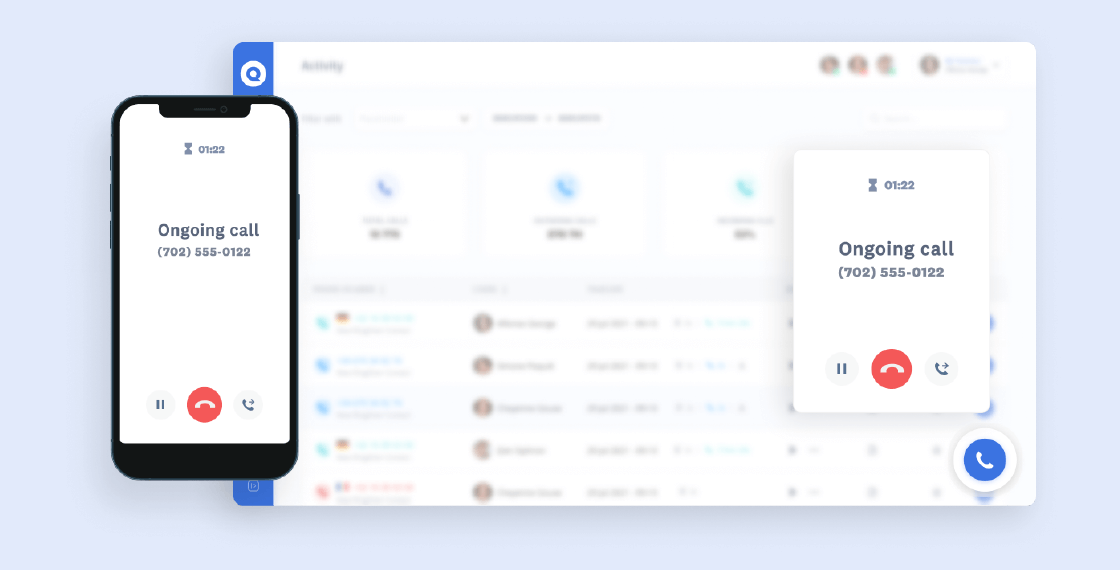 3. RingCentral
RingCentral is a leading provider of VoIP solutions.Their softphone software includes features such as voice calls, video conferencing, internal messaging, file sharing, and .
How much does RingCentral cost?
RingCentral MVP offers three plans.
Core: $30/month for one user, with 100 free minutes, team messaging, a call log, and file sharing.

Advanced: $35/month with 1000 free minutes per user and the option of on-demand call recording and videoconferencing.

Ultra: $45/month/user (teams of 2 to 19 users) with 10,000 free minutes per user and advanced call management.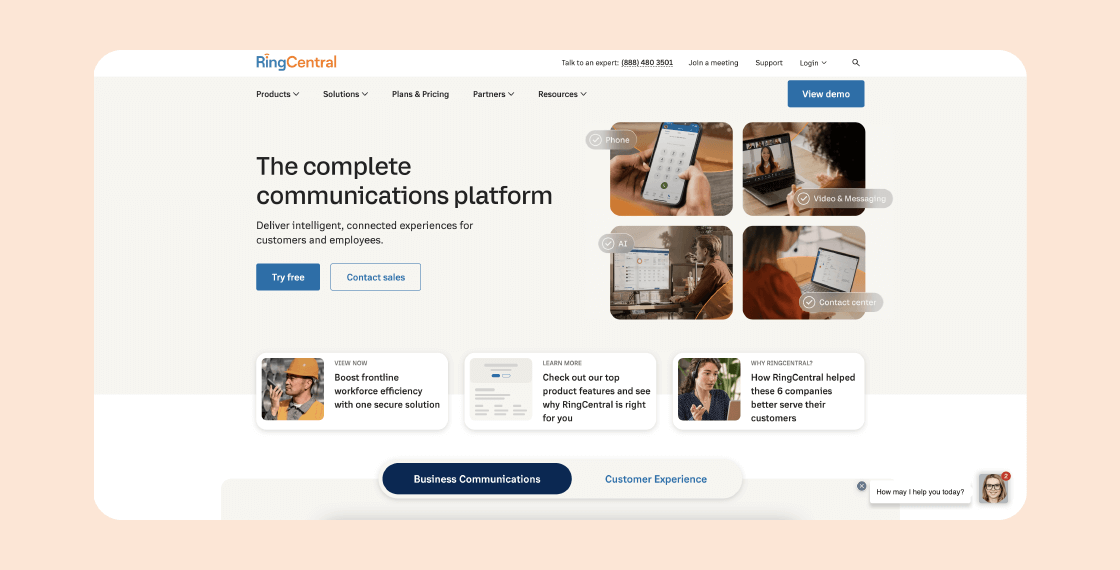 RingCentral user reviews
Overall, softphone solution reviews are positive. Nevertheless, there are a few drawbacks that users regularly point out:
The absence of basic features such as integrations in the Core plan

Installation can be complex

A lack of clarity in the pricing
4. Nextiva
Nextiva is a cloud communications system with a full-featured softphone. It supports voice and video calls, and also offers instant messaging and Internet fax. Nextiva is a true call centre solution with a focus on collaboration.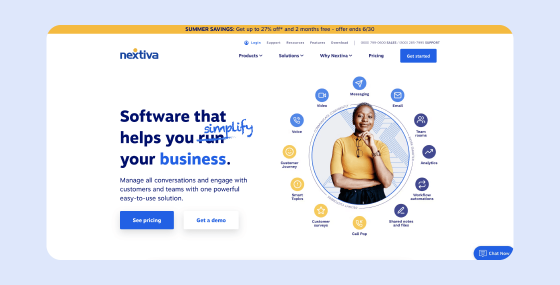 How much does the Nextiva softphone cost?
Nextiva offers three softphone plans:
The Enterprise package at $40.95 includes all the benefits of the Professional package, plus voicemail transcription, call recording, unlimited recording of videoconferencing sessions, and unlimited number of participants in telephone and video conferences.
5. Bria
This telephone solution has been developed by Canadian company Counterpath.

It enables professionals to easily work remotely and make phone calls from their computer or business smartphone. Bria integrates essential features such as videoconferencing and internal messaging to enhance team collaboration.


What you need to know about Bria
Unlike the solutions presented above, this softphone is not a VoIP provider. Bria is primarily aimed at companies that have already subscribed to an on-premise call centre solution and are looking to migrate their infrastructure to the cloud.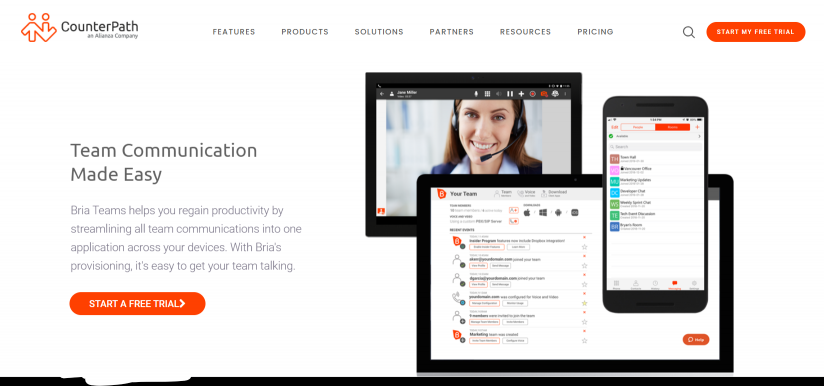 How much does Bria cost?
Counterpath offers several monthly subscriptions:
Bria Solo Free: with the option of connecting a single device

Bria Solo at $2.95/month, with up to three devices per user and five VoIP accounts

Bria Teams at $4.95/month, with all the benefits of Bria Solo, plus team messaging and call statistics.

Bria Enterprise: the price of this offer is not shown, but it includes all the features of Bria Teams and complements them with features designed for technical teams (event logs, ability to fine-tune conference settings, remote debugging tools, etc.).
6. Cloudtalk
, not to be confused with Cloudcall, is a softphone developed by a Slovakian company. The company has offices in Prague, Malaga and Bratislava. It is therefore well established on the Old Continent. The softphone includes essential telephony functions such as unlimited calls, call waiting, and call recording.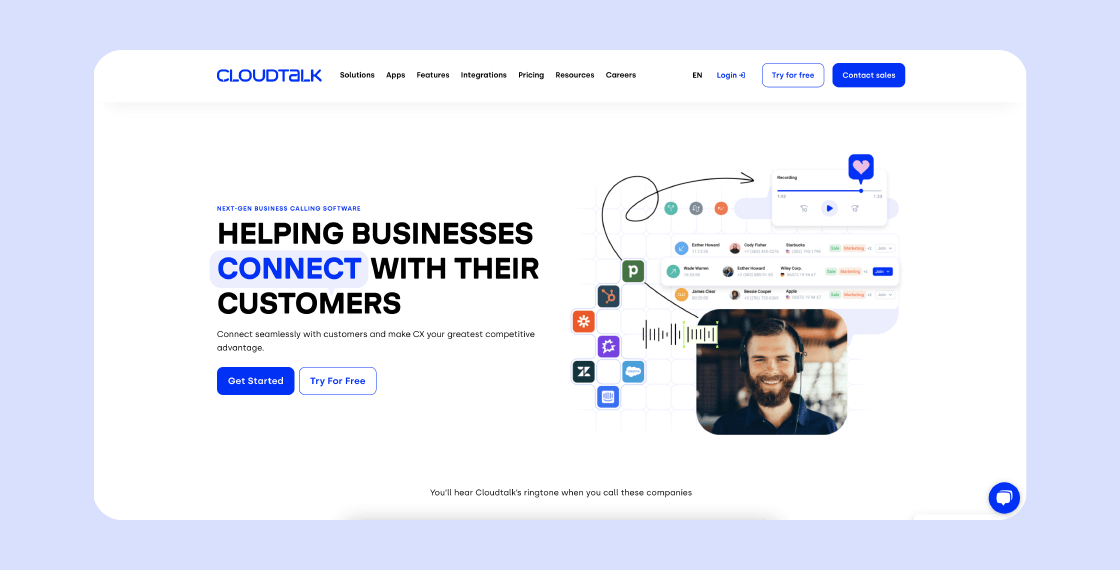 How much does Cloudtalk cost?
There are four Cloudtalk plans:
Essential at $30/month/user: all the features of the Starter package, plus integration with other tools, an analytics dashboard, skill-based routing, text messages, etc.

Custom (pricing based on options selected)
7. 3CX
Unlike most of the names in our top softphones, 3CX is not a VoIP operator. 3CX won't provide you with virtual phone lines, but you'll have good software for managing your communications, video conferencing, collaborating via an internal chat tool and even integrating third-party tools.
How much does 3CX cost?
is one of the cheapest solutions on the market, for the good reason that it doesn't include a phone line package that lets you make calls. 3CX just provides features that you can add to an existing business line. The other thing you need to know about 3CX is that the paid versions of the solution are only sold through 3CX-certified partners. You won't be able to subscribe to paid versions of 3CX via the publisher's website. Here are the solution prices: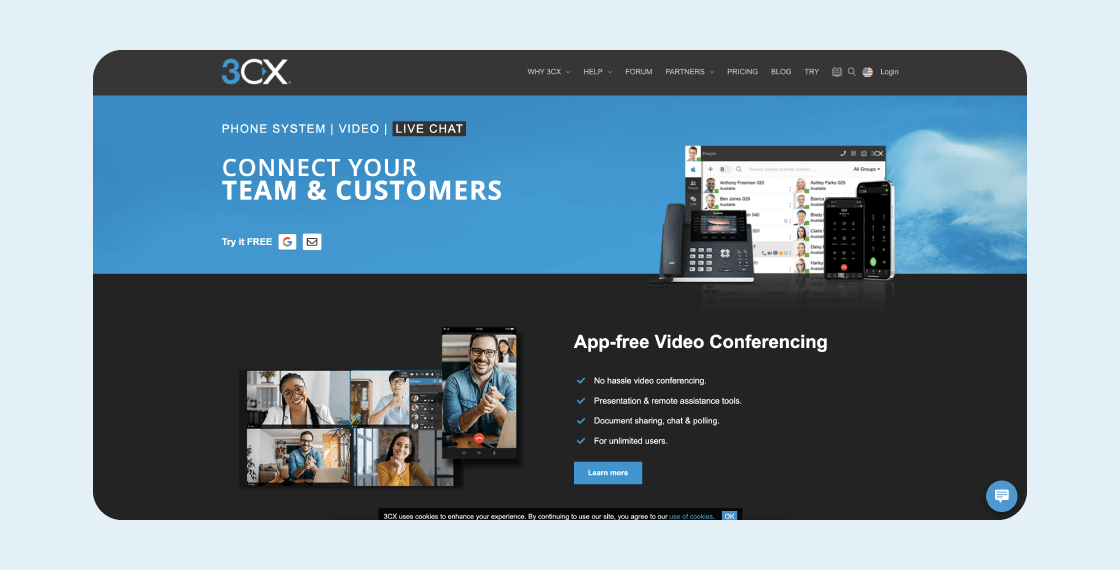 3CX Free: Free with SIP trunk, WhatsApp integration, videoconferencing for up to 25 participants

3CX Pro at $25/year: limited to four simultaneous calls, with CRM integration, text messaging, call recording, and videoconferencing for up to 100 participants.

3CX ENT at $28/year: limited to four simultaneous calls, with all "Dedicated Pro" features in addition to skills-based call routing and videoconferencing for up to 250 participants.
8. Cloudcall
Cloudcall is a British company with offices in the UK, Australia and the USA. It develops a unified communications solution which includes a softphone. Cloudcall's positioning is a little different from that of its competitors, in that the company focuses primarily on its solution's compatibility with CRMs, and less on its communications features.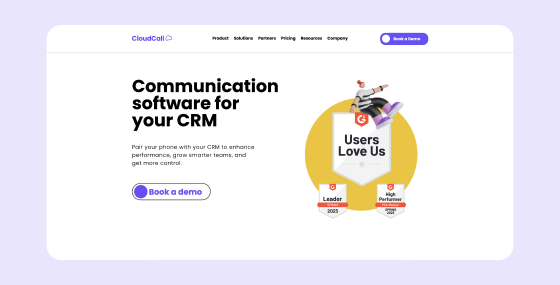 How much does Cloudcall cost?
Cloudcall has two price lists on its website:
Pro Edition $15/month/user: CRM integrations, softphone with IVR, call recording and click-to-call. Please note that incoming calls are unlimited, but outgoing calls are not.

Advanced Edition $25/month/user: all the features of the Pro Edition, plus a power dialer, the ability to simulate a local presence abroad, and voicemail.
To this price, however, you must add the cost of the package for calls. Calls are not included by default. A 2000-minute package for international calls will cost you $42.20/month/user.
9. Google Voice: Google's VoIP solution
Google has also invested in the VoIP sector. Google Voice provides you with a single number that allows you to receive calls, send text messages, and host professional videoconferences.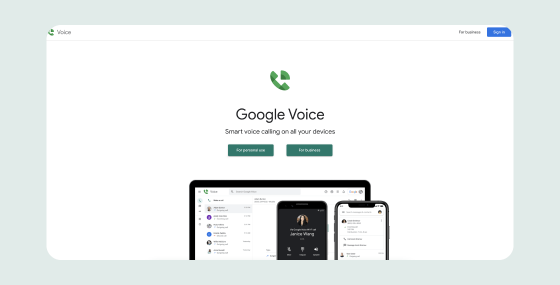 Google Voice pricing
Google Voice is available as a monthly subscription at the following prices:
Business Starter at $10

Business Standard $16

Business Plus $24
Please note additional fees may apply if you wish to integrate Google Voice with the Google Workplace suite of tools.
10. Vonage Business Communications
Vonage is rightly considered one of the leaders in telecommunications, including business telecommunications. Its softphone is integrated into its Vonage Business Communications solution, enabling you to unify calls, internal messaging and videoconferencing.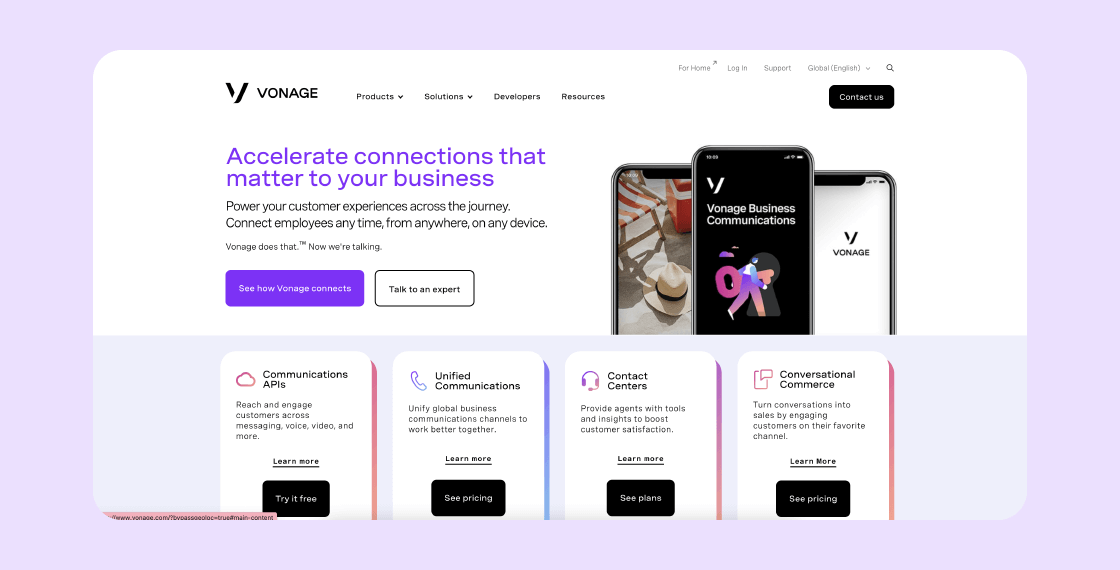 Vonage Business Communications pricing
On its website, Vonage does not display its prices for the French market. The company offers three subscriptions for VBC:
Mobile at $19.99

Premium at $29.99

Advanced at $39.99
Best free softphone : The top 3
Softphone software publishers provide free options, some of which have a good selection of features. Below you'll find a list of the best free softphones on the market. However, bear in mind these solutions don't come with a telephone line package. You'll need to contact a to have a fully functional business phone system.
1. Bria Solo Free
If you're interested in VoIP telephony, you'll be familiar with X-Lite, one of the pioneers in this field. X-Lite is developed by Counterpath, as is the softphone software Bria Solo Free, which offers more advanced features.
2. Zoiper Free
Zoiper is another leading softphone solution. Rather flexible, this software lets you make voice and video calls. Zoiper focuses on security, and offers end-to-end encryption of softphone conversations.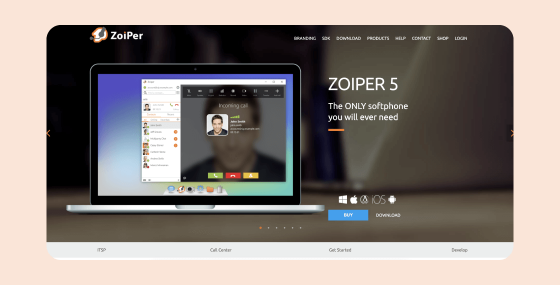 3. 3CX Startup Free
Like Bria, we're listing 3CX twice because the software is available in a free version that includes essential features such as SIP Trunk support, call groups, and videoconferences.

However, 3CX made headlines in the press in 2023 after various serious security incidents. So if you're thinking of adopting this solution, take note of what security precautions are in place.
What is a softphone?
A softphone is an application through which you can make and receive telephone calls using the Internet. These applications literally turn your computer into a telephone. Unlike fixed or mobile telephony, which use traditional telephone lines and antennas, the on which softphones are based routes calls via an existing Internet connection.

In a way, softphones virtualize your phones, offering all the features you could hope for. A softphone will supply you with assisted dialling, contact management, voicemail, call waiting, and call recording. But it would be reductive to think of softphones as just these features. And we'll explain why in the next few lines.
Softphone Video
In the following video, we define what a softphone is and cover all the benefits it can bring to your business.
How to choose the best softphone for your business?
Finding the ideal softphone for your business is no easy task. Tackle the challenge by taking certain factors into account. You can then easily rank the softphones that best match your needs and your business.

Here are the key questions to ask yourself when choosing a softphone
What's my budget?

Which features are essential for my company's communication needs?

What are my short- and long-term objectives?

Do I need an all-in-one softphone and phone service operator like Ringover, or just software (like 3CX)?

What do the user reviews say about each softphone?

Does the softphone need to be integrated with my everyday tools? Are integrations possible with the softphones I'm considering?

What are the technical prerequisites for deploying this softphone within my organisation?
8 criteria for finding the ideal softphone
Once you've answered the above questions, here are further criteria to consider:
Functionality

Integration with other platforms or business tools

Communications quality

Day-to-day ease of use

Solution flexibility

Security

Cost

Availability of technical support
How does a softphone work?
As mentioned above, softphones use VoIP technology to route calls. But how does this technology actually work?

When you type a number into your softphone's interface, and initiate the call, here's what happens behind the scenes.

A command is sent from your software to your provider's VoIP server, which in turn sends a request to the recipient's phone number. If he or she picks up, your respective voices are automatically digitised and converted into data packets for routing over the Internet to your respective computers.
What are the different types of softphones?
There are several types of softphone, depending on the operating system. Some are free to use, while others are paid services. Here's a quick overview of the different types of softphones available on the market.
Desktop softphones
Desktop softphones are, as their name suggests, available on desktop computers. In this category you'll find Windows softphones, Mac softphones (macOS), and Linux softphones.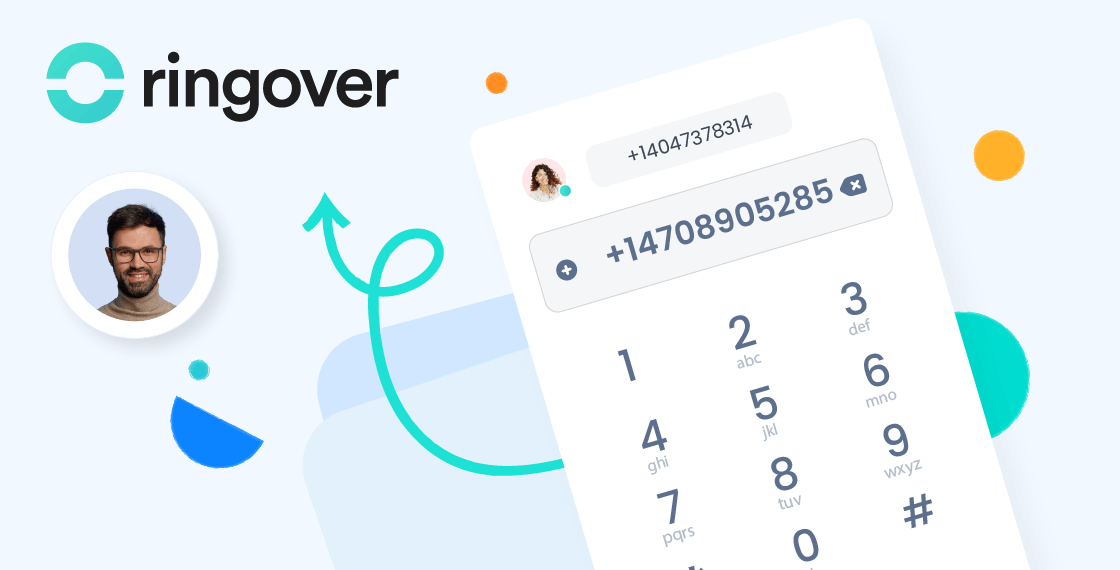 Mobile softphone
Some softphones are also available on mobile apps, enabling you to manage your business telephony from your smartphone. The publishers of such solutions usually display a link to their product sheet on application marketplaces. In some cases, especially on Android, you may be offered a specific installer in .APK format. Be careful, however, when downloading .APK installers from outside the Google Play Store. Check their provenance and scan them with your cybersecurity tools.
Web softphone
Softphones are also available as web applications. In this case, no installation is required. All you have to do is visit the application's website and log in to your account.
What are the advantages of softphones?
The benefits of softphones are numerous. Companies can benefit in a number of ways.
Greater mobility and flexibility
A softphone solution gives you greater flexibility and mobility. These tools enable you to receive business calls from anywhere, whether you're in the office, at home, on the move, or visiting a branch office temporarily. However, all your company's calls remain centralised on a single tool, and you don't lose your call history, even when connecting from another device. This unique flexibility makes the softphone a perfect solution for telecommuting.
Scalability for a better future
Scalability is an advantage directly linked to the flexibility offered by softphones.

Let's imagine you need several new lines for your recently arrived employees, or on the contrary, that you want to reduce the number of users.

With a softphone, there's no headache: you can deactivate and activate the lines of your choice yourself. They enable you to anticipate and proactively manage both the short and long term.
Better communications management
As mentioned in the previous point, softphones can centralise your corporate communications. However, not all softphones will have such a significant impact on your operations. Some softphones are intended for personal use only and are thus limited in the features available.

Others, like , give you access to for prospecting, customer service, reception, or other business purposes. All communications from your various departments are then routed through a single infrastructure that's easy to use on a daily basis.
Reduced costs to relieve your cash flow
Telephony software uses VoIP, which offers significant savings compared to traditional telephony. Calls are usually unlimited, as they are included in a package. With Ringover, for example, you can benefit from unlimited calls to over 100 destinations, regardless of the package you choose. What's more, with a softphone, you don't need landline telephones or a telephone exchange on your premises, so you don't have to worry about hardware and maintenance costs.
Greater productivity
Using a professional softphone allows you to rationalise part of your communications by dematerializing them. The impact on productivity can be felt on several levels, thanks in particular to a number of time-saving features:
You can contact more prospects during your call campaigns thanks to assisted dialling tools such as a Power Dialer or click-to-call.

You can save time on

, thanks to the notes and

system usually integrated into professional telephone software solutions. What's more, everything you enter into this note system is automatically synchronised with your

, so you don't have to switch from one tool to another. This synchronisation is achieved through an integration provided by the professional softphone publisher.
The main features of softphones
In addition to classic telephony features, softphones generally offer the following functionalities:
Instant messaging for internal collaboration or exchanges with prospects and customers

Assisted dialling, via Click-to-call or Power Dialer, to save time on every call

Call hold

Call recording

Conference calls

Text messaging via the computer

Voicemail

End-to-end encryption of calls made via the platform

Call transfer between devices

History of all calls made and received by the company

Compatibility with third-party software such as CRM
Free softphone vs. paid softphone
Whether paid or free, these softphones enable you to reduce your communication costs compared with traditional telephone lines. Especially when it comes to basic personal use, free softphones may be all you need. We've all benefited from them, knowingly or not–most likely through the use of Skype or Zoom. Nevertheless, free phone applications such as Skype, Xlite, WhatsApp or even Zoiper are limited when it comes to meeting the constraints frequently encountered in business telephony (number of calls, security, call routing, etc.). But why? What are these limitations? We've compiled a list of the most common shortcomings.
Limited functionality
Generally speaking, free softphones include basic functions, but very rarely advanced features.

The latter are available on a temporary basis in free trial versions, or exclusively in commercial solutions. Features that are generally not included or are limited include: integrations with other applications, advanced call forwarding, the ability to change phone numbers on the fly (localised numbers), , and call waiting.
Compatibility restrictions
Some free solutions may not be compatible with your existing infrastructure or hardware. What's more, in most cases it's not possible to integrate free softphones with third-party software.
Security and confidentiality
Unfortunately, this is one of the downfalls of many free solutions. It's important to check that your phone software complies with current data protection laws. It's also best to make sure that all your communications (both external and internal) are fully protected, and that no one can intercept them and put your organisation at risk.
A lack of support
Yes, there's another problem. Some free telephony software may not offer full or responsive technical support, and your business depends on it. Choosing such a solution means taking into account that you'll probably be left to fend for yourself in the event of a glitch, and that there will almost certainly be no continuity of service.
Quality of service
Pay-as-you-go service providers often develop or use technologies that guarantee call quality, even in poor Internet conditions or in the event of server failure. This may involve codecs, or redundant infrastructure to ensure availability and continuity of service in the event of a localised failure.
Free vs. paid softphones, summarised
Even free softphones offer many advantages over conventional telephony. However, it's important to bear in mind the limitations of free solutions, so that they don't cost you in the long term. It may be worthwhile adopting such a solution when you're setting up a small business and your communications needs are basic.

However, quality of service can vary, as can the number of features offered and performance. Whatever your choice, make sure it meets your needs, so you're not unprepared in the event of a technical glitch.

If you opt for a paid solution, select providers that allow you to try them out for free, to see how they would benefit your business.
Softphone FAQ
What is a free softphone?
A softphone is software that lets you make free phone calls using a device (computer, tablet or smartphone) connected to the Internet. Free softphones are offered by their publishers, with no subscription or purchase fees.
What are the most popular free softphones?
Here are a few examples of free softphones:
Zoiper

X-Lite

Bria Solo Free

MicroSIP

3CX Startup Free
Can I use a free softphone for business calls?
Yes, you can use a free softphone to make business calls. However, these free softphones do have their limitations, and it's important to bear these in mind. Make sure that the solution you choose meets your needs in terms of security, functionality and technical support.
Are free softphones secure?
Software security varies from one application to another. It's essential to check that the solution you choose complies with current legislation if you want to use it professionally. Make sure that the solution is up to date and does not include any security holes that could be used to corrupt your system. Finally, check that end-to-end encryption is applied to protect your conversations from malicious eavesdropping. Note that you can manually reinforce the security of your free softphone by using a VPN.
How do I install a softphone?
First of all, make sure that the publisher or developer of your softphone offers a version adapted to your hardware and operating system. You'll usually find the right version on their website.

Here's how to proceed:
Download the installation file for your system and computer.

Once you've downloaded the installer, run it to start the installation process.

Follow the on-screen instructions. You will almost certainly have to accept the terms of use and select the installation options that suit you best.

All that's left to do is launch the softphone and enter your login details.

If your softphone is available on mobile, simply type its name into the store (Google PlayStore or AppStore) to download it.
What hardware do I need to use a softphone?
The vast majority of softphones are multi-device. In other words, they are capable of running on multiple devices. In other words, your softphone can be used on an iPhone, Android smartphone, tablet, Mac, Windows or Linux computer.

In addition to your device, we recommend the use of a headset to reduce noise and other disturbances that may disturb your communications.