Business phone system
How to get a business phone number in the UK: Top 7 providers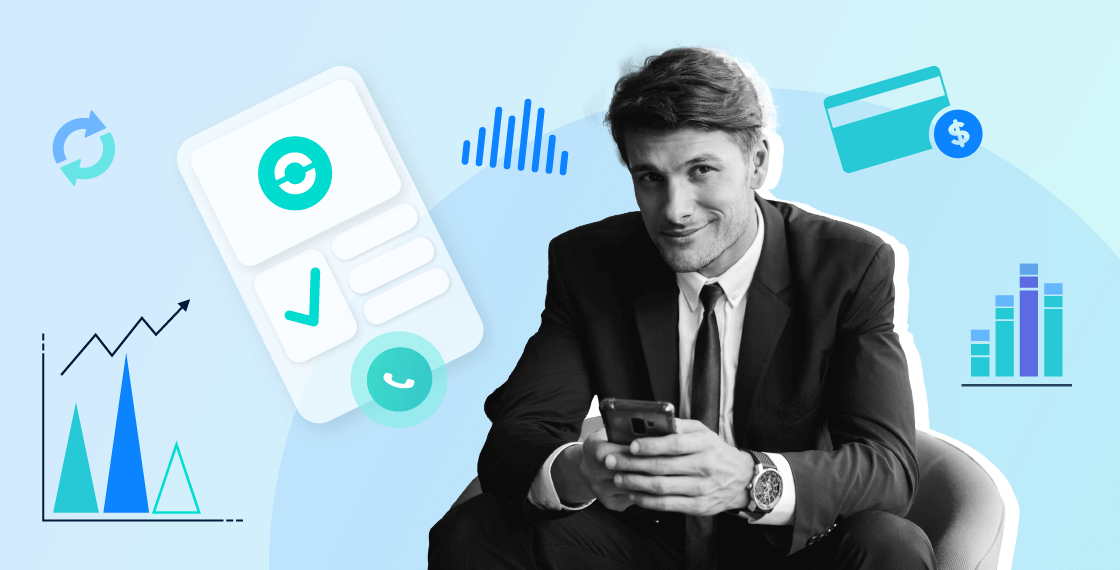 How to Get a Business Phone Number
The most affordable and efficient way to get a business phone number is through a VoIP provider or business telephony software. You'll be able to purchase a virtual number in a matter of minutes, and take advantage of features like , , and integration with your CRM to improve your performance and performance quality. With a business phone number from a VoIP service, you'll easily scale your business.


Get a Business Phone Number for free
The 7 Best Business Phone Number Providers in the UK
Ringover

Ringover

is a leading VoIP software which offers multiple communication channels in one intuitive interface. You'll be able to select landline or mobile phone numbers from 65 different countries, so you can provide a local number. With unlimited calling to 110 countries, SMS and group messaging, call recording, transcription, and more, you'll be able to easily and affordably scale your business.

Ringover has multiple plans available, so you can choose the one best suited to your needs–beginning at just £19 per month. Curious to know more? You can

begin your free trial

, or check out a demo.

Ringover's business phone system solution allows you to customise each conversation depending on your and your clients' needs. Ringover has a robust selection of functionalities For instance, if providing a stellar customer experience is a high priority, you'll be able to create a personalised interactive voice response system. This type of automated voice menu enables your customers to always get in touch with the person most qualified to help them.

If sales is a key aspect of your business, Ringover has multiple features that increase performance and efficiency. Discreet intervention functionalities like call whisper allow you to coach team members in real time. And once you integrate a CRM like Salesforce or Hubspot with Ringover, you'll have access to convenient functions like click-to-call within the CRM and automatic data synchronisation between the two software. With these tools, efficiency and effectiveness will rise, ultimately bringing about an overall increase in performance.

RingCentral

RingCentral is a VoIP software with four tiers, beginning at about $20 per month. But, check the amount of minutes you'll have available every month because there are different limits depending on your plan. The fine print can lead to confusion when it comes to pricing in general, as the pricing changes depending on the amount of users you have.




Ooma

Ooma has three plans available, beginning at $20 per month. The basic plan has unlimited calling only within North America, and a limited selection of VoIP features. However, the setup process is known to be difficult to navigate, and there's no free trial available.




Dialpad

This business communication platform has tiered pricing platforms, with the first level beginning at $20 per month. Dialpad only has coverage in about 50 countries, and there are a few limits to other aspects of their service too. For example, there are also limits to the amount of participants and minutes in video conferences, depending on your plan. Dialpad also does not have a robust selection of integrations available. So if you already use other software, check to see if Dialpad will be easy to combine with them.




Grasshopper

Grasshopper provides a minimalist business phone service that is specific to very small businesses. The service is primarily meant to add a business phone number that is connected to your existing phone. One drawback to note about Grasshopper is that their service is mainly targeted to the continental United States. So if you need to call the Virgin Islands, Puerto Rico, Alaska, Hawaii, or international destinations, you'll be charged a rate per minute.




8x8

This software bills itself as a contact centre as a service (CCaaS), but its offerings don't differ significantly from Ringover's. Both have calling, video and audio conferencing, SMS and group messaging, and integrations. There are two important differences between the two business software solutions. First, 8x8 is significantly more expensive, beginning at $28 per month versus Ringover's $20 per month. Secondly, 8x8 only offers unlimited calling to 14 different countries, as opposed to the 110 destinations with unlimited calling offered by Ringover.




Nextiva

As an American VoIP provider, Nextiva domestic business phone numbers for monthly rates, which start around $24. If you would like the option to contact your customers or clients in other ways (like videoconference, for example), you may have to upgrade to a higher-priced service tier.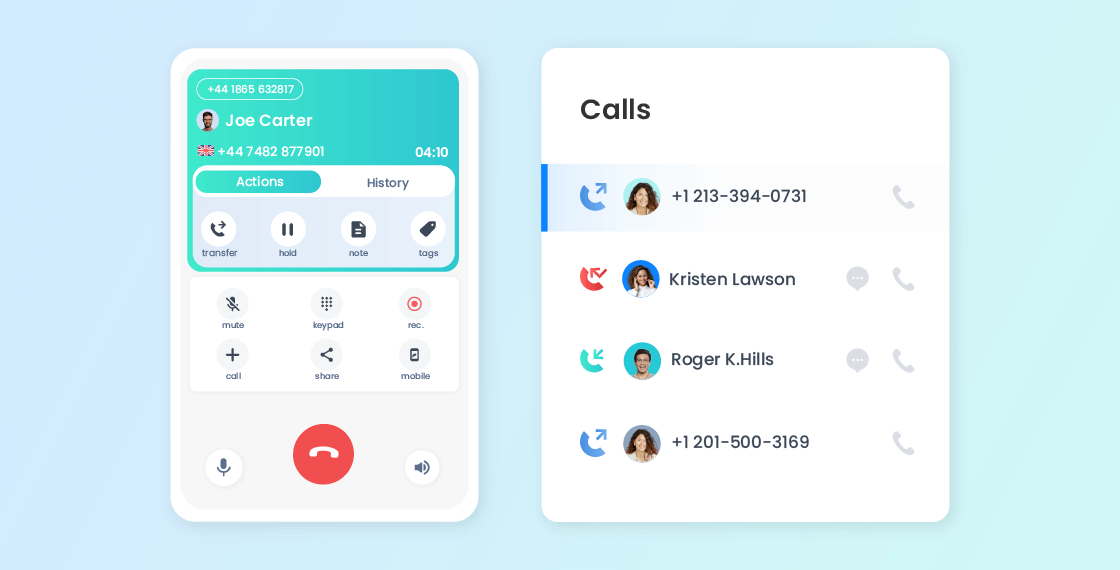 Comparison Table of Business Phone Number Providers
Company Name
Best For
Key Features
Ringover
Small and medium businesses with domestic and international customers
Unlimited calls to 110 destinations
Numbers available from 65 countries
Instant number activation
RingCentral
Larger businesses who can navigate the complicated plans
Enables remote work
Videoconferencing
Slow customer service response
Ooma
Businesses who only operate in North America
Supports analog phones
No-frills VoIP service
Limited analytics
Dialpad
Small to medium businesses
Limited integrations available
Coverage in 50 countries
Compliance with data security regulations
Grasshopper
Entrepreneurs and small businesses
Adds business number to private phone
Service limited to the continental United States
Lacks call management functionalities
8x8
Larger businesses with a domestic customer base
Unlimited calling to 14 countries
Analytics not included with all plans
Video conferencing
Nextiva
Larger businesses who can absorb higher monthly rates
Services very limited at lower cost tiers
Unlimited calling in US and Canada
Strict cancellation policy
What is a Business Phone Number?
A business phone number is a professional phone number that is not limited to one telephone. If you have a business phone number (also known as a virtual phone number) you can receive incoming calls on any Internet-connected device. That's because business phone numbers are created through , which can be downloaded onto devices or accessed through an Internet browser.

Though businesses have provided dedicated phone numbers for decades now, the importance of having a number dedicated solely to professional activity has become more important since the arrival of cell phones. When running businesses, it's important to have the flexibility cell phones provide, while maintaining a separation between personal and professional calls. When you have a VoIP, you'll be able to connect your to your Internet-connected devices. Once you're accessible on different devices and different locations, you'll never miss an important business call.

In order to set up a business phone number, all you'll need to do is subscribe to a VoIP provider like Ringover, and acquire a phone number. You can start making and receiving calls within the same day, even within the same hour, of subscribing to a business phone software.


The Different Types of Business Phone Numbers
There are different types of business phone numbers, which can affect how customers reach you and prospects perceive you.
Local numbers
A local number is a virtual phone number with the area code of the region where you are operating. Having a local business number is a great way to establish trust in the area where your business is active. Customers and prospects will be reassured to think that your business is located within the same area. In fact, that trust can even result in a higher pick-up rate and incoming call volume, important results that can ultimately boost your performance. Ringover even has a special feature called to help you take advantage of that higher pick-up rate.
International numbers
If you want to expand your business outside of the United States, having an is key. An international number is a virtual number of a country other than the United States. These numbers are infamously expensive, and at times, calling states outside the continental United States can command the same rates as international numbers. Having an international number will grant you important legitimacy in the market where you're operating. Spam calls are so common that many businesses or people will not respond to numbers outside of their country.
Toll-free numbers
A is a phone number with a specific three-digit code, which can be called from landlines at no charge to the caller. Having a toll-free number available to your customers and prospects signals your company is well-organised and cares about the customer experience. The most common toll-free prefixes are 0800 or 0808.
Vanity numbers
A common example of a vanity number is 0800-FLOWERS. They're an easy way to communicate something about your business, whether it's in regards to your brand or the service you provide. Vanity numbers can help your number be more memorable, which can have a significant impact on how many leads you capture.
VoIP numbers
A VoIP number is the number you purchase when you subscribe to a VoIP software. These numbers allow you to make and receive calls over the Internet, and usually come with other telephony features like call transcription and recording. Plus, VoIP software usually has multiple tiers with more features and services at each level. This pricing structure allows you to change tiers as your business grows, so you can scale with ease.
Why You Need a Business Phone Number
Multi-device access
Business moves more rapidly than ever these days. Business people must be easily accessible to avoid missing important opportunities.

That's where a business telephony solution comes in. When you create a business phone number through VoIP software, you can then receive and make calls on any Internet-connected device. That's because business telephony software like Ringover can be accessed through an Internet browser or a .

Plus, once you have downloaded Ringover, you'll be able to set up . If you don't pick up a phone call to your business phone number on one device, it'll be automatically forwarded to another device. You can even configure the settings so that unanswered calls to your business phone number are forwarded to your personal cell phone.
Multichannel communication
When you get a business phone number, it opens up a realm of possibilities far beyond just making and receiving phone calls. However, VoIP software provides multiple communication channels that can make your communication with prospects and clients more efficient and dynamic.

On your side, you'll be able to manage conversations across channels like phone calls, , social media, etc. in one intuitive interface. You won't lose any more time swapping between platforms trying to keep track of one conversation. And because you can respond more efficiently and effectively, you'll provide better service to your prospects and customers.

Plus, having a centralised, multichannel communication platform is the first step to deploying an strategy. Omnichannel communication leverages customer data and multichannel outreach to create a seamless customer experience and improve the customer relationship.
Sophisticated telephony features
Having a business phone number streamlines your daily operations because you'll have access to advanced features for call management.
Create a personalised service
To provide a personalised service for your contacts, you can create . As your business grows and the amount of calls you receive increases, you can create an menu. IVR allows callers to independently access information or team members, automatically organising your incoming call flow and providing a quality calling experience.
Organise data
Another important primary benefit of a VoIP software is the available regarding call performance, which clarifies which employees are up-to-par and what techniques are successful. And if you already store customer and prospect data in a CRM, you'll be able to with Ringover for even more advantages, like automatic data synchronisation between the two software.
Increased professionalism
Business phone numbers have the practical benefit of separate personal and professional calls, but also communicate legitimacy and can even contribute to branding (with vanity numbers, for example).

If you have a direct line to your company, it signals that you value your customers and care about their experience. Plus, having a phone number is an important sign of legitimacy for partners, leads, and customers.
When to Get a Business Phone Number
Getting a business number from the very beginning of your business is important–it's best to get one even before you think it's necessary. If you obtain a professional number as soon as you launch your company, you'll have a higher chance to get the number that's best for your objectives. This is especially true if you know you'll want to purchase a vanity number for branding and marketing purposes, but it's important even if you just want a local number.

If you move quickly to secure your business phone number, you'll have a greater number of options and potentially prevent competitors from getting the number you want.

There are a few signals that you definitely need a virtual phone number for your business.
Customers reach out to you on other communication channels and may even complain they have had difficulty reaching you.

Personal phone calls or text messages interrupt professional meetings, and vice versa.

You aren't running your business alone anymore, and need to give access to the business phone system and number to team members.

The rate of incoming calls has increased.

You struggle to manage voicemails and callbacks.

You need to provide customer service regularly over the phone.

Advanced features like call forwarding, call transcription, call recording would significantly increase efficiency and decrease stress.

Performance analytics would make a positive impact on your conversion rate.
Must-Have Business Phone Number Features
Though VoIP software is generally affordable, it's an investment in your business all the same. That's why it's important for you to pin down what features are your must-haves. This process of elimination and clarification is an important step to help you choose the VoIP software that's best for your company. But while you're shopping, be sure to read the fine print. Software normally has tiered pricing systems, so you'll need to cross-check the price of each tier against the features included.
Call recording. When you record calls from clients and prospects, you can play them back, download, and/or store business calls for future reference or training. With recordings available to you, you and your teams will improve your customer service and sales team performance. At times call recordings are even required to comply with legal regulations, so this feature can be needed for legal reasons.

Unlimited calling to international destinations with local numbers. When it comes to growing your business, being able to call outside of the United States with a local number is a powerful way to grow your business. The customers and prospects will feel reassured to receive a call from a local number, so there is a level of trust from the beginning. In fact, having local numbers often results in quantifiable increases in response rates.

Call transcription. Ringover provides an automatic transcription tool so you can transcribe your calls or video calls live or later on. Once you have a written record of audio recordings, you'll be able to easily refer to them for quality assurance or training. When you need to complete post-interaction reports or set up appointments, it will be simpler to refer to the transcription rather than searching through a video or audio file.

Call recording. Recording calls can at times be a legal requirement, but it's also very helpful for training purposes. Playing back calls is an impactful way of illustrating why a call went well or poorly. And with Ringover, you can easily customise what calls are recorded, whether you choose specific ones or a certain percentage of total calls. There's even the possibility to turn on or off call recording during an ongoing call.

Performance analytics. Having VoIP software is very useful, but you can only measure how useful it is with performance analytics. With Ringover's intuitive analytics dashboard, you'll be able to look at wait time, average call length, pick-up rate, and more–on a team and individual level. There are even analytics on how your employees spend their time when they are not on the phone.

Mobile app. Installing the Ringover app on your smartphone will allow you to receive an unlimited number of business calls. Because your contacts will be automatically synced, you'll easily manage your customers and prospects.
Best Practices For Choosing a Business Phone Number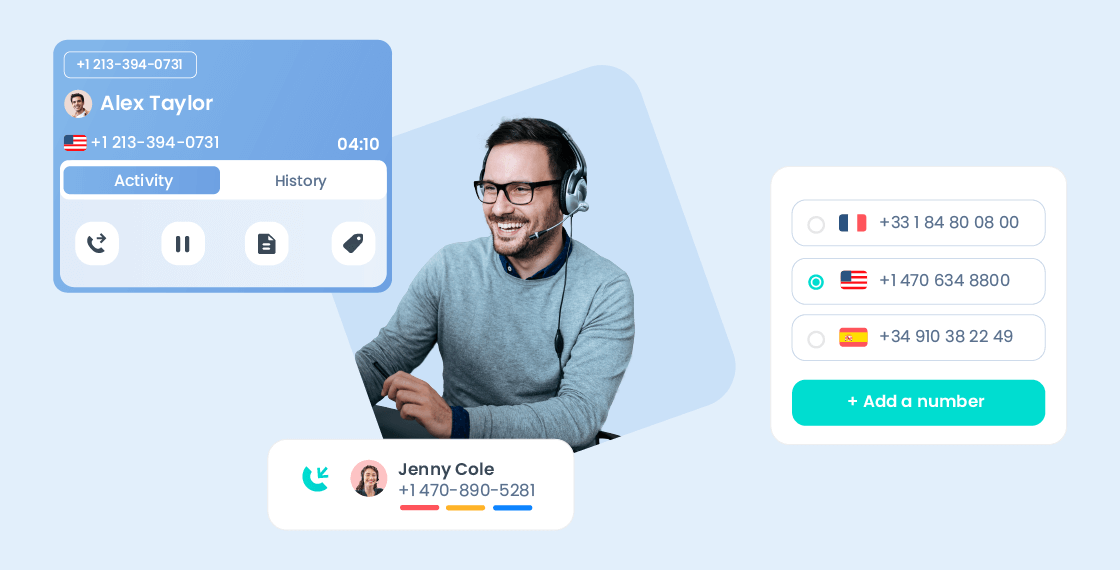 In order to choose the best business phone number for your company, you'll need to first specify your objectives with that phone number. Here are a few questions that will help you evaluate your needs and narrow down what features will be most useful in your day-to-day business.
Will your business phone number enhance the branding of your business?
In that case, you should choose a virtual vanity number which will help your customers and prospects to understand what your service or product is. A vanity number will be easy for customers and prospects to remember, and they'll have an immediate understanding of what products and services you provide.
Will your business phone number create a healthy boundary between your business and personal lives?
When your goal is to separate your business and personal lives, research what features the VoIP provider has. Various software offer different selection of features, so you'll need to choose one with the best options for organising your company's specific business and personal communications. For example, Ringover allows you to create business hours for your professional phone number. So if someone contacts you outside of these set hours, the calls will be automatically forwarded to your voicemail.
Do you want to provide your customers with a higher quality of customer service?
With a business phone software, you'll be able to increase the quality of your customer service with tools like IVR. IVR permits customers or prospects to access information or departments within your company independently, so they are empowered to efficiently access what they need without waiting for a customer service representative to be available.

Another way to increase the quality of your customer service is to offer a toll-free number. With that type of number, customers can reach you without incurring any charges on their side. This is a significant plus for customers experiencing problems and who need help.
Are you growing your business outside of the continental US?
Expanding your business beyond the continental US can be a considerable expense, so having an affordable way to reach out to customers and prospects makes a big difference to your bottom line. On the customer's side, they'll feel much more comfortable reaching out to your business if you have a number local to their area. Having an international number is especially important for prospects reaching out to you. They will feel more comfortable calling a number that's local to them, rather than calling an American number that seems as though it could incur expensive charges.
Business Phone Number FAQ
How can I get a business phone number UK?
To get a business phone number in the UK is very easy, and can be activated in an hour or less. You'll just have to create an account and choose a UK number from the list of available options.

If you're looking for a free business phone number in the UK, certain businesses advertise they offer free numbers. In that case, it pays to read the fine print. Though a service may say the business phone number is free, you may find other charges hidden in the plan. For example, oftentimes the business phone software will charge per minute used, or for a second business phone number.
Can I get a business phone number on my cell phone?
Yes, you can add a second number to a personal cell phone. Normally, you add a second number to your smartphone with a VoIP software's mobile app.

There will be no need to purchase a second phone, and you'll be able to keep business calls, messages, voicemails separate from your personal information.
How do I make my phone number a business?
If you want to make your current phone number a business phone number, all you need to do is add the number to your VoIP phone software.

This function is called number portability, and comes at no extra cost if you use Ringover. You can port a number into Ringover at sign up or at any time during your contract. During the number porting process, there won't be an interruption in your service.
What is 0800 business numbers?
0800 numbers for business are toll-free numbers that allow callers to reach your business without incurring charges. Instead, the owner of the phone number will pay any charges due to calls.

These numbers have specific prefixes, which include 0808 in addition to 0800.