Customer service and VoIP
Stand Out In a Digital World With Ringover and HubSpot CRM Integration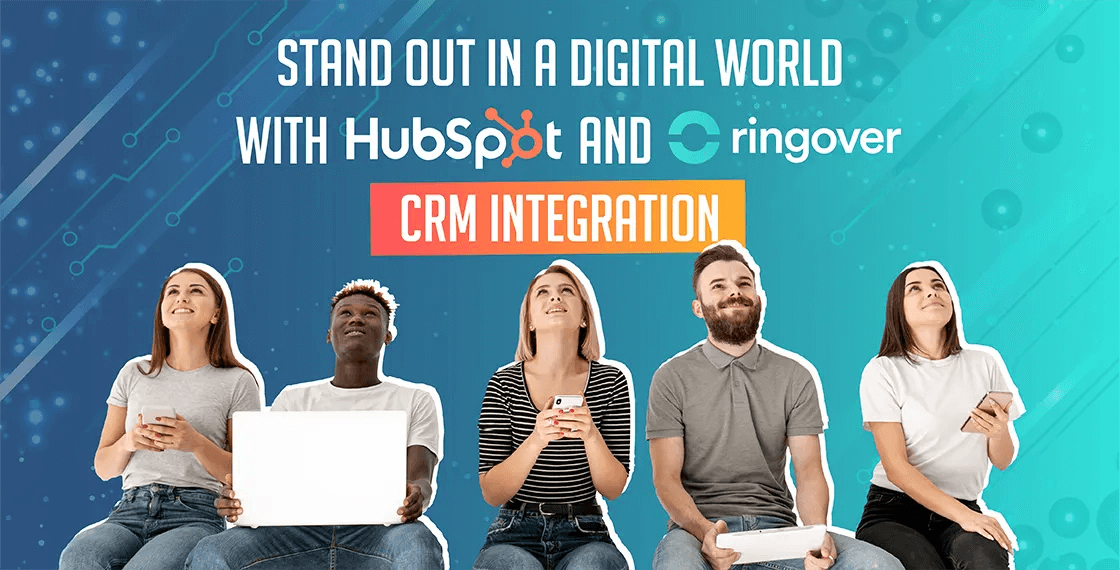 With businesses going digital, it's vital they have the essential communication tools and CRM's to ensure they operate smoothly and efficiently online During the economic crisis due to the pandemic, many businesses have made the decision to adapt and digitalise. This means for many going either completely or partly remote and communicating with clients, customers and their teams online. In fact, it has been predicted that by 2028, 73% of all departments in business will have remote workers.
Moving Online is easier then ever
While this used to seem like an impossible idea, the improvements of world-class cloud communication tools and CRM's, such as Ringover and HubSpot, have allowed for this way of working and communicating to become a reality. Sales departments have drastically benefited from this online movement, as it has given them the ability to communicate with customers and prospects, give demos and much more all from the ease and comfort of online. HubSpot has become the main choice of many as it allows them to run their business online more efficiently and effectively than ever before. Used properly, using the HubSpot CRM integration is an immensely useful tool. It can track and manage all interactions and communication your sales team has with prospects and customers. It also helps flag opportunities that may require additional nurturing or follow up, as well as many other opportunities.
How does HubSpot integration work?
The integration of your telephone with HubSpot CRM allows you to connect your phone system with it. This will allow you to benefit from the advanced calling functionalities in your CRM, as well as synchronise all the information from your meetings and calls with customers and prospects in your CRM.
Hubspot integration with Ringover
Integrating Ringover with HubSpot CRM is easy. Visit the integrations page on your Ringover Dashboard, then click "activate" across from "HubSpot V2". Next, select "Grant Access" before passing to the captcha. Lastly, configure settings as needed. From now on, your call logs will appear in your HubSpot contact files.
HubSpot Online Sales Features
Efficiency is just intelligent laziness
One of the advantages that HubSpot CRM integration offers is time-saving, which makes your sales team's lives a lot simpler! All information is automatically recorded in your CRM, so your team will no longer have to manually enter the information of your customers, it's all done for you. This saves wasting time and makes your sales team more efficient.Other advanced calling features such as contact synchronisation or click to call, which allows you to call in one click from HubSpot CRM also assist in this. They help optimise all the work of your team and increase the speed of your team.
Information Instantly Displayed
When a contact calls, their information will instantly be displayed within the HubSpot interface. This means that your sales team will instantly know all the important details about that prospect or customer, meaning that they are able to pick up effortlessly from the last conversation they had. This allows for sales to be completed far quicker and more effectively.
Everything Is Logged, we mean it!
All your calls, texts, voicemail messages and call recordings are automatically logged in each contact's HubSpot card. Your sales team will become more efficient as Ringover and HubSpot take over all the hard work. All of this information will be automatically collected and aggregated within the system. Additionally, HubSpot CRM allows your sales team to update all deals by the stage they're in and the system will automatically handle the rest (e.g. weighting, summation, visualisation), keeping this process as efficient as possible for everyone involved.
Click to call
Your sales team will no longer have to manually dial numbers to make calls with a single click directly from HubSpot. This allows for calls to be made faster and easier, boosting efficiency and productivity. Moreover, you and your sales team will gain access to unlimited calls. As a result, this means that you'll have unlimited contact time with your customers and clients, resulting in uninterrupted conversations and a better customer experience and service.
Contact sync
Rest assured, with contact sync, all of your data including your phone book are always kept up to date so you never have to worry about missing anything.
The Advantages Of HubSpot CRM Integration With Ringover
All of your calls, voice messages or conversations will be automatically recorded in your customers' contact form in HubSpot CRM. This way you will improve the productivity of your team, as well as being able to better monitor relationships with customers.
Improved Customer Experience
Thanks to the integration of your phone system with your HubSpot CRM, you will be able to improve the experience of each of your customers. With contact card recovery, your team will have immediate access to the customers' card just before starting the call. This will provide them with all the necessary customer information, or even notes specifying the previous call, to resume the conversation with your customers right from where you left off. All these valuable functions will provide your team with the possibility to offer personalised conversations with each caller, creating that unique customer experience that helps to create strong customer relationships.
Do you want to make your life a lot easier?
If you would like to integrate CRM HubSpot with your company telephone please contact us on phone 020 3808 5555 or send an email to [email protected] and we will be happy to help you!