Business phone system
How to Manage Your Business Phone Hours?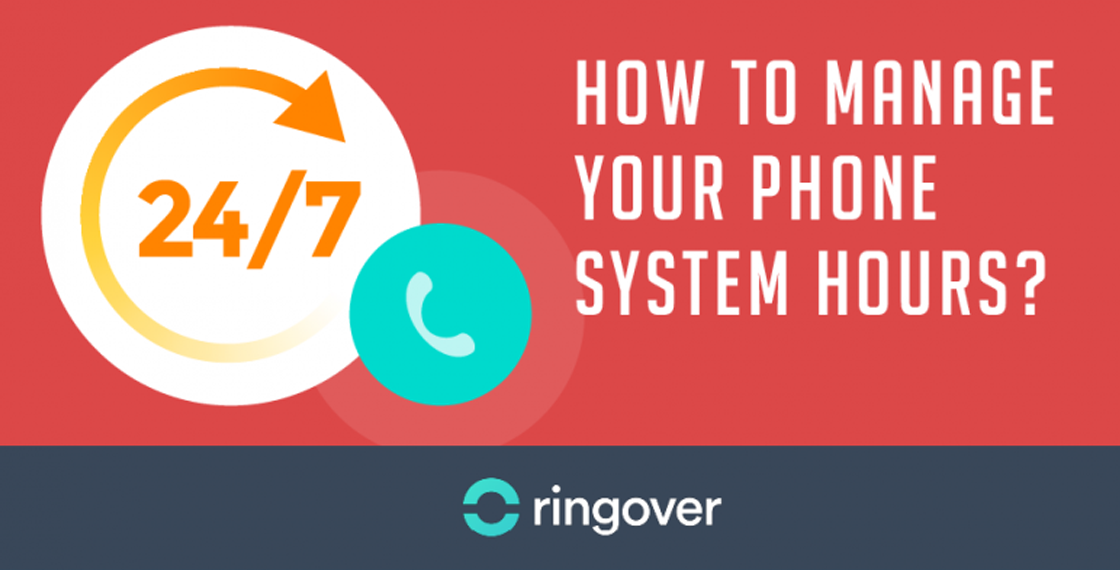 Despite the emergence of new channels of communication, the phone is still the preferred point of contact for most client bases. However, it's not common for consumers to call businesses outside of business hours or during holidays, only to come across unhelpful automated messages or have their calls hang up without warning. To prevent this, knowing how to manage your phone system in its entirety while updating it on a regular basis is a must.It's important to carefully consider your opening hours when setting up your phone system. This will allow you to route incoming calls according to your opening hours as well as exceptional closings (holidays, special events, seminars, etc.).These 7 tips emphasised in this article will help you best manage your phone system's hours so that you can get the most out of it.
Communicate your phone system's opening hours
This is the starting point for setting up your phone system. It's all the more important to specify the days and times it will be in operation for your own organisation, and then communicate this information.The implementation of an Interactive Voice Response (IVR) server allows you to play an automated message to let your callers know the best times to contact your company, depending on your staff's availability.
Thus, by clearly communicating to your clients and prospects your opening and closing times and dates, you'll save them at least one or two unsuccessful attempts to get through. While letting them know the best times to call, you also have the option to inform them about alternative contact methods.
Define opening hours for each day of the week
To receive calls only during your opening hours, you must define the time periods during which your service can be reached.It's important that your company put measures in place for handling calls that come in outside of your business hours. Unanswered calls account for a significant loss of business - in fact, a 2019 study by Arise revealed that 34% of people whose calls go unanswered never call the company again! This is why it is so vital to inform your callers about your opening hours or set up a hotline, providing 24-hour tech support, for example.An IVR allows you to define timeframes in order to efficiently manage client calls at all hours of the day. At Ringover, when configuring your IVR, you have the possibility of setting up a schedule with specific scenarios, depending on your company's hours.
Integrate special dates into your IVR schedule
Setting up scenarios allows you to take call routing possibilities even further. Incoming calls can thus be routed not only according to your scheduling, but specific events (exceptional closures, holidays, etc.).
Here's a short explanation on how to set up scenarios for your Ringover IVR incorporating special dates: Creating a scenario for special dates (holidays, etc.).
Define a scenario for each timeframe
It's very likely that your company's opening and closing times will vary from day to day. This is why it's necessary for your IVR's timeframes to be defined, and a suitable scenario assigned to each.You'll in this way be able to set up scenarios throughout the week or for a specific day, during which incoming calls will be routed to a certain number, call group, IVR, queue, or voicemail.
First, specify where calls should be routed according to timeframes.Imagine that your business is open between 9am and 12pm and then between 2pm and 7pm. During opening hours, you can route your callers directly to a voice menu so that they can be put in touch with an advisor. Between 12pm and 2pm and after 7pm an automated greeting can be played, inviting your callers to contact you later or through other means.
Show your callers that you're committed to providing superior customer service
Numerous studies have shown that today's customer is increasingly multi-channel. In fact, the ICMI Research Institute has revealed that 74% of customers use at least 3 different methods to get in touch with a company.Even if traditional contact channels are the preferred ones, mobile messaging, social media and chatbots are being used more and more. This means that company objectives must involve providing clients with a smoother transition between different points of contact - especially since the majority is in favour of multiple contact channels over extended time periods.
Your callers must be assured that even when your business is closed, their call is still important! Let them know what alternatives are available to them to maintain their trust and confidence and provide them the option to leave a voicemail for a department or employee. And if they do leave a message on voicemail, be sure to call them back as soon as possible!
Handle the simplest requests thanks to Interactive Voice Response
Consider making note of frequent requests that you receive by phone and email to better understand why your callers are contacting you. Once you know what the most common questions are, set up an Interactive Voice Server to provide quick responses. Consider structuring your IVR by placing the most frequent selections first.
Let's say a customer wants information about an order. Thanks to your IVR, they can simply enter their customer identifier in order to access basic information on the status of their order.Once the request has been processed, remind your contact that they can contact you at any time and encourage them to call you again for any other questions or information requests. Finally, you can gather your callers' opinions through your IVR by setting up a satisfaction survey, which will help you to improve it over time.
Set up a hotline
To ensure the highest satisfaction possible for your existing and future clients, consider having a hotline. This way they'll be able to get quick answers to simple questions without being limited by your opening hours. If you have offices located in different time zones, it may be helpful to route your calls based on differing business hours. This will ensure all calls are routed to an open office, allowing more of them to be answered. This will not only help you to improve customer satisfaction but will prevent you from having to deploy additional resources to ensure continuous availability.
Nowadays, most cloud telecom solutions allow you to manage your IVR's opening hours. This is also the case with Ringover, which allows you to add as many timeframes as you wish for a given day or week and define specific distribution rules for each.
Want to improve your business phone system hours?
Contact our experts to help guide you step-by-step at +44 20 7509 6665 or send an email to [email protected]. Start your free trial today.