Customer service and VoIP
The 12 best CRM Software for Customer Service
An essential mobile CRM software for customer service enables companies to manage all their day-to-day interactions with prospects and customers–even when they are on the go.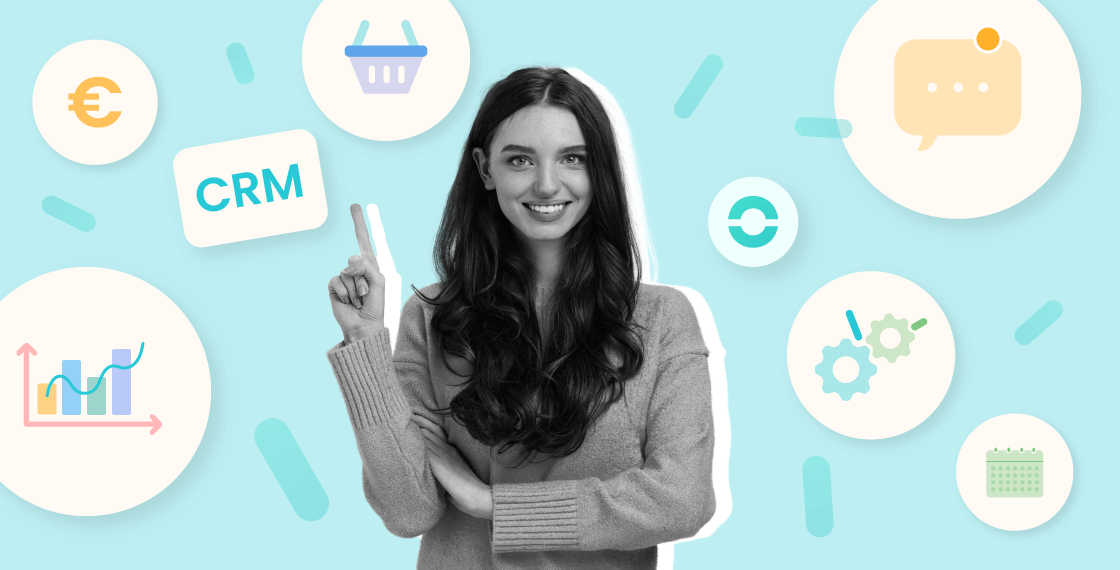 Having the ability to access your functionalities and data through a mobile crm software for customer service means your teams aren't tied to a desk. They can provide a high level of service regardless of the circumstances with the support of a CRM phone system.
Integrate Your VoIP with Your CRM
Top 12 best CRM software for customer service and small business
| Rank | Mobile CRM Software | Mobile CRM Price |
| --- | --- | --- |
| 1 | Salesforce | From £25 |
| 2 | Hubspot CRM | Free option, with paid plans beginning at £30 |
| 3 | Monday.com | Plans begin at £8 |
| 4 | Pipedrive | Prices start at about £15 |
| 5 | Zoho CRM | The least expensive plan is £20 |
| 6 | Microsoft Dynamics CRM | From £70 |
| 7 | NoCRM | Basic package starts at £12 |
| 8 | Freshsales | A free plan is available |
| 9 | Copper CRM | Plans begin at £29 |
| 10 | Sellsy | Prices start at £49 |
| 11 | Efficy | Costs go from £20 |
| 12 | SugarCRM | Sales software begins at £49, a customer service tools begins at £80, and the marketing automation goes from £1,000 |
The CRMs on this list have the advantage of being Ringover compatible! This means you can enhance their functionality by adding a telephone layer, making calls and accessing recordings of your exchanges without leaving the software.
1. Salesforce
is one of the world's leading options in this sector. It is renowned for its feature-rich functionality and its ability to deliver highly efficient customer service.
Salesforce advantages
Powerful and versatile

Customer support
Salesforce disadvantages
High cost

Complex to learn
How much does Salesforce cost?
Prices vary according to the number of users and features included. Four plans are available:
Essentials at £25/month/user

Professional at £75/month/user

Enterprise at £185/month/user

Unlimited at £330/month/user
Free Trial: Salesforce x Ringover Integration
2. HubSpot CRM
Like Salesforce, is a highly successful solution. It literally ticks all the boxes. Its flexibility makes this CRM suitable for small and medium-sized businesses alike.
HubSpot CRM advantages
Easy integration with other tools

Marketing automation

Flexibility
HubSpot CRM disadvantages
High cost

Frequent updates
How much does HubSpot CRM cost?
The Hubspot CRM has a free tier, but if you want a complete suite, there are three plans to choose from. The Starter Plan is £50 per month, the Professional Plan is £565 to £975 per month, and the Enterprise Plan is £1,265 to £3,665 per month. However, certain plans come with an onboarding fee, so you'll need to verify what that is to have a realistic expectation of your costs.


Free Trial: Hubspot CRM x Ringover Integration
3. Monday.com
Monday.com is halfway between project management and customer management. It stands out for its various automations and relatively easy onboarding.
Monday.com advantages
Dynamic tables

Value for money

Easy-to-use
Monday.com disadvantages
Some integration issues with third-party tools

Task tracking sometimes complicated
How much does Monday.com cost?
Monday.com is available free of charge. In fact, a light version of the solution is available for free. However, functionality is fairly limited. Four other offers are available:
Basic at £8/user/month

Standard at £10/user/month

Pro at £16/user/month

Enterprise, which is price on request.
Free Trial: Monday.com x Ringover Integration
4. Pipedrive
Pipedrive is a sales-oriented solution aimed primarily at small- and medium-sized businesses. It is a decision-making tool for sales teams.
Pipedrive advantages
Overview of the sales pipeline

Integrations
Pipedrive disadvantages
The use of third-party tools to complement the tool is essential

No ability to invoice directly within the application
How much does Pipedrive cost?
Pipedrive is available in five packages:
Essential at £14.90/user/month

Advanced at £27.90/user/month

Professional: £49.90/user/month

Power £64.90/user/month

Enterprise £99/user/month
Free Trial: Pipedrive x Ringover Integration
5. Zoho CRM
Extremely popular, stands out for its pre-configured templates and efficient .
Zoho advantages
Comprehensive tool suite

Automation

Value for money
Zoho disadvantages
Old-fashioned interface

Zoho's closed ecosystem
How much does Zoho cost?
The standard version of Zoho costs £14. However, there are three options available:
Professional at £23/user/month

Enterprise at £40/user/month

Ultimate at £52/user/month
Free Trial: Zoho x Ringover Integration
6. Microsoft Dynamics 365
Microsoft Dynamics was developed by the Redmond firm and is considered one of the best decision-support tools for customer relations.
Microsoft Dynamics 365 advantages
Flexibility

Highly customizable
Microsoft Dynamics 365 disadvantages
High price

Complex to learn
How much does Microsoft Dynamics 365 cost?
The Microsoft Dynamics price list is just like the solution itself: so rich, it's rather confusing. Some twenty Microsoft Dynamics 365 plans are available, depending on your department (marketing, sales, customer service) and the size of your company. Dynamics is available from £70 per month per user.


Free Trial: Dynamics x Ringover Integration
7. NoCRM
Like Pipedrive, NoCRM is designed exclusively for sales teams, focusing on the essentials. Easy to learn and use, it will be a great help for your campaigns in SMBs.
Advantages of NoCRM
Easy to use

Affordable price

Easy to integrate
Disadvantages of NoCRM
Lack of personalization

Very limited marketing functionality
How much does NoCRM cost?
NoCRM is available at the following prices:
Starter Kit at £14/month/user

Expert at £22/month/user
Free Trial: NoCRM x Ringover Integration
8. Freshsales
Exclusively designed for sales teams, Freshsales is a solution that lets you take advantage of powerful AI-powered automation at an affordable , enabling sales people to focus on value-added tasks.
Advantages of Freshsales
Good value for money

Easy to use
Freshsales disadvantages
Some minor bugs

Fewer integrations than the competition
How much does Freshsales cost?
Freshsales offers a free version for teams of up to three people. Beyond that, the cost is £19/month/user. You also have the option of upgrading to the more extensive Pro package. This allows you to manage several and costs £39/month/user.

Finally, Freshsales is offered in its most comprehensive package at £69/month/user. You'll benefit from additional customization features.


Free Trial: Freshsales x Ringover Integration
9. Copper CRM
Copper CRM aims to help teams save time thanks to an integration with Google Workspace. That integration helps to minimise the data entry you'll need to do while managing sales leads and customer relationships.
Copper CRM benefits
Value for money

Google Workspace integration

Multiple languages supported
Copper CRM disadvantages
Opaque pricing

Difficult onboarding and user experience
How much does Copper CRM cost?
Copper CRM is available beginning at £29, with their most expensive plan topping out at £99.


Free Trial: Copper CRM x Ringover Integration
10. Sellsy
's suite of tools is aimed primarily at sales and administrative teams. However, it can also be used by marketing teams. The tool stands out for its invoicing functionalities and high degree of customization.
Advantages of Sellsy
Automation

Complete all-in-one solution with cash management and invoicing functionalities
Disadvantages of Sellsy
High cost

Difficult to use
How much does Sellsy cost?
Sellsy's CRM suite offers three plans, which are only available with annual contracts:
Essentials package for very small businesses at £49

The Advanced package for SMBs at £79

Enterprise package for fast-growing SMBs £99
Free Trial: Sellsy x Ringover Integration
11. Efficy
is a Belgian company founded in 2005. The CRM solution it has developed enables the centralisation of marketing and sales data, and even project management.
Efficy advantages
Highly available customer service

Easy to learn
Disadvantages of Efficy
Lack of flexibility

Lack of customization for cheaper versions
How much does Efficy cost?
Efficy CRM is available in four different plans:
Starter at £20 with essential functions

SMB at £40 with tools to take contract and marketing campaign management a step further

Enterprise at £60 for access to project management and advanced personalization functionalities

Corporate at £80 for a tailor-made solution and multi-channel marketing functionalities
Free Trial: Efficy x Ringover Integration
12. SugarCRM
SugarCRM is a software package developed by a U.S. company that includes tools for marketing, sales force management, and decision support. The solution stands out for its many interoperability possibilities.
SugarCRM advantages
Available in 26 languages

High degree of customization
Disadvantages of SugarCRM
Slightly complex deployment

High prices
How much does SugarCRM cost?
SugarCRM is available from £49 via the Sell Essentials package (for three to five users). For more advanced features, you'll need to switch to the Sell Advanced package at £85, or the more comprehensive Sell Premier package at £135. However, the latter is only available to teams of at least 10 people. SugarCRM is therefore not the ideal option if you're an entrepreneur.


Free Trial: SugarCRM x Ringover Integration
The definition of CRM software
CRM stands for Custom Relationship Management. For a company, these three letters represent the creation, development and maintenance of a privileged relationship with its contacts.

One major advantage of using such a tool is the company will be able to centralise the data collected from contacts and use it to:
Optimise its lead acquisition strategy

Target marketing, support or sales actions

Improve your sales pitch
As a result, it's a fantastic tool for managing and optimising exchanges with contacts outside the company.

However, these solutions can also enable you to improve a number of things internally:
Streamline processes

Automate tasks

Collaboration between all company departments
Put together, all these improvements can have a positive impact on your company's profitability.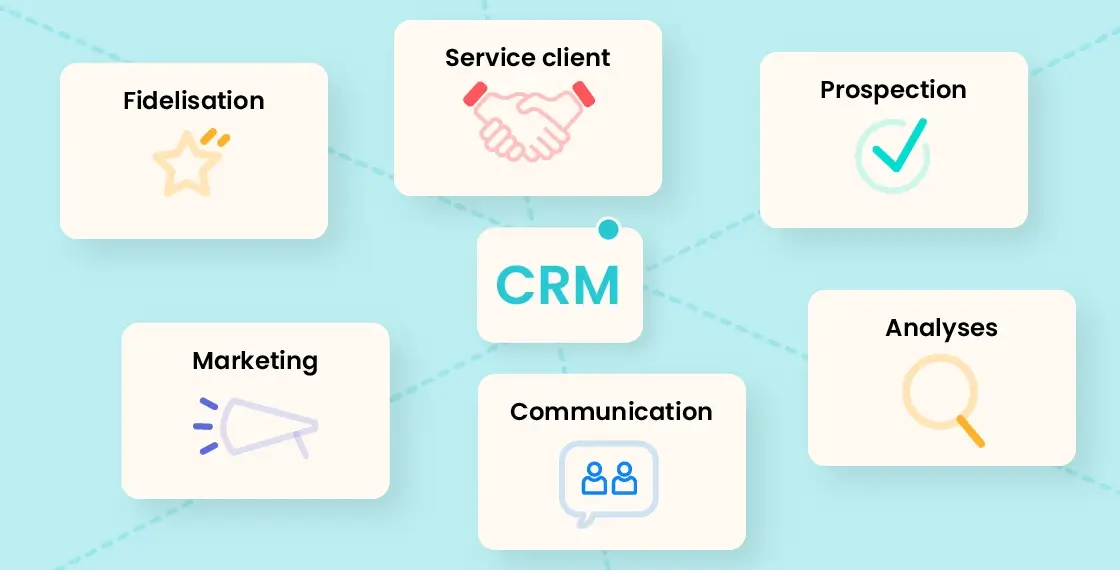 What are the advantages of CRM software?
CRM isn't just a piece of software to which you refer from time to time to obtain or update information. It offers a number of advantages:
Centralise information
CRM software is a great tool for collaboration, if every department in the company is involved in keeping up to date. That's right! A contact's situation can change at any time, and it's a good idea to update data after each interaction, so that you have reliable information that can be used by another department in the company.

Let's imagine that one of your customers tells you during a conversation about a maintenance operation that in four months' time his company will be moving to new premises. Entering this information in the customer's file could enable the sales team to offer him new services or products at the right time, to better match his new expectations, constraints and objectives.

By centralising contact data, the software facilitates access to reliable information and saves time.
Better control of the sales pipeline
Your company's sales force can rely on the customer relationship tool to help them better manage sales and opportunities that arise throughout the prospect's .

The previous example also illustrates this advantage. With a good option, you'll be able to improve the sales process throughout your pipeline, and identify the point(s) where you're losing leads across the whole sales team.

Do you most often lose leads at or earlier in the pipeline? Your customer management app pools this data and so you can find solutions to these pitfalls. Such a tool also enables you to evaluate your sales performance and guide you in achieving your objectives.
Better control of customer relations
Like other sales intelligence tools, CRM software gives you a global view of your customer base. For example, your marketing teams can easily detect inactive customers and set up automatic follow-up processes targeting them.

What's more, CRM software gives you a better understanding of your customer base. Automatic reminder scenarios can be customised according to the data collected on customers, based on their preferred channels, the type of interaction carried out (a telephone call or a visit to the site, for example) or their lifecycle.
Personalised and localised outreach
When it comes to successfully closing a sale, personalization has become a key component. Customers expect businesses to understand and acknowledge their needs and desires and personalise the outreach accordingly. Once you have a CRM phone system, you'll have call notes from every prospect interaction handy. That means that you'll be able to seamlessly pick up the thread of conversation. Plus, if your teams are prospecting outside of their area, can localise your number so the prospect feels more comfortable picking up the phone. Overall, prospects will enjoy a better quality of sales service thanks to the CRM and VoIP working together.
Improve customer loyalty
CRM software also contributes to customer loyalty by giving you a better understanding of your customers. You can anticipate their needs and expectations by using CRM to observe their behaviour: How often do they contact you? For what reasons? How often do they buy from you? What are their favourite products or services?

Using this data, you can also personalise your exchanges and give each customer the impression of having a privileged relationship with your company.
Increase productivity
One of the greatest advantages of CRM software is its ability to automate manual tasks. The best ones on the market can help you save time on tasks such as:
Convert quotations into invoices using an invoicing module

Electronic signature of documents

Creation of administrative documents

Marketing automation

Task tracking

Receive assistance requests and assign tickets to agents (customer support)
Better alignment between teams
As you know, marketing and sales teams are not always on the same wavelength. Quite often, there's a gap between these two strategic poles in a company.

Yet these two departments are interdependent and need to align to gain in efficiency, through and information gathering in the field, for example.

All your teams have access to the same information at the same time, as soon as the data is updated in the software. The tool will help you define common objectives for your teams, better manage prospects (acquisition and qualification) and standardise a number of processes.
What can you do with CRM?
Technology has come a long way in recent years. For some time, these tools were only used to centralise and compile prospect and customer data.

With the advent of the cloud and new technologies such as artificial intelligence, they have been equipped with new functionalities enabling them to gather information and, above all, take action at every key stage of the customer journey. We've included examples of the possibilities in the following table:
| Customer Journey Step | Mobile CRM Software Use |
| --- | --- |
| Awareness | Analysis of site data (especially for e-commerce), implementation of marketing campaigns and automated scenarios |
| Consideration | Opportunity tracking |
| Purchaseconversion | Identify potential customers and manage the resources needed to convert them |
| Administration | Invoicing, data processing for accounting |
| Post-sales service | Centralise customer requests, distribute tickets to agents, observe trends |
Note that the best software integrates perfectly with other more specific tools for document management, accounting, corporate telephony, mailing, , or project management.
How to choose the right CRM?
Finding the right CRM for your business is no easy task, given the plethora of products on offer. What's more, most players offer a wide variety of plans, and it can be extremely difficult to find the ideal solution.

Drawing up specifications is essential. This will help you identify the most important criteria for your company. Here are a few factors to consider.
What are your business objectives?
Make sure that the CRM you choose enables you to achieve the goals you've set for yourself. If you're looking to boost the sales of your sales team, opt for a solution that includes for managing your sales pipeline and detecting opportunities.
Scalability of the CRM solution
What do you envision for your company in the next three to five years? Are you counting on hypergrowth? Whatever the case, it's best to opt for a solution that matches your current and future needs. You'll just have to change along the way, you might say.

That's a perfectly feasible option, you may say. However, changing your solution along the way inevitably means a new onboarding, training in the tools, data transfers, additional administrative formalities, etc. Those are just a few reasons why it is easiest to get it right the first time!

Don't forget to keep the future in mind. Choose a solution with scalable functionalities that will enable you, for example, to switch from a basic plan to a more comprehensive one within one or two years. It's worth noting that some vendors offer customizable plans–though those are usually only at the enterprise level.
Compatible integrations
Are you using or planning to use a specific tool for accounting, electronic signatures or communication? Make sure your different tools are compatible.

Your CRM can be a good solution for centralising everything in a single interface. When choosing your customer relations software, take a look at its marketplace of integrations.
Data security
The data collected by your software can be sensitive. It may be personal data, or information linked to your business development or sales strategy.

It must therefore not fall into the wrong hands. Make sure you have advanced features for user account management and access. Data and data backups must be protected by encryption.

In addition, it's essential that your solution complies with current data protection legislation in your country and that of your prospects/customers.
Technical support
This is one of the trickiest parts, as it's not easy to test the capabilities of your solution's vendor in advance. So make sure they provide sufficient online documentation and regular updates.

It may also be worthwhile to canvas your network and ask your partners or other contacts for information on the quality of service provided by a particular vendor.
Cost
It's important to evaluate the total cost of the solution you choose, to see if it fits your budget. Think about the cost of customization, integration and training in addition to the flat monthly subscription fee.
How do you set up a CRM?
While a CRM can improve many processes within a company, its implementation can be complex, since the software disrupts everyone's work habits. Here are the steps you need to take to ensure the successful adoption in your company:
Draw up specifications

Define budget and deadline

What are the advantages and disadvantages of the software?

Onboarding

Monitor progress
Define your objectives
As we briefly mentioned earlier in this article, it's highly recommended that you figure out your needs. These specifications will help you define your current needs and anticipate your future requirements in line with your objectives and vision. Think about:
Expected functionalities for each team (marketing, sales, support, accounting, etc.). We therefore recommend that you go fishing for information within each department to understand what their pain points and needs are.

Users (number, rights and onboarding)

Deployment strategy
Define timeframe and budget
Acquiring a solution is not just a matter of buying a subscription. There are also deployment costs and timescales to consider. Common costs include customization, development (to integrate an in-house tool with it) and user training.

As far as lead times are concerned, you'll need to take into account the time it will take to narrow down your top choices and confirm the final pricing, as well as the duration and dates of trials and demonstrations. All those factors will impact your actual deployment date.
What are the advantages and disadvantages of the software?
A test phase is essential to assess the benefits of a solution, as well as its potential drawbacks. List them and ask the software provider to help you study the alternatives available to you. Even after the final deployment of the tool within your company, you'll need to measure its impact in terms of both process optimization and sales–especially through concrete methods, like ROI.
Pay attention to onboarding
It's crucial to support your teams through this kind of change. As soon as you draw up the specifications, involve them so that you have a better understanding of their needs.

Make sure that your teams are properly briefed on both the essential functionalities and the implementation of your CRM strategy. It's not uncommon to call on external service providers or the software provider to train your teams.

In addition, it can be useful to have in-house referents to facilitate adoption as much as possible.When the situation calls for it, define common objectives for the teams to align them.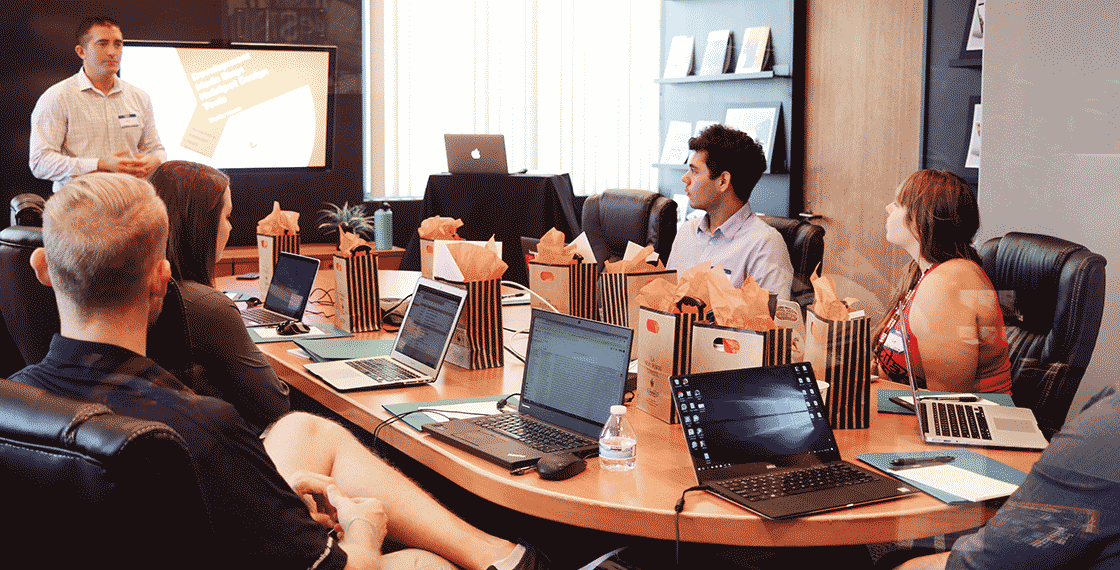 Follow-up and adjustment over time
The deployment process doesn't end once employees begin using it. You need to ensure that your employees are satisfied, through questionnaires, for example. But follow-up is more than just surveys. You must check whether the tool is actually effective in easing your team's daily responsibilities, or if it has created unanticipated problems.

For years confined to the simple centralization and management of a company's contacts, CRMs have become much more versatile tools over the years.

Companies can use them to identify and seize new sales opportunities, better anticipate customer reactions, or simply improve internal team collaboration. Implementing a CRM should not be taken lightly, as it's an everyday tool that disrupts habits and changes processes.

Whatever your choice, remember to check that your solution is compatible with your other business tools, whether it's your , your accounting software, or your , for example.

, our solution, and , our prospecting tool, have the advantage of integrating perfectly with the best platforms on the market. Both solutions are available on a free trial basis.
CRM software FAQs
What does CRM mean?
CRM stands for Customer Relationship Management and it's a range of tools to better understand the needs of prospects and customers, satisfy them, and optimise their loyalty. Some CRMs are more or less sales- or customer service-oriented, but in most cases they have the advantage of being able to be combined with third-party tools via integrations to better meet business needs.
Which CRM is the most widely used?
There are no sufficiently reliable statistics on this subject. However, Salesforce is recognized as one of the most popular CRM software packages worldwide. It is the market leader and benchmark. Nevertheless, other solutions are very popular, particularly in France. These include:
Zoho

Pipedrive

HubSpot

Microsoft Dynamics 365

Sellsy

Efficy
Which CRM for a small business?
There is no single CRM solution for small businesses. As with any business, it's essential to first define your requirements in a set of specifications, and then benchmark the most accessible solutions in terms of budget and suitability for your needs. CRM publishers offering solutions designed for SMBs include:
What CRM software is available?
There's a plethora of CRM software to choose from. You'll find dozens of software packages designed for customer relationship management. Below is a list of different CRM software:
Zoho

Monday

Pipedrive

Salesforce

HubSpot

Copper

Bigin

Simple CRM

Sellsy

Agile CRM

Sugar CRM

CRM Suite

Axonaut

CrèmeCRM

Bitrix
Which CRM is free?
There are a handful of "truly" free CRM software packages on the market. Admittedly, these solutions have a few limitations, such as the number of contacts that can be imported, the lack of integrations or the number of users. However, they remain good tools for entrepreneurs or small businesses just starting up. Here's a selection of free but effective CRM software:
HubSpot's free CRM

Zoho CRM's free offer

Folk.app's free plan

Streak CRM

Notion (various templates are available online)

The free version of Agile CRM

Bitrix24 (Free)
What are the three main types of CRM tools?
All CRM software can be used to manage customer relationships. However, they do not all have the same functionalities, and the objectives for which they are used vary. There are three main types of CRM software:
Collaborative CRM software: These solutions are specifically designed to align different teams.

Operational CRM software: These tools offer functionalities more focused on automating tasks and setting up scenarios to manage the entire customer journey.

Analytical CRM software: These are solutions whose main objective is to analyse large volumes of data and formulate insights.
Is it possible to integrate telephony with CRM software?
It is indeed possible to integrate your corporate telephony with your CRM platform. However, this depends on the and the CRM. If you want to link your telephony to your CRM solution, you first need to make sure that your tools are compatible. The easiest way to do this is to go to the "Marketplace" or "Integrations" section of your CRM and telephony solution websites. Integration offers the following advantages:
Call centralization: with integration, you don't have to leave your CRM to enter your contacts' telephone numbers to make or receive calls.

Automation: a CRM phone system ensures you no longer have to enter the same information twice from one program to another. When you make a change in your CRM, it's reflected in your

, and vice versa. This is very useful when you need to enrich a prospect's file after a call. Likewise, with integration, when you receive a call, your contact's record is automatically updated with the history of his or her interactions with the company. In this way, you can personalise and recontextualize each exchange.

Data collection and analysis: By integrating your telephony system with your CRM software, you can enrich your CRM dashboard with analytics on team performance and call volume. These analytics ease decision-making.
Is it possible to integrate your prospecting tool with your CRM software?
The answer is yes. It is generally possible to perfectly combine your with your CRM. Such integration makes prospecting more efficient, and ensures customer files are kept up to date. Other benefits include:
Easier personalization of exchanges with prospects

Simplified identification of sales opportunities

Data centralization: you no longer have to switch from one software to another to obtain information

Automation