Call center
UCaaS vs CCaaS: Differences, Similarities & When to Use
UCaaS is the all-in-one package, offering a unified platform for various communication tools like voice, video, messaging, and collaboration. On the other hand, CCaaS is more focused on the customer service arena. It's a service that provides the tools and technology needed to run a contact centre efficiently.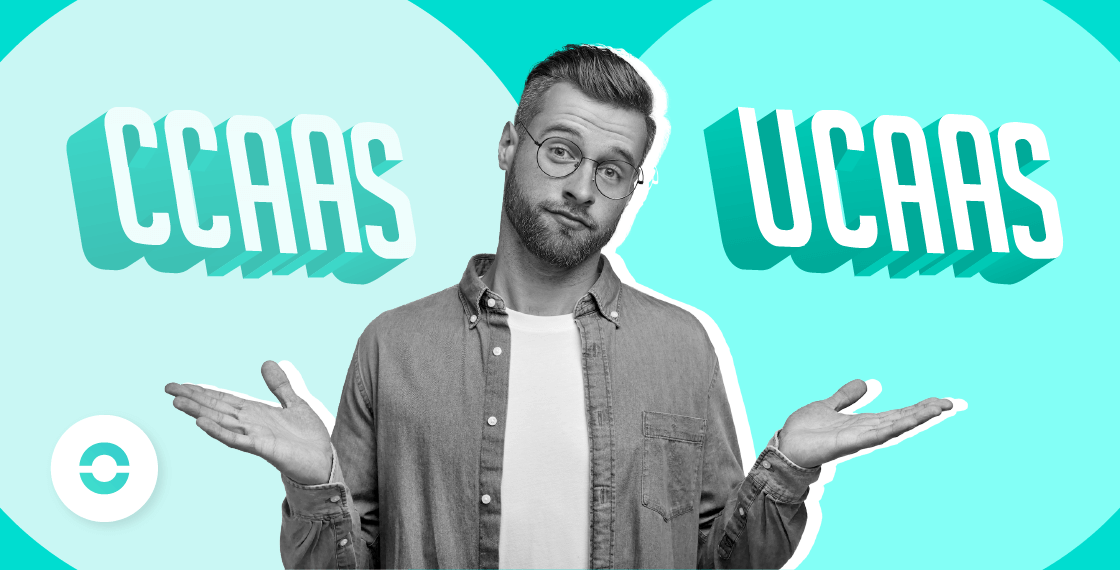 Summary
Try Contact Center As A Service for free


Organizations looking for ways to improve their communication systems are sure to come across Voice Over Internet Protocol (VoIP) technology. This is a type of communication system where calls are connected not over phone lines but rather over the internet. A growing number of businesses are switching to VoIP software to manage their communication.

There are 2 main types of to be compared here; Unified Communications as a Service (UCaaS) and Contact Centre as a Service (CCaaS).

These upgrades to traditional phone lines are easy to implement and scale according to your organization's needs. They're cheaper too. However, the two platforms aren't synonymous.

Let's dive into the similarities and differences between these two communication systems and the situations they are best suited to. In short, here is everything you should know about UCaaS Vs CCaaS.
What is UCaaS?
UCaaS (Unified Communications as a Service) or Unified Cloud Communications refers to cloud-based communication applications that consolidate channels for communication via voice, video, conferencing and messaging onto a single platform.

The key idea is to minimise the need to switch screens or devices when communicating across different channels and to keep people connected irrespective of where they are. Your team can access UCaaS features from a smartphone, laptop, desktop computer or even a desk phone.

UCaaS platforms are usually intended to be used for internal team communication. Some of the features they are known for include:
File sharing

Email integration

Team chat

Virtual whiteboards
Benefits of UCaaS
Some of the key benefits offered by UCaaS platforms are:
No New Hardware Required
Unlike traditional phone systems, UCaaS solutions do not require any new hardware or complicated installation. All you need is a high-speed internet connection. UCaaS accounts are not linked to devices but rather, they are linked to numbers.

The account creation and setup process can be completed online and the service can then be accessed from any communication device linked to the internet with the UCaaS provider's application installed on it. This is a process that usually does not take more than a few minutes to be completed.
Low Cost
In most cases, subscribing to UCaaS platforms is much cheaper than getting a regular telephone connection. Along with eliminating the need for investing in new hardware, it also negates the need to budget for maintenance.

What's more, the subscription fee is inclusive of access to many features that are otherwise not available in regular communication systems such as video conferencing, call routing, monitoring and recording, metrics and analytics, etc.

Accessing these features with a regular telephone system would require investing in additional packs and value-add services.
On-the-go Connectivity
UCaaS platforms untether your team from their desks and keep them connected even when they are on the move. Almost all UCaaS platforms have mobile applications that can be downloaded for Android and iOS devices.

Users can sign in to their accounts from these mobile applications and make and receive calls from wherever they may be as long as they are connected to the internet. They can be reached with the same number irrespective of where they may be.

Easy to Scale

Since UCaaS solutions are not tied to devices, they are flexible and easy to scale. You can quickly add new users or scale down your system by deleting user roles. New team members can access the services through their own devices or through an existing company device. User accounts can also be transferred and reassigned if required.
Better Collaboration
With UCaaS, all communication across channels is consolidated on a single platform. This makes it easier to keep track of communication between two or more people and encourages collaboration. In addition to centralizing the exchange of messages UCaaS also gives account users access to your database with all relevant information and resources.
Higher Functionality
UCaaS makes it easier to assign tasks, define workflows, track deadlines and more. It also gives your team members a wider range of channels to communicate through. For example, they can switch to a video conference when new product features have to be discussed. The flexibility to connect through multiple devices also allows them to stay equally productive in and out of the office.
Secure Communication
Unlike phone lines that can be easily tapped, UCaaS communication is typically encrypted from end to end. This keeps conversations private. The communication servers are cloud-based which minimises the risk of downtime and in events of power outages or disasters. Many systems also employ other protection measures such as two-factor user authentication or VoIP call security protocols.
When to use UCaaS Solutions?
are well suited to organizations looking for ways to improve their internal communication and foster collaboration. They are also good choices for organizations looking for a budget-friendly way to update their communication systems for remote workspaces.
What is CCaaS?
also refers to a subscription-based cloud platform for multi-modal communication. Like UCaaS platforms, CCaaS platforms are designed to consolidate communication via voice, video, email and messages over desk phones, mobile applications or desktop browsers but they are not limited to just this, they offer many more features.

This service is intended to be used by contact centres and focuses more on external communication as compared to internal communication. CCaaS is intended to help businesses service their customers in a better way and expand their outreach. Some of the features unique to a CCaaS solution are:
Benefits of CCaaS
CCaaS solutions offer all the benefits of UCaaS solutions along with others such as:
Better customer experience
CCaaS solutions unify all customer communication onto a single platform and makes relevant information easily available. This helps agents respond to queries and complaints faster. It also ensures that customers receive coherent responses irrespective of the channel used.

For example, let's say a customer called a tour operator to ask about customizing a holiday and later sent an email with the preferred dates. CCaaS links both conversations and hence even if the agent who initially spoke to the customer isn't available, the person responding to the email will automatically know what is being talked about.

CCaaS also improves customer service by to relevant departments and minimizing unanswered calls. What's more, many services transcribe voicemail messages and deliver the same to email inboxes so that they can be resolved quicker.
Quick Contact Centre Setup
CCaaS makes it possible for even small companies to set up a where customers can reach them. Firstly, companies do not need to invest in additional hardware and the service provider takes responsibility for all updates and troubleshooting.

In turn, this reduces the need for an IT support team. Secondly, everyone need not be in the same office to stay connected. The CCaaS system is built for remote workers and as long as your agents have a working internet connection, they can stay connected to the platform. Thirdly, you can easily get toll-free or local numbers in countries other than your own without the hassle of setting up international offices.
Easier Quality Assessment
CCaaS providers include a wide range of features in their subscription plans such as detailed call metrics, agent status reports and call monitoring to evaluate agent productivity and call quality. If they are not included in the plan, quality assessment features are usually available as add-on packs at relatively low rates.

You can also access advanced call monitoring and call recording facilities. Call monitoring allows supervisors to listen to live calls, whisper to their agents without the other person's knowledge, join a conversation or take it over.

Let's say a customer has a query that an agent doesn't have enough information to answer. They can bring a supervisor onto the call to help them resolve the query or transfer the call if required. Calls can also be recorded and transcribed for later quality analysis.
Integrated Data and Systems
This type of offers numerous direct and indirect integrations with other systems to streamline overall operations. For example, CCaaS solutions can be integrated with CRM platforms to create more comprehensive customer profiles and make their data available for quicker query resolution.

Similarly, CCaaS solutions can also be integrated with automation and helpdesk systems. This type of communication solution also cuts across department barriers and keeps information from being siloed. With service providers like Ringover, your team can get access to shared contacts, call logs, etc.
Higher Productivity
CCaaS helps automates various tasks to boost productivity. IVR menus can route customer calls to relevant departments and individuals and minimise the need for call transfers. Call hold times are reduced as are the number of calls that go unanswered or are directed to voicemail.

When available, virtual assistants can further streamline workflows by taking care of simpler queries and leaving agents free to handle more complex conversations. Similarly, IVR tools integrated with AI can guide customers toward self-service solutions for subscription renewals, payments, etc.
When to use CCaaS Solutions?
If you're looking for a way to improve customer support and quicken query resolution, CCaaS may be the better solution for you. This is ideal for companies that depend on inbound and outbound customer contact. For example, companies with international sales offices need CCaaS solutions.
Comparing UCaaS and CCaaS
There are similarities and differences between UCaaS and CCaaS solutions.

They both focus on unifying communication across channels and giving users access to everything through a single dashboard. You can communicate with your team, vendors, partners and customers through voice and video as well as text messaging.

In both cases, plans are typically structured with a per-seat subscription rate. Pricing is comparable but given the fewer features available, UCaaS is often cheaper than CCaaS. Pricing also varies from one service provider to another.

Thirdly, they can both be easily integrated with other existing systems. That said, CCaaS solutions tend to offer more third-party integration options for CRM tools while UCaaS emphasises task management.

The main difference between the two communication solutions is connected to their intended use.

Video conferencing with screen sharing, whiteboarding and text chat features are given a higher priority with UCaaS solutions as compared to CCaaS solutions. On the other hand, CCaaS solutions excel at self-service support with IVR call routing and chatbots.

If available, these features are not as well developed in UCaaS solutions. This is because UCaaS solutions focus on internal communication that requires such services as compared to CCaaS solutions designed to improve customer service.
UCaaS Vs CCaaS - Choosing the Ideal Business Communication Solution
There are many UCCaaS and CCaaS solution providers with a range of plans to suit varying requirements and budgets. To maximise the benefits you can experience, you should look for a communication solution that combines the features of both UCCaaS and CCaaS.

The first point to keep in mind when comparing business communication solutions is to assess your needs and the associated features required. While features like ring groups, customizable ring queues, screen sharing and call barging may be available, they may not all be available with the starter plans.

When it comes to budgeting, assess whether these features are included in the monthly subscription or if they need to be bought as add-on packs. This will influence your final monthly costs.

You also need to assess where your team will be located and where they need to make calls to. With a service provider like Ringover, you can get landline numbers in 14 different countries and make to 90+ destinations. Calls to other destinations are billed at location-specific per-minute rates. Similarly, other service providers may also have limited free calls to certain destinations.

Thirdly, the company providing the service needs to be reliable and have a good reputation for staying connected. Look for the solution provider with the maximum uptime. Ideally, you want to partner with a service provider that you can work with not just today but for years to come.