Sales prospecting
Artificial Intelligence for Business: best examples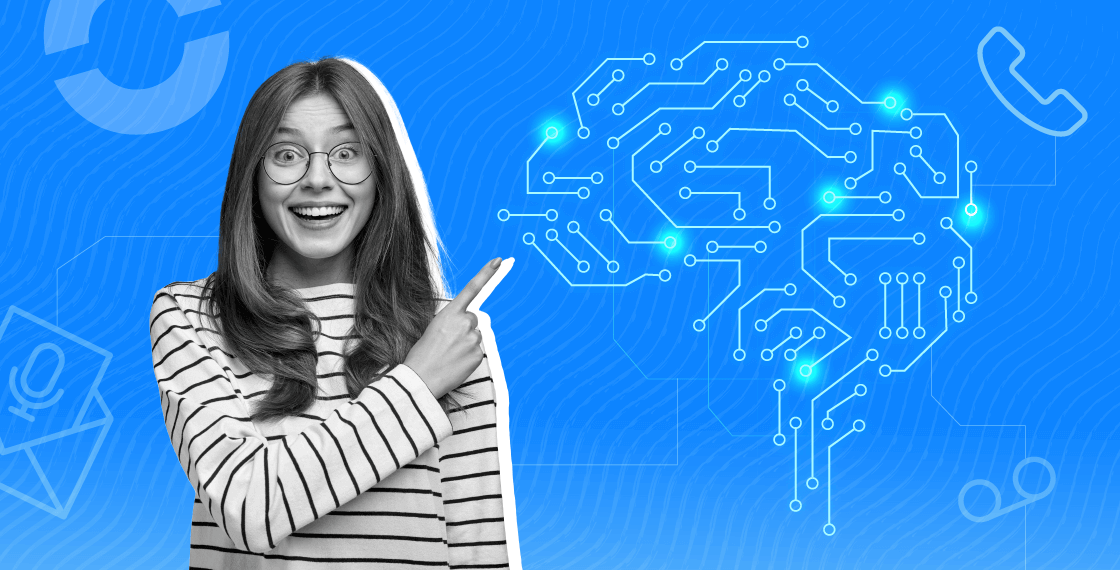 You may be reminded of all the sci-fi movies you ever watched when you hear the term AI or artificial intelligence. However, AI business solutions are not that unreal and complicated. From chatbots to IVR, and automated vehicles to data analytics, businesses use AI every day.

Did you know around 77% of the devices we use have AI in one form or the other, like Siri or Google Assistant for example. It is no surprise that around 87% of global companies believe that the use of AI in business will give them a competitive edge.

Let us find out more about artificial intelligence for business
Try AI Business solution for Free
What is AI in business?
AI business technology is used by many organizations to run their day-to-day operations. The technology is implemented to help companies enhance productivity and streamline workflows. The top three challenges most firms face when considering the implementation of AI in their business are:
Finding a starting point

The fear of the unknown

Staff skills
How is AI used in business?
Artificial intelligence for business can be used to boost sales, improve marketing strategies, and make better hiring decisions. Most companies use AI for:
Personalization
For instance, an AI tool is at play when you see recommended products while shopping online or see recommendations on Netflix or any such OTT platform based on your viewing preferences.
Customer service
From chatbots to offering customers omnichannel experiences, AI plays a major role in customer service. Even the CRMs that help you map the customer journey are AI-driven.
Data analysis
Data is at the core of everything we do and AI applications are widely used in business for data analysis and cleaning. Did you know Google uses predictive analytics every time it prompts you to leave for the airport if you have a flight catch?

Google does this by analyzing a combination of data such as your home address, calendar, maps, and of course flight information.
Voice analysis
When you call a customer care centre, it is AI-driven technology that helps record your interactions and convert the audio into a text transcript. The speech analytics software analyzes the transcript to understand the common theme in your calls and monitor agent performance.
What business can use AI?
Artificial intelligence for business can be applied in a variety of industries. Here is a list of some of them:
Banking and finance
The banking and finance segment takes full advantage of AI for business. They use the technology to identify fraud, perform KYC verification, etc.

They also use the tech to offer investment advice using predictive analytics that helps investors understand the way the market works. Even traders use AI tools to read charts and predict market movements.
Automobile
Automobile companies use AI-based solutions coupled with human resources to implement manufacturing and supply chain tasks. They rely on algorithms to create designs that work.
Telecommunication
Virtual assistance is one of the biggest examples of the use of AI in telecommunication. It helps control the massive customer support call volumes.
Entertainment and media
From subtitle creation to watchlist recommendations, the entertainment industry makes use of AI business solutions. They also use the technology for meta-tagging and even use it to automate decision-making based on the user data collected.
How do I start using AI in my business?
You can use artificial intelligence in your business too. Here are a few examples of how you can employ the solutions to automate tasks:
The use of AI in business management
Email and data spam filters

Voice-to-text conversion

Use of smart personal assistants, such as Siri, Cortana and Google Assistant

Automated responders for online customer support

Sales and business forecasting
The use of AI in e-commerce
If you have an e-com store, you can make the AI work for you. You can use the technology to:
Implement smart searches

Offer personalised recommendation

fraud detection and prevention of transactions

dynamic price optimization
The use of artificial intelligence in marketing
By equipping your marketing teams with AI tools, you can:
Make recommendations and content curation

Personalization of ads, newsfeeds, etc.

Customer segmentation

social media semantics and sentiment analysis
How do I create my own AI products?
No doubt that leveraging AI will help you achieve your business goals and growth objectives. If you want to build an AI business solution to solve certain problems in your contact centre or organization, there are a few things you need to keep in mind:
Identifying the problems you need to solve

Get clean data

Create algorithms

Train the algorithms

Choose the right platform such as the cloud

Select a programming language

Deploy, monitor, and improve
However, if you don't plan to get into the AI business, why build one? Why not go for a smart solution that is built to enhance the performance of your contact center or sales team? Here is a complete business communication solution for your organization – Ringover.
Get Your Business The Ringover Edge
Ringover is a smart that is loaded with many features that your ordinary phone doesn't have. The VoIP system harnesses the power of AI and machine learning to offer you a range of features.
Ringover features
Auto dialer

Collaboration tools

Call barging

Number porting
Ringover price
There are three plans to choose from: Smart (£19 per user/month), Business (£39 per user/month, and Advanced (£49 per user/month).


By integrating other productivity software such as a CRM, you can improve the efficiency of your sales, marketing, and customer support teams. You can even save a few bucks while improving your ROI.

To give your business the Ringover advantage, with us today.