Business phone system
How Pipedrive CRM and Ringover will help you keep your sales pipeline clean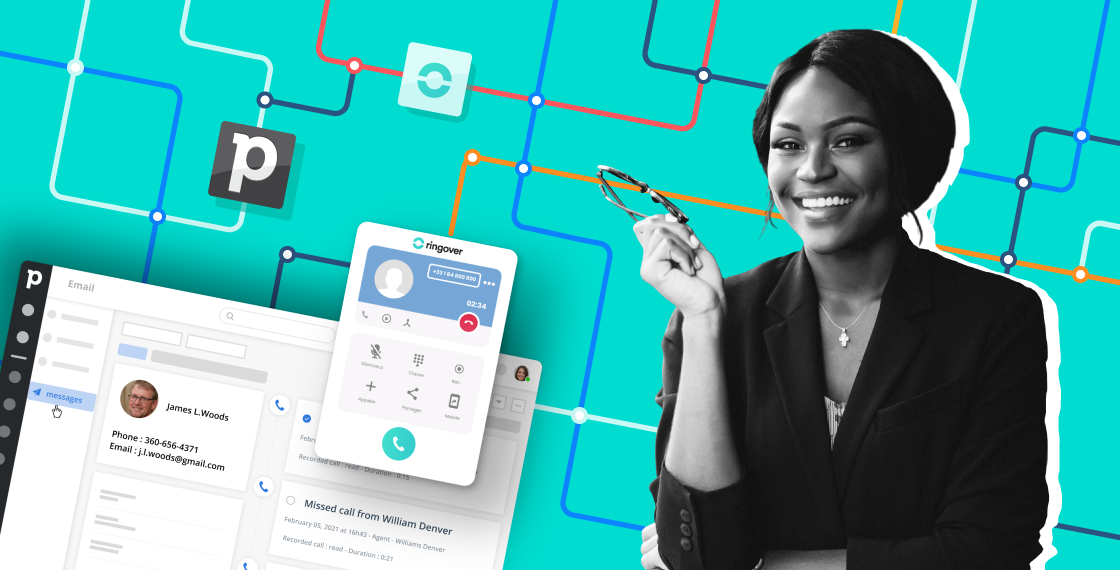 Sales pipeline management is vital in creating efficient pipelines in which prospects move along and become customers. Ringover and Pipedrive CRM integration is the perfect pairing to help keep your pipeline healthy and clean of dead leads! Sales pipeline management is the process of overseeing and directing future sales in various stages. It's a visual representation of the sales process; the set of stages that a prospect passes through as they progress from lead to customer. A sales pipeline focuses on the point of view of the sales rep. It allows the sales rep to visualise what steps can be done at every stage. This helps simplify each stage a sales rep will come across before closing a deal.
What are the pipeline stages?
Sales pipelines tend to change depending on industry and business, but they usually all follow the same sales stage skeleton. These common 7 stages are:
Lead generation

Lead nurturingMarketing qualified lead

Sales accepted lead

Sales qualified lead

Closed deal

Post-sale
Each of these sales pipeline stages represents a step a prospect takes through your sales process, from becoming a lead to becoming a fully-fledged customer.
Beware of dead leads
However, if your sales pipeline becomes full of dead leads, it can slow down the process. Dead leads refer to the prospects who will never be convinced to buy from you. To identify them, look for prospects who have been in your sales pipeline longer than your average sales cycle.Letting go of a lead may seem to be counterproductive, especially if your sales reps have already invested a lot of time and resources to cultivate unresponsive leads. However, in this situation, it's necessary.Identify dead leads by these characteristics:
They cannot be contacted

They have clearly stated their disinterest

They already have or use a similar product or service

They cannot afford your product

They are resisting your team's efforts to steer them onto the next stage of your pipeline
Your sales team should learn how to identify leads that need more nurturing and quickly decide on the best course of action: whether to let go or to nurture more. They should strongly consider dropping an unresponsive lead—even if they have already invested a large amount of time, effort, and resources to cultivate it—so they could channel their energy and effort into more promising opportunitiesTo help with this process, Pipeline CRM integration with Ringover is a great call! Pipedrive is a clear visual interface that allows you to take action, remain organised and stay in control of a complex sales process, as well as weed out dead leads to keep your sales process efficient and smooth. Plus, with the Ringover integration with all the included features, combined they are a winning formula to keeping your sales pipelines clean
Pipedrive CRM features
Take advantage of the file recovery!Pipelines can get blocked due to sales not being made quickly enough. This can be due to prospects taking a long time to respond, but it can also be caused by your sales team taking too long too. Pipeline offers a solution to this problem.With each incoming call, the file recovery feature finds the caller's Pipedrive record and gives you access to all of their information. This means that your sales team will instantly know all the important details about that prospect, meaning that they are able to pick up effortlessly from the previous conversation had. This allows for sales to be completed far quicker and more effectively. One great process is to have your sales reps attach new tasks to leads whenever they complete the meeting with them, so they also have a defined action item. That might be "send meeting agenda," "call again in three days" or any other actionable suggestions to keep them in your sales pipeline and stop them from becoming blocked.Keep the follow up simple If you don't establish a standard follow-up process throughout your sales pipeline, you'll lose leads. Give your team a system for following up with leads, including timing, cadence, and contact method. This is now far simpler to do with Ringover and Pipeline CRM click to call feature! Make unlimited calls with Ringover directly from Pipedrive - no need to manually type in phone numbers! Your sales team will no longer have to manually dial numbers to follow-up's, instead, follow-ups are only a simple click away. Moreover, you and your team will gain access to unlimited calls. As a result, this means that you'll have unlimited contact time, resulting in uninterrupted conversations and a better customer experience and service. Relax, your contact card has your backTo make this a far simpler process for you and your team, all your calls, texts, voicemail messages and call recordings are automatically logged in each contact's Pipedrive card . Your sales reps will save so much time as Ringover and Pipedrive CRM take away the hard work, making them become far more efficient in moving your prospects along the pipeline. Your sales reps can also make full use of the recordings to identify the leads that are the most enthusiastic and put their energy into those leads. Rather than continue to try and contact and convince ones that have clearly stated they have doubts about you. Synchronise your contact directoriesWith contact sync all of your Pipedrive data, including your phone book, is always up to date and ready! This feature lets your sales team always have the most up to date information on their leads, which creates a healthy pipeline with a steady flow of prospects. This will exponentially increase the likelihood that your team will meet their quotas as they can easily contact them and move them along the pipeline to becoming official customers of yours.
Want a simpler way to keep your sales pipeline clean?
If you would like to integrate Pipedrive CRM with your business telephone then contact us on 020 3808 5555 or send an email to [email protected] and we will be happy to help you!