Remote work and VoIP
Best free video calling apps for video conferencing and online meetings
Since 2020, when the use of free video calling for both professional and personal purposes skyrocketed due to the pandemic, video calls have evolved and become nearly as important as face-to-face meetings.

Many of our day-to-day activities, both work and home-related, now take place online. This is precisely why many companies have made hybrid mode their new normal. Whether you are in the office or not, you can attend all the necessary meetings thanks to . In this context, free video calls have proven to be a very effective channel for exchanging with customers and prospects and improving relationships.

When customer service or sales prospecting is done over the phone, the interaction can lack directness. That is why group video calls can be a very valuable asset to improve the customer relationship and boost conversion rate.


Try the free video calling software for businesses
What are the platforms for making free video calls?
Businesses can engage in videoconferences when guiding the customer or prospect during the purchase process. Video calls can be a personalised service that allows you to reassure, guide, and resolve doubts in real time, which your contact will appreciate. Visual contact humanises the transaction.

Among the most popular video call platforms you can find the following 10:
Skype

Zoom

Discord

Facetime

WhatsApp

Slack

Microsoft Teams

Google Meet

Zoho Meeting
Each video call software offers the basic function of a video calling application. There are differences in the extra functionalities they offer. For example, some have limits on the meeting length or the number of people that can join simultaneously.

It should be noted that written communications such as chat or email are convenient when you do not have time to engage in a more fluid and longer conversation. However, these channels don't allow you to see and decipher the customer's non-verbal communication. Gestures and expressions give key information that can cause you to change your approach in the moment.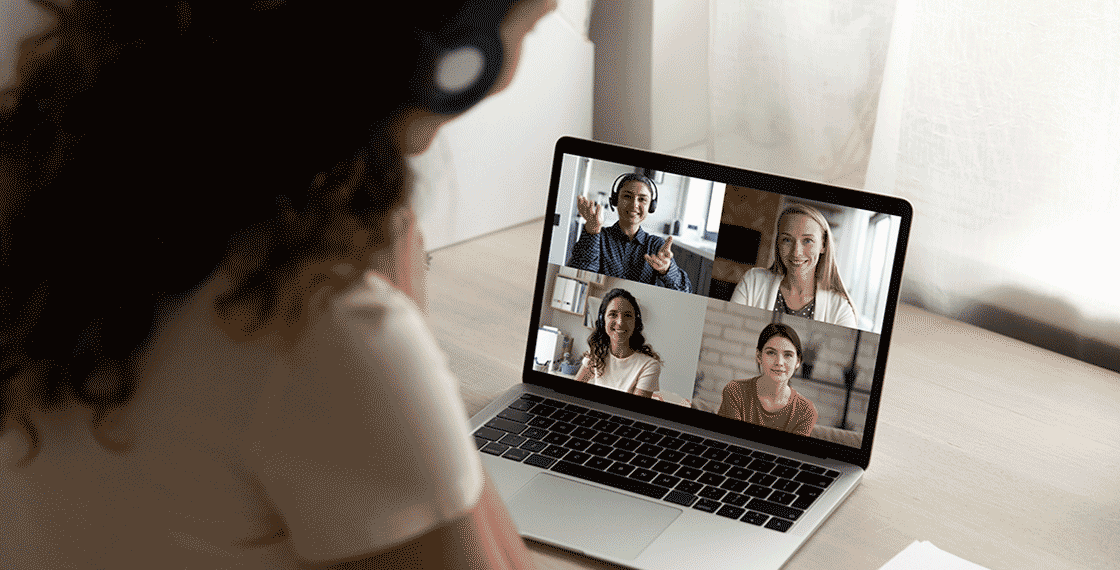 What is the best application to make video calls?
The first thing to do when choosing a video call service is confirm the provider has a reliable and secure network that offers the best audio and video quality. As for the application to make free video calls, make sure it works across devices and is versatile and flexible.

While many people use computers for business meetings, studies have found 31% of employees join with smartphones and 13% from a tablet. Therefore, you should check what devices the free video call service is compatible with before making your final choice.

Other important features to check for include screen sharing, which is very useful when adding visual support to a presentation or explanation. Instant document sharing also allows the group to keep track of what is being discussed in the free video call.

There are several online applications that provide the minimum needed for free video calls, such as Skype. However, Ringover offers you a solution that goes far beyond the bare minimum. Meet by Ringover is a free and 100% secure video calling service. With a single click, you can open a virtual meeting room, accessible at any time, from any device, without downloading anything or entering personal information/data.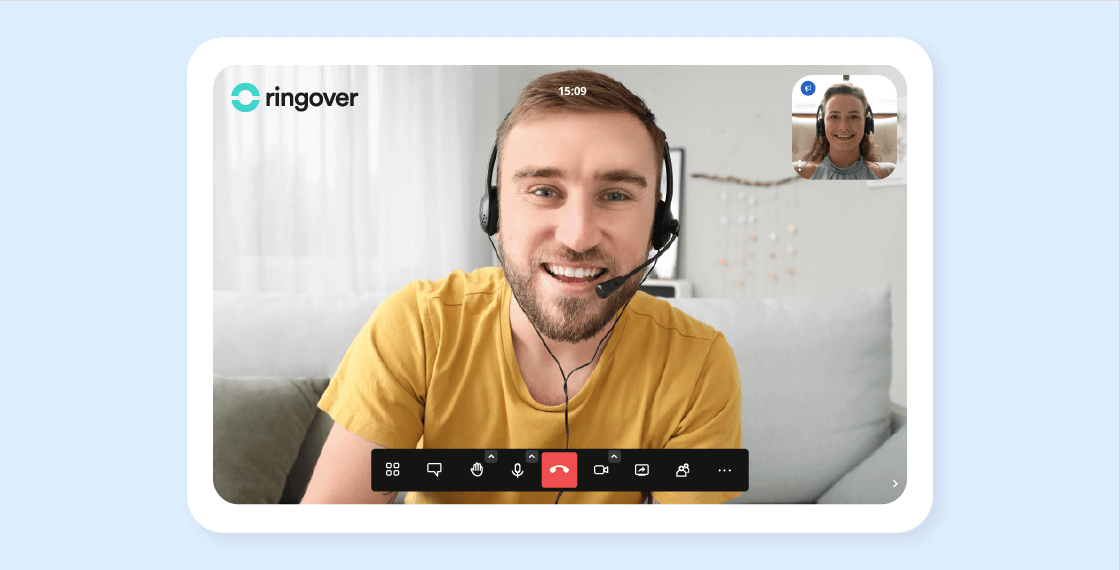 Where can I make free video calls?
Thanks to free video calls, a good internet connection, and a decent device, we can have webinars, presentations, and training remotely, no matter where you are. Here are several options where you can make free video calls:
Google Hangouts: One of the best options since everyone, or almost everyone, has a gmail account. This allows you to connect to Hangouts without the need to register. The downside is that the number of people allowed to connect in a group video call is limited to ten.

WhatsApp: Another well-known option among smartphone owners. However, Whatsapp isn't very popular for free video calling because it only allows four participants. Plus, the video call function is not available on the web app. In other words, you can only access free video calling on Whatsapp on your cell phone. The final negative point? Screen sharing is not possible.

FaceTime : App belonging to Apple. It allows up to 32 participants in video calls but is only available on Apple devices.

Skype : One of the best known applications on the market, Skype has been around for a while. It is available for Windows, Mac, iOS and Android. Plus, it has a web app available which can be accessed with an account login, so you can access contacts on your phone and computer. The free version allows free video calls with up to 10 people. Skype allows screen sharing and simultaneous chat.

Discord: It is a chat application with many extra features whose main audience is gamers. It does not have a web app, so you have to download and install the application to use it. The limit of participants in a video call is 50.

Zoom : If you know Skype, you know Zoom. One of the most popular applications during the pandemic. It allows simultaneous connection of up to 100 participants. However, your meeting will be limited to 40 minutes.

Houseparty: App available for iOS and Android that, in addition to the basic videoconferencing functions, offers games such as trivia or Pictionary among participants. The maximum number of participants is eight.
How to make a video call from your cell phone?
Nowadays making video calls is very easy thanks to smartphones and other connected devices. Follow these simple steps and start making video calls now:
Open your cell phone.

Here you have two options: Either you have a mobile application specifically for free video calling like Facetime,or you can download and use one of the free video calling services listed above. Whatever app you'll use, open it.

Search for the contact you want to call and, if you don't have it, enter the number manually on your keypad.

Call and wait for the other person to accept.
It's that easy!

In addition, if you need more advanced features such as group video calls, there are a number of free or low-cost applications that you can download for this purpose.

We recommend Meet By Ringover, the video call software that integrates video calling into your multichannel communication strategy. Meet by Ringover helps you build strong relationships with customers and prospects. Start yourtoday and discover what your company is capable of thanks to Ringover's communication solution.