Business phone system
10 Tips for Setting Up Your IVR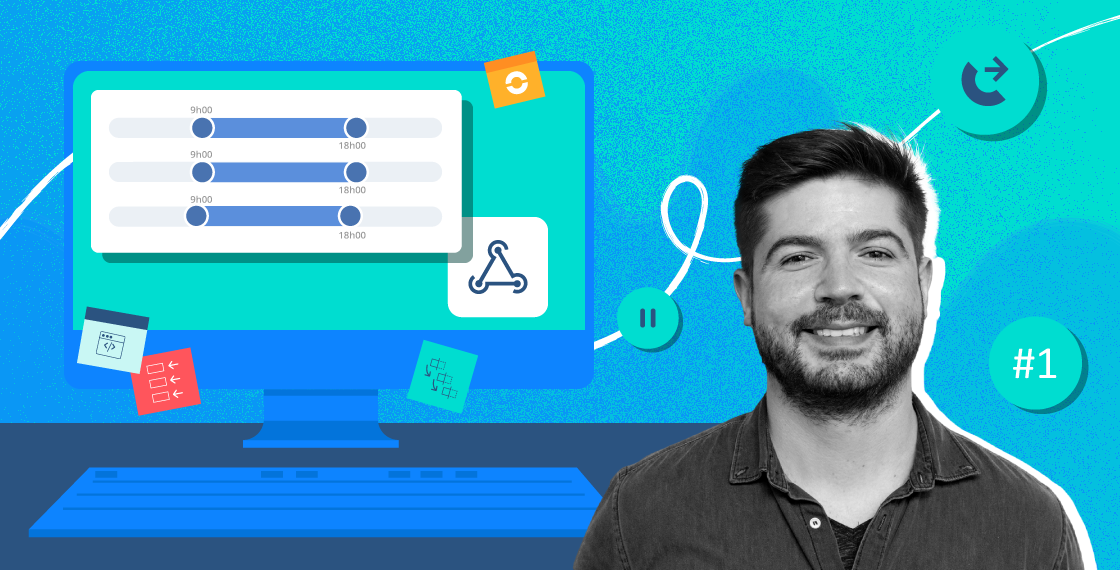 Once you've put an Interactive Voice Response server in place for your business, some of your first questions may be "How do I make my IVR more natural and more human so that callers won't react to it by looking for the quickest escape route?"As Steve Jobs said, "You've got to start with the customer experience and work back toward the technology - not the other way around."This may be easy to say, but it's some of the best advice there is on the subject. But before that let's understand what IVR is and why it can be valuable for your business. IVR (interactive voice response) is a feature of an automated business phone system that interacts with callers and collects information by presenting them with a menu of options. It then initiates actions based on the caller's responses via the telephone keypad or voice response. IVR makes sure that the customers reach the right department and the right agents based on the nature of their query and receive the right support. All of these capabilities can be accessed without the need for a live operator's assistance. This decreases the number of personnel required to respond to customer issues while also limiting the amount of time trained agents are need to spend on more routine tasks such as call routing.When your organisation receives a large number of inbound calls, the flow and timeliness of service are critical to drive customer satisfaction. With IVR, businesses and call centres can run more smoothly because agents can spend their time assisting customers with their critical issues instead of spending it on call routing. IVR helps businesses prioritise their calls based on whether or not the client's concerns are urgent or can be resolved promptly. This reduces the time it takes to resolve issues and improves the customer experience.Refining your IVR requires a lot of reflection on how the client experience plays out from a human point of view.With an intelligently configured server, your agents lose less time and receive calls that are better qualified; no wonder then that setting up Interactive Voice Response well can result in a 50% cost reduction for call centres.RingOver had provided 10 simple and effective tips to help you optimise your IVR:RingOver had provided 10 simple and effective tips to help you optimise your IVR:
1. Craft Your IVR Greeting With Care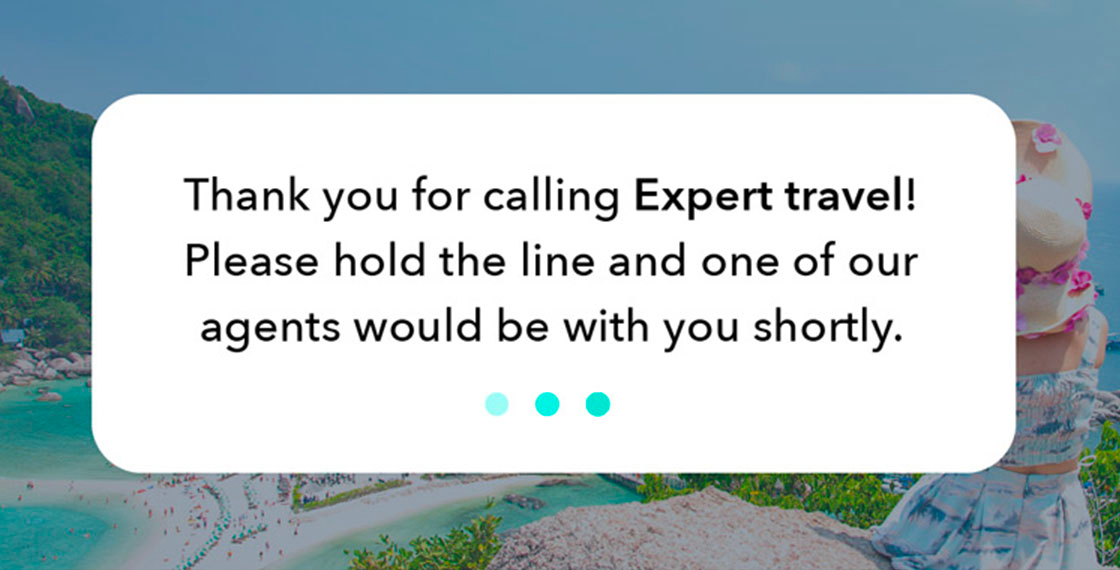 As is often said, you only get one chance to make a first impression! It is therefore essential not to neglect how you welcome callers on your IVR. Opt for a concise introduction that isn't too long, using a vocabulary adapted to the image of your company you want to convey.If you choose to record your company's IVR greeting yourself, keep it natural and friendly while remaining professional. Be careful not to use an overly aggressive tone - remember that a caller can hear a person's smile in their voice!A warm greeting, expressed in a reassuring and cheerful voice, helps create a bond of trust and reminds callers that your company is ready to help them and wants to build a constructive relationship.alt="Example greeting: "Hello and welcome to [Name of your company]. We thank you for your call." (mp3)"Most IVR greetings identify the company right away. While this is a great opportunity to promote your brand, overdoing it can also annoy and discourage your callers. Many also limit their introductory message to under 7.9 seconds.
2. IVR Should Sound Like An Agent
Using only one voice for your IVR menus ensures consistency as callers navigate it. Hearing different voices could confuse your callers and make them feel that they are not getting quality service.The choice of this voice is very important. It is not recommended to use a computerised or robotic voice, as they are not very pleasant to listen to and can lead to more abandoned calls. Better to select a clear and professional voice which corresponds to the image of your company and service you want to project. The Ringover interface provides access to an online mini studio for creating detailed greetings and on hold messages in the language of your choice.
3. Choose modern and professional music on hold
More than three quarters of professional contacts are made by phone, so choosing the right music on hold is essential.To prevent callers on hold from hanging up prematurely, allow them to wait with pleasant and professional music. It must also reflect your company's image and values: a poor choice of music can undermine them.You can also integrate promotional messages into your music on hold, announce upcoming events, or provide information on opening hours and exceptional company closings. Tip: invite your callers to follow you on your various social media accounts!Remember as well to vary the announcements that play along with your music on hold. Sometimes it is necessary to put callers on hold for a longer period of time, in which case it's a good idea to play different announcements so that they don't hear the same one over and over. Choosing two or three alternating messages is more ideal.
4. No To IVR Option Overload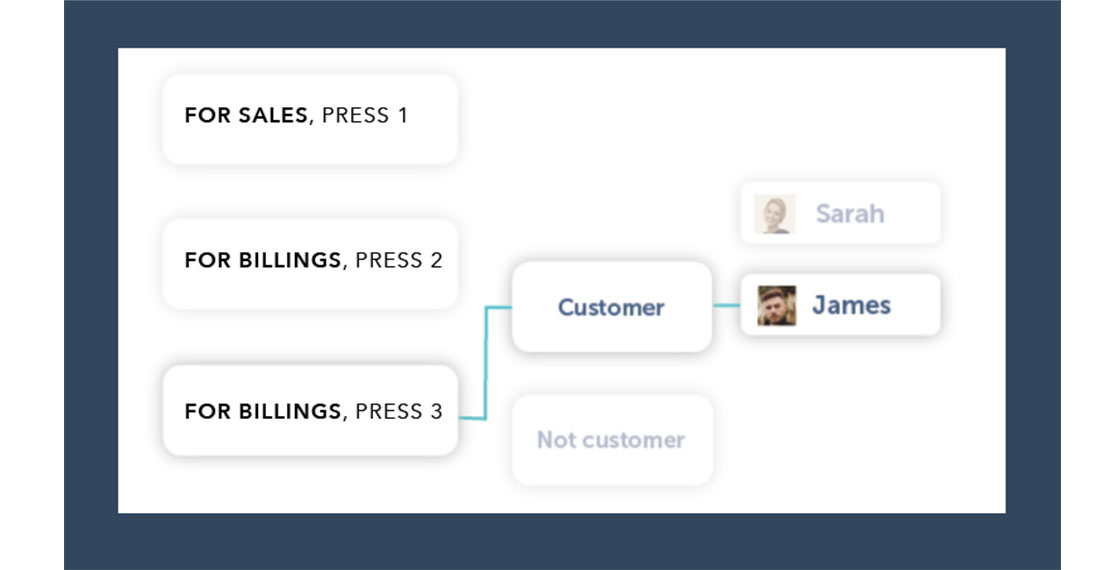 Keep in mind that the client's goal is to receive a quick and helpful response. Your different IVR should only contain the essential information that your customers are most likely to be looking for when they call you. In other words, menus are not the place to try to squeeze in special offers or excessive information on your events and social media activity. This information will be much less intrusive if condensed and played with background music for your holding callers. Your menu should provide clear, precise options that allow callers to make a rapid and accurate selection.It's recommended to limit the number of options to a maximum of five per menu. Beyond that, your callers risk getting lost in your system and simply giving up.Tip: Provide the name of the option before the corresponding key.Callers want to know exactly where they are going, so the corresponding service or option should precede the extension. For example, "For sales, press 1," rather than "Press 1 for sales."
5. Constant IVR Assessment
After initially launching your company's IVR, it is a good idea to carry out a test under real conditions. The purpose of this test? Assessing the relevance of menu choices as well as the efficiency of recorded messages and offered services.First, list all recurring requests made by phone and email. Understanding why your callers are contacting you as well as what their most important issues are will help you modify the structure of your IVR so that the most common selections are proposed first.The simplest requests can thus be processed through the IVR, with all other matters handled by an agent made available by pressing a specific key.It is always important to thoroughly test your IVR by examining user responses. The Ringover solution offers a tracking tool with advanced statistics, which makes it very easy for you to determine the most as well as the least preferred options. The results of this test will also help you detect elements that negatively affect the customer experience.During the first few weeks following the deployment of your IVR, you can modify options offered, settings, announcements, and even music. It is just as important to anticipate the necessary workload - especially when your IVR has a complex branching structure.
6. Monitor your IVR carefully
Regularly check that your IVR is working correctly, and adapt it according to company news, current promotional offers, and exceptional openings and/or closings. Remember that your callers' requests may also evolve and change, so consider integrating your IVR into your customer feedback collection channels!You can propose a satisfaction survey at the end of each call, for instance. This is a very good solution for better determining customer perceptions and caller satisfaction levels post-discussion.Above all, prepare to make changes to your IVR's different options and settings based on responses and comments that your callers provide through satisfaction surveys.
7. Easy User Menu Navigation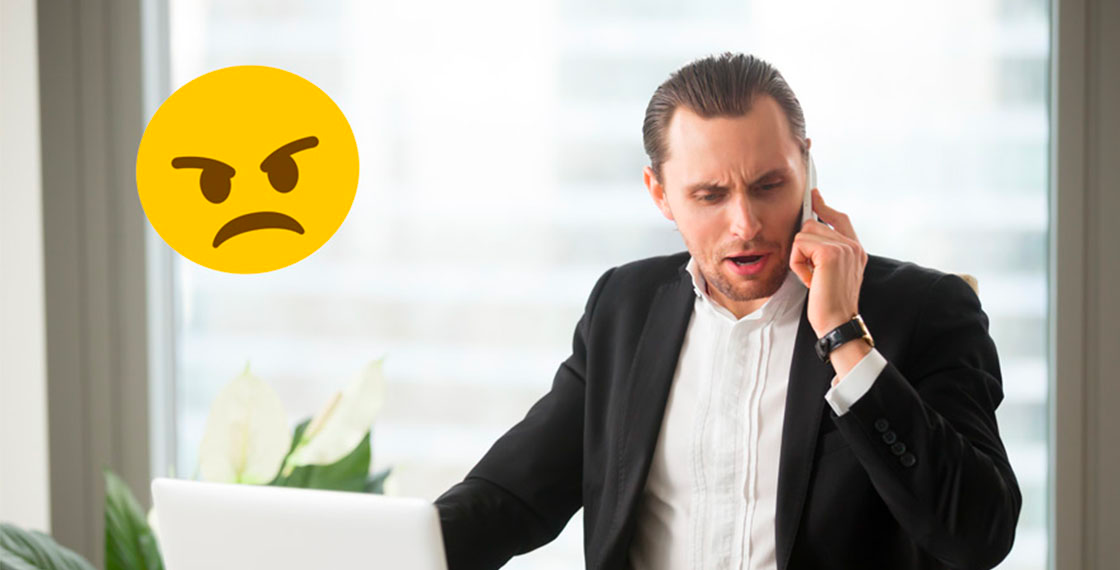 Most of the time callers will give up when they can't find a clear and rapid answer to their request, or if they don't understand a prompt, for example. Many callers return to the previous menu or the main menu while their call is on hold or when they are unsure if they've made the right selection.With ergonomic use of your IVR in mind, it's important that you offer callers the possibility to correct entry errors or redirect their call as they wish. Clearly state which key they should press to return to the previous menu or the main menu. Again, this largely prevents abandoned calls and improves overall customer experience and satisfaction.
8. Inform callers of their place in the queue
One of an IVR's main functions is to save time: callers must quickly find answers to their questions. The idea is then to reduce the length of wait time as much as possible in order to provide callers a quality experience without taking up too much of their time.An IVR allows a selection to be made before the list of options ends. This prevents callers, if interested in the first option, from having to listen to all the other options so that they get in touch with an agent more quickly. This system also allows you to let callers know their exact position in the call queue as well as how many people are in it.
9. Provide a shortcut to human assistance
Some people prefer to communicate directly with a living, breathing agent. This is why you must make sure to include a customer assistance option within your IVR's branching structure.Keep in mind that although the automated process provides many benefits, a caller wishing to speak with an actual person can quickly become frustrated if unable to do so.In addition, coupling this option with caller data synchronisation with a CRM is very practical and saves considerable time for your agents.Bruce Belfiore, CEO and senior research executive at BenchmarkPortal, suggests performing the following test: provide the option to speak to an agent sooner to see how much this increases your call volume, and provide it later to see how this increases the number of abandoned calls.Gartner Software Advice contacted IVR staff from 50 Fortune 500 companies focused on customer service to find out how far callers had to advance before hearing the option to speak to an agent. The majority of companies required callers to wait until they reached the third menu before allowing them to press "0," and less than a quarter provided the option to speak with a live agent in the first menu.
10. End your calls correctly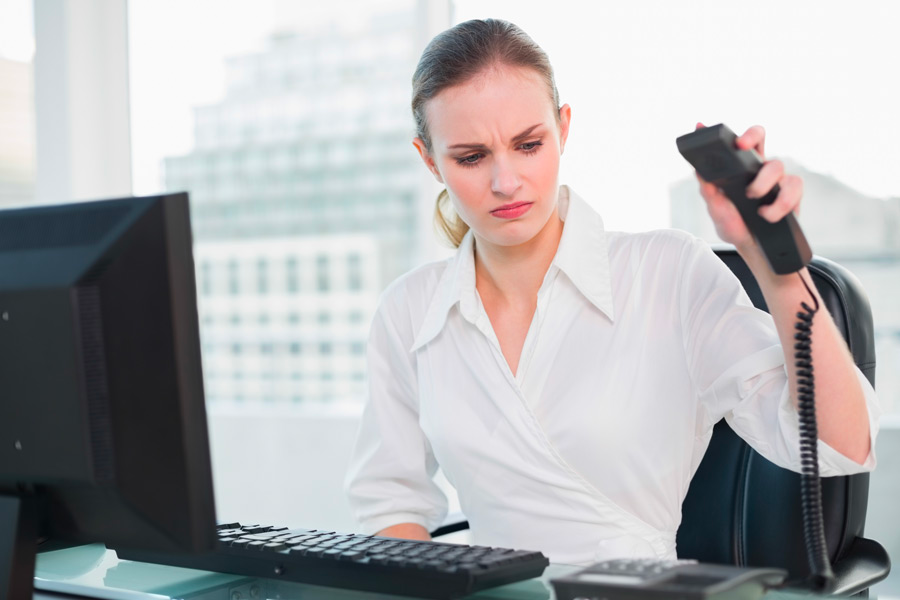 Once the caller's request has been handled and the call is reaching its conclusion, it is essential to end the call humanely. Confirm that the request has been acknowledged, and then thank the caller before ending the call: "We'll be taking care of this as soon as possible. Thank you for calling."Finish by reminding the caller that your service is always available and encourage them to call back for any other questions or information requests. This practise is often used in call centres, but it can be beneficial to use it for any other type of organisation.Finally, you can allow them to take a satisfaction survey that collects feedback from callers on your IVR, allowing you to continuously improve it.Previously, only companies with the technical resources and/or a sufficiently large budget could design a personalised phone system with Interactive Voice Response. Now, thanks to the benefits of VoIP systems, it's easy to create your custom IVR in just a few minutes.Modern business phone systems like Ringover offer easy-to-use solutions for personally creating and managing your IVR.As a bonus, we'd like to conclude this article by highlighting some of the things to avoid when setting up your IVR.
Pitfalls to avoid when setting up your IVR
Not studying user needs
IVRs very often fall short because little - if any - research has been done on callers' true needs. Without this information, you risk designing a system that reflects your business goals but doesn't provide users the human experience they expect.
Too sales oriented
A good example of this is an IVR which offers the option to "place an order" as the first menu choice because the company wants to sell above all else. This ignores the fact that most callers want to find out about their delivery date or are seeking other information, in which case they'll have to wait for their desired menu option. And the longer they wait and have to listen to options that don't apply, the more frustrated they'll become, and the faster they'll hang up.
Lack of customisation
A minimum of personalisation can make a big difference. Simple gestures such as personalised messages or the ability to pre-set a client's language preferences for the IVR voice menu can go a long way.
No updates
Unfortunately, many companies overlook updates to their IVR, favouring instead the addition of more attractive and sophisticated options. Such a major oversight, however, can negatively affect the IVR's image and cause it to be viewed as an annoying barrier between agents and callers.Thanks to the numerous automatic call distribution features that Ringover offers, you can establish precise scenarios for managing your incoming calls and route them to the right parties. Set up your IVR simply and efficiently in real time according to your needs and offer your clients and leads fast and effective service.
Ready to set up an IVR for your business?
Even with the sleekest IVR, it is important to understand that sometimes customers choose to directly speak to an agent rather than helping themselves through the options in the IVR menu. IVR can still help these customers reach the right agents without having to explain their query to multiple agents. If you want to understand how IVR can help your customers, contact Ringover experts at (+1 844 411 1221) or drop an email to [email protected]. Start your free trial today.